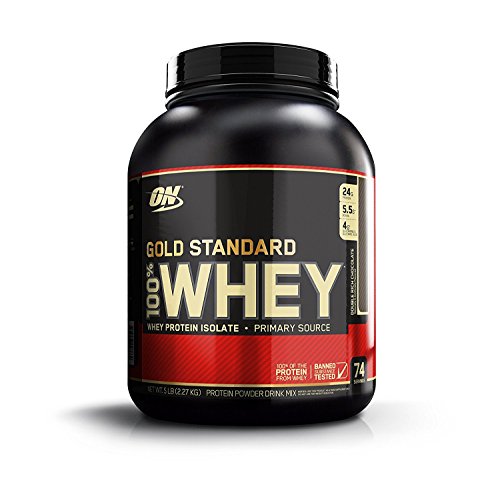 When it comes to the protein supplement market, Optimum Nutrition has been the market dominator for a long time. Their flagship product, Optimum Nutrition Gold Standard has consistently outsold and out rated all comers. recently, however, that exalted positon has been challenged by a relative newcomer to the market – Impact by MyProtein.
We have to give the thumbs up to the old stand-by, Optimum Nutrition Gold Standard. It is more expensive than Impact by MyProtein, but it also tastes better, has greater mixability and contains glutamine and BCAAs in higher dosages.
The Rival Companies
MyProtein is a part of the Hut Group of companies. They are based in the UK and are currently expanding into international markets. Their current focus is in selling online and they have more than 1500 products in their range. They have been operating for 5-6 years.
Optimum Nutrition was started in 1987 by two brothers, Tony and Michael Costello. That gives it a 21 year history. Ove that time they have established a reputation for quality products that contain simple, no fluff ingredients and taste great. In 2008, the company was purchased by Glanbia, a company based in Kilkenney, Ireland. Unlike MyProtein, Optimum Nutrition products are sold throughout the world in supermarkets, supplement stores and gymnasiums.
Optimum Nutrition Gold Standard Up Close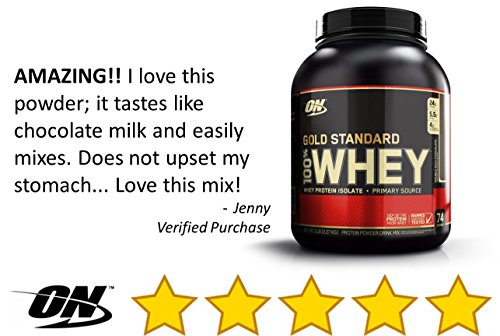 Pros:
24 grams of protein
great taste
21 flavors
5 grams BCAA
4 grams Glutamine
Mixes very well
Cons:
Features:
Optimum Nutrition Gold Standard features 3 different types of whey protein. These are, in effect, 3 different steps in the processing system of the protein. They are whey protein isolates, whey protein concentrates and whey protein peptides. Whey isolate consists of pure whey protein with the lactose and fat removed. Whey protein concentrate is whey that has not removed the lactose and fat content. Whey peptides are proteins that have been broken down into smaller amino acid chains. This allows them to be absorbed into the blood stream and then the muscle cell much faster.
Included in the blend of proteins are five grams of branch chain amino acids, made up of valine, leucine and iso-leucine. You also get four grams of glutamine and glutamic acid. Glutamine is the most abundant amino acid in the human body and is a major transporter of nitrogen, being the main vehicle that takes nitrogen into the muscle cell. Nitrogen is the driver of muscle growth, so we ca appreciate how important glutamine is to the whole muscle building process.
Optimum Nutrition have included their own brand of enzymes to help to break down the proteins in this product. It is known as Amino Gen. It also includes lactase to help break down the lactose that is in the whey protein concentrate portion of the blend. Many people have trouble digesting lactose so the inclusion of lactase will benefit them.
Gold Standard excels when it comes to digestibility. This is often an issue when it comes to protein powders, with many users suffering from gastric discomfort, along with episodes of bloating and gas. No users that I have read reviews from have ever mentioned problems with bloating. There are also no issues with feelings of lethargy after taking the protein powder as is the case with other powders.
Each serving of Optimum Nutrition provides you with 24 grams of protein. In order to build muscle, you should be taking in about one gram of protein per pound of bodyweight. So, if you are 180 pounds, you will want to be taking in 180 grams of protein per day. Obviously, not all of this can or should come from your protein shake – whole food is always the best option. But you should be supplementing with one, or at most two, shakes per day. Put two scoops of Gold Standard powder in your shake.
You should take Optimum Nutrition Gold Standard about twenty minutes of finishing your workout. In that way you will be getting the amino acids to your muscle cells as quickly as possible.
One of the most impressive things about Gold Standard is its taste. It is not an exaggeration to say that this protein powder tastes fantastic. It has at least 21 favour options, including Rocky Road (my personal favorite) and Cookies 'n Crème. Another outstanding feature is the mixability of the powder. You won't have to worry about clumpiness or a nasty residue at the bottom of your cup with this product. The mixability gives you plenty of options when it comes to making your shake. of course you can use a standard blender. But when you're out and about you can also get a great, frothy mix out of a blender bottle. And you can even resort to a glass and a spoon to produce a decent mix!
Impact MyProtein Up Close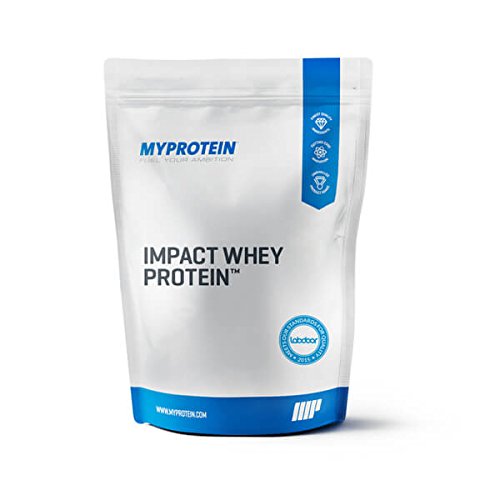 Pros:
80% whey protein concentrate
3.6 grams glutamine
4.5 grams BCAA
19 flavors
Cost effective
Cons:
Does not contain whey isolate or peptides
Features
Impact MyProtein contains 80% whey protein concentrate. This means that it includes lactose and whey fats. It does not have the whey isolates or whey peptides that make up two thirds of the protein content of Optimum Nutrition's Gold Standard. As a result, Impact will be slower digesting and may cause more bloating and lactose intolerance issues.
Impact also contains both glutamine and branch chain amino acids, just like Gold Standard. However, in both cases they are in lesser quantities than you get with the Optimum Nutrition protein powder. Impact contains 4.5 grams of BCAAs per serve, compared with 5 grams in the case of Gold Standard. You get 3.6 grams of  glutamine in Impact, as opposed to 4 grams with Gold Standard. As a result, both of these ingredients are slightly under-dosed in Impact.
The whey concentrate used in MyProtein is undenatured. That means that the manufacturing process has used the most controlled, careful production process to ensure that the protein is not denatured. Denatured protein occurs when you break down the peptide bonds to create hydrolized whey protein. This means that the amino acids are already broken down before they enter your body. While this may seem to be a good thing as it will theoretically get into your bloodstream faster, many people have digestive issues when taking denatured whey protein into their system.
The bottom line is that, in order to retain its full bioavailability, whey protein needs to remain undenatured. That is exactly what you get with MyProtein.
MyProtein contains whey protein concentrate – and that is it! It is about 70-89 protein by weight. Each serving of Impact has zero grams of cholesterol, 2 grams of fat and just a single gram of sugar. It does contain both natural and artificial flavorings, as well as soy, lecithin and sucralose.
Sucralose is a bit of a problem. A number of studies have found it to be harmful to the body. It has a negative effect on insulin secretion and blood sugar levels, as well as negatively affecting the good bacteria in the gut. We would have been far happier to have seen the manufacturers out in stevia or even natural sugar as their go to flavor enhancer.
Impact has good mixability and you will not experience any clumpiness or residue. The shake that results when blended or mixed up in shaker bottle will be nice and frothy. This product is available in an impressive 19 flavors, many of them amazingly exotic.
Comparing Optimum Nutrition and MyProtein
The biggest differentiator between these two protein powders is that Optimum Nutrition Gold Standard is a bend of three different types of protein whereas MyProtein uses just one – Whey Protein Concentrate. That means that is far less versatile than Gold Standard. It does not offer advanced absorption opportunities that you get with whey protein peptides. There is isolate, no hydrolysate and Micellar protein. This limits the application of the protein powder as a pre and post workout formula. That is because it is not as fast absorbing as something like Gold Standard, which is what your muscle cells need surrounding the workout.
You'll remember that Optimum Nutrition also used the Amino Gen enzyme system to improve digestibility. MyProtein has no equivalent to this. Gold Standard also includes lactase to counter the effects of the lactose that is in the whey concentrate portion of the protein blend. While MyProtein is all whey and, therefore, contains more lactose, it does not contain lactase. This may result in more people having lactose intolerance problems with MyProtein.
MyProtein almost equals Gold Standard in terms of the number of flavors, which is pretty impressive. However, we need to give the overall taste thumbs up to Optimum Nutrition Gold Standard. It also mixes better than MyProtein.
The Bottom Line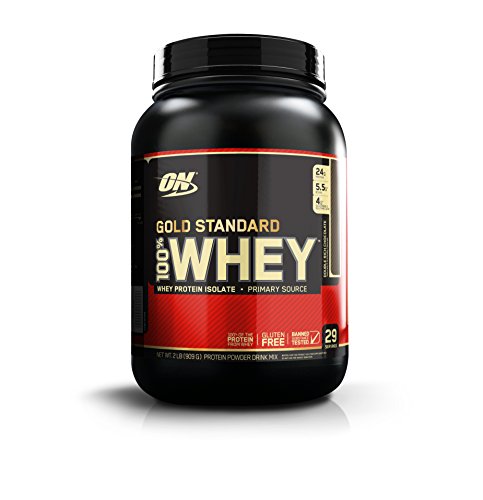 Despite the fact that Impact by MyProtein represents better value, we have to go with Optimum Nutrition Gold Standard as the overall better quality source of protein. Both products provide an impressive range of flavors. However, the taste of some of Optimum Nutrition flavors are pretty hard to beat. Some of the MyProtein products produced a slightly synthetic taste, which was probably due to the inclusion of sucralose as their flavor enhancer.
In terms of the effectiveness of the product, Optimum Nutrition has it all over MyProtein. They provide you with a triple attack of protein types to provide greater effectiveness and faster absorption. The addition of BCAAs and glutamine in greater quantity than found in Impact is another key factor in the superiority of Gold Standard. Finally, the addition of lactase to offset the negative effects of the lactose that is contained in the whey concentrate part of the blend. As a result of all of this, our clear winner is Optimum Nutrition's Gold Standard.