As one of the leading home gym manufacturers, Bowflex has wowed buyers time and time again with their impressive machines that let you target almost every part of your body. Bowflex has come up with quite a number of designs through the years. But two of their very best models have to be the  PR1000  and the Xtreme SE.
Now, I did quite a lot of reading and research on these two. So, I can confidently say that the PR1000 offers much better value for your money. Aside from coming at a much cheaper price, the PR1000 does away with all the frills to give you an effective, safe, and durable machine that can replace a host of other contraptions you might have in your home.
Of course, the Xtreme SE might cater to a completely different audience. Personally, it didn't really tickle my fancy for quite a few reasons. But when you take all the facts into consideration, the Xtreme SE could be a good choice for specific buyers.
If you're on the brink of buying one of these two top designs and you're not quite sure which one will work better for your needs, then you've come to the right place. I'm laying down all the facts to give you an unbiased comparison of the PR1000 and Xtreme SE.
Construction, Durability, and Overall Design
No one wants to hop in a faulty piece of work out equipment. So I thought the first and most important factor to consider would be the designs' durability and construction. The PR1000 features the largest frame of the available Bowflex designs, so it has quite a sizable footprint compared to the brand's other designs.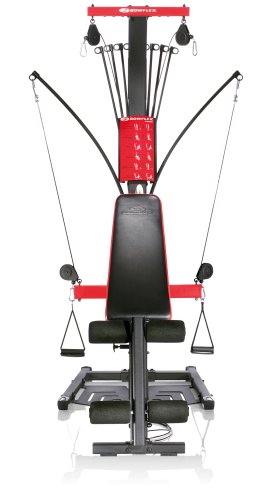 The Xtreme SE on the other hand, requires a much smaller space. Despite that, it is significantly heavier than the PR1000. So putting it together might be a little more taxing. What's more, the Xtreme SE also comes with more parts. These could make the entire process of assembly a lot more time consuming.
For the PR1000, the structure comes equipped with the following features:
Rowing machine rail
Horizontal bench press
Lat pull down
Triple function handgrips
Four-inch upholstered cushions for legs
The Xtreme SE boasts these key features:
Lat tower with angled lat bar
Abdominal crunch shoulder harness
3-position lower pulley
Five way hand grips
Ankle cuffs
Leg extension/curl attachment
Durability wise, there's not much of a discrepancy between these two choices. Bowflex takes pride in its sturdy machines, and so both the PR1000 and the Xtreme SE feel really stable and safe to use.
Lastly, I want to point out that although the PR1000 has the largest frame, it's still the easiest to store. The machine folds up when not in use, so you can easily set it aside to use your space for other exercises and workout routines. The Xtreme SE can't fold, so once it's assembled, there's no way to store it elsewhere.
Offering a Wide Array of Possible Exercises
If we're talking strictly about versatility, then the Xtreme SE wins the crown. The machine enables users to perform up to 65 different exercises. This is obviously a far cry from the PR1000's measly 30 exercises. But there is a catch.
At a glance, the PR1000 has an obvious design that lets users get the full experience without the need for an instruction manual. Just by looking at the machine, it's already pretty easy to figure out, eliminating a lot of the guesswork that makes complicated designs a hassle to use.
With the Xtreme SE, the same things can't be said. Because the machine can accommodate up to 65 different exercises, there are a lot of parts that you can move around, adjust, replace, or remove. So just looking at the contraption won't give you a clear idea of how it works.
In fact, this is the problem most buyers have with the Xtreme SE. If you like getting your work out done with minimal time spent trying to figure out a machine, then you'd be better off with a simpler choice like the PR1000.
But what about the number of allowable exercises? Personally, I think the trade-off isn't such a deal breaker. While the PR1000 allows a much smaller variety of exercises compared to the Xtreme SE, it does still let you target your entire body. So unless you like really mixing things up so often, then the PR1000 won't be such a bad choice.
If you're willing to go through the tedious process of switching, moving, adjusting, and removing parts between exercises just to achieve a few extra positions, then the Xtreme SE would be the better machine for you.
User-Friendliness and Ease of Use
Like I mentioned earlier, these two machines offer different levels of user-friendliness. Now, I want to discuss more on that to help you figure out just what it takes to make the most of these contraptions.
If you've ever hopped on a home gym machine, you might find the experience to be both freeing and confusing. Freeing because it lets you take control of your work out without a coach telling you what to do. Confusing because these machines can be pretty hard to understand especially if you're not exactly a gym buff.
Personally, I found the PR1000 to be so much less confusing to use. It's also easily adaptable for beginners. For starters, the machine can provide as little as five pounds of resistance, working up to 210 pounds for those who want something a little more challenging.
A simple pulley system lets you adjust the angle of resistance to work out different muscle groups. The machine allows as much as 30 different strength exercises, engaging the arms, chest, abs, back, and the legs to give you a full body work out with a single machine.
Don't get me wrong – the Xtreme SE offers pretty much the same, versatile, all-around capabilities. My only problem with this machine is that unlike the PR1000, it doesn't do so well in the ease of use arena.
According to the manual that comes with the machine, users are encouraged to allow a maximum of just one minute between exercises. But because the machine has a pretty complicated design, it might take a lot more than a minute to set it up and get started.
With that, you might find that you won't actually achieve the optimal burn on your first few tries. This is because you'll keep losing momentum as you stop. It really takes a while to figure out how to set the machine up for your next exercise. So be ready to allow a learning curve before you can make the most of this particular model.
I also want to mention that a lot of the diagrams and images in the Xtreme SE's user manual depict pretty much the same positions. Lots of users complain that the instructions are vague and feel wrong once you try them on the machine. I suggest you try making minor adjustments to exercise instructions to maximize your gains without losing sight of your safety.
An All-Around Home Gym?
Although Bowflex tries to advertise the PR1000 and the Xtreme SE as the ultimate and only home gym equipment you'll ever need, I couldn't help but find a fatal flaw in both designs. That is, they won't give you the benefits that free weights will. So you might not be able to build bulk as much with these machines alone.
For beginners, I think using the machines as exclusive work out equipment can be much more beneficial. But if you want to get ripped, then these models might only help you out with some toning and cardio. This is especially if you're farther along your fitness journey.
I can recommend the CAP Barbell brand if you're looking for affordable free weights you can use at home. For starters, I suggest you try out the Standard 47 inch EZ Curl Bar, a few weight plates, and their rubber coated hex dumbbells. These choices can help add some versatility to your home gym, especially if you consider buying a machine from Bowflex.
However, if you're dead set on trying to bulk up with just one of these home gyms, then maybe the Xtreme SE might be a better choice. The machine's standard 210 pound limit can be upgraded up to 410 pounds. This is unlike the PR1000 which can only offer up to 210 pounds.
The Bottom Line
If you're asking me, I personally appreciate the PR1000 a lot better. It's cheaper, it's simpler, and it works for its intended purpose. So even if it allows much less exercises, it works just as well for less the cost. Plus, it's a lot more intuitive, making the transition from one exercise to another seamless and problem free.
Sure, the Xtreme SE might not be as affordable or as simple. But it does offer quite a few features that could make it a better choice for some buyers. With more exercises and an upgradable weight resistance, it can better adapt to improving users who want a bigger challenge.
The only reason why I couldn't vote in favor of the Xtreme SE is the fact that it takes a lot of time to adjust between exercises. So you might not be able to maximize your momentum and feel too much of a burn because of the extended rest periods.
To see more Bowflex home gym models reviewed and compared, check out our Best Home Gym article!