The Bowflex Blaze is one of the mid-level models from Bowflex, and it's easily one of the most popular home gyms on the market. The Blaze offers more than 60 exercises to choose from, and the biggest benefit of this model over the more entry-level models is that you have the ability to upgrade resistance if you eventually need more weight than the standard 210 lbs. Just like the rest of their home gyms, the Blaze uses Bowflex's unique resistance rod technology instead of traditional weight, and if you've never tried this sort of system out before, let me be the first to tell you that it's intense and extremely effective. One of my best friends just bought one of these, so I've been working out with him for the past month or so and wanted to put together a detailed Bowflex Blaze review for anyone who might be thinking of buying one.
TABLE OF CONTENTS
1. Product Overview
2. Features & Specifications
3. Assembly
4. Exercise Options
5. Resistance Rods
6. Quality, Durability, & Comfort
7. Warranty
8. Images
9. Anything Bad?
10. Video Review
11. The Verdict
Product Overview
From a customer's perspective, Bowflex is arguably the most popular name when it comes to home gyms. They've built an impressive reputation throughout the last few decades by making some of the best home gyms on the market, and have become very well-known for their unique resistance rod technology. But what is that? Instead of using traditional iron weights to provide resistance, Bowflex uses a unique flexible rod system which simulates weight and provides a hell of a workout. It's been proven to provider a safer and more effective workout than a traditional weight-based system, and many people prefer for quite a few reasons (more on this in my Resistance Rods section below).
Bowflex is recommended by many because they offer premium quality equipment at an affordable price, and the Bowflex Blaze home gym is the perfect example of that. As I said above, the Blaze is targeted at users in the beginner-to-intermediate experience category, which means that Bowflex had to include a lot of features to satisfy both ends of the spectrum. It has a little over 60 exercises packed into one machine, along with a rowing feature for cardio and the ability to upgrade to as much as 410 lbs of resistance. To be honest, this is my personal favorite home gym from Bowflex, and I think that Blaze is probably the best value-for-your-dollar model that Bowflex makes. Now that you've got the overview, let's talk about the rest of my Bowflex Blaze review.
Features & Specifications
• Number of exercises: 60+
• Standard resistance: 210 lbs
• Resistance can be upgraded to 310 lbs or 410 lbs
• Built-in cardio rowing station
• Leg extension/leg curl attachment
• 3 cable pulley positions (low, mid, high)
• Multi-function handles can be used for hands or ankles
• Foldable for easy storage and saving space
• Max user weight: 300 lbs (136 kg)
• Dimensions: 90″ x 38″ x 83″ (L x W x H)
• Workout area required: 90″ x 80″ x 83″ (L x W x H)
Setting Up The Bowflex Blaze
Assembling the Bowflex Blaze is a little time-consuming, but all-in-all it wasn't that difficult. From start to finish it took us about two hours. If you're assembling this alone, it may take a bit longer, but you shouldn't experience any complications with building it. The directions are simple to understand and there are a ton of images that help you along the way. One thing to note about setup though, that no other Bowflex Blaze review mentions, is that the Blaze requires a slightly larger workout area than what's noted online. The exact product dimensions of the Blaze noted online are 90″ x 38″ x 83″ (L x W x H), which is true, but the actual workout area you should plan for is 90″ x 80″ x 83″ (L x W x H). This is because the resistance rods bow outwards when in use, so you need to make sure you have enough space so that nothing interferes with them. As long as you plan for those dimensions, you should be good. One cool space-saving feature about the Blaze is that the bench is foldable, so you can fold the entire gym up to keep it out of the way when you're not using it.
Exercise Options
The Bowflex Blaze offers more than 60 strength-training exercises to work with, and there are exercise options for every muscle group on your body. Variety like this is crucial to ensure your muscles continue to stay challenged and growing, and with so many options on the Blaze you never have to worry about hitting a plateau (a term the fitness industry uses to describe the point where your muscles stop growing because they're not getting enough exercise variety). To make things easy for you, I've listed all of the exercise options below in categories by muscle group so you can see all of the functions that the Blaze offers.
Chest
• Shoulder Horizontal Adduction
• Bench Press
• Incline Bench Press
• Decline Bench Press
• Chest Fly
• Incline Chest Fly
• Decline Chest Fly
• Resisted Punch
• Lying Cable Crossover
• Lying Lat Pulldowns
• Low Back Extension
• Pulldowns
• Narrow Pulldowns with Handgrips
• Lying Lat Fly
• Lying Narrow Lat Pulldowns
• Seated Lat Rows
• Stiff-Arm Pulldown
• Bent Over Row
Back
• Rear Deltoid Rows
• Standing Lateral Shoulder Raise
• Seated Shoulder Press
• Front Shoulder Raise
• Shoulder Extension
• Shoulder Shrug
• Scapular Protraction
• Scapular Depression
• Lying Front Shoulder Raise
• Reverse Fly
• Shoulder Rotator Cuff
• Seated Lateral Shoulder Raise
• Scapular Retraction
Shoulders
• Triceps Pushdown
• Single Arm Pushdown
• French Press
• Lying Triceps Extension
• Cross Triceps Extension
• Seated Triceps Extension
• Rope Pushdown
• Standing Biceps Curl
• Seated Biceps Curl
• Lying Biceps Curl
• Seated Wrist Extension
• Standing Wrist Curl
• Reverse Curl
• Seated Wrist Curl
• Standing Wrist Extension
Leg and Abs
• Leg Extension
• Squat
• Leg Press
• Prone Leg Curl
• Standing Leg Kickback
• Lying Leg Extension
• Ankle Eversion
• Standing Hip Extension
• Standing Hip Abduction
• Seated Hip Abduction
• Reverse Crunch
• Resisted Reverse Crunch
• Seated Ab Crunch
• Seated Oblique Ab Crunch
• Trunk Rotation
Something unique that I loved about the Blaze is that it offers a built-in rowing station to give you a cardio option in addition to all of the strength-training exercises shown above. This was probably my favorite feature, actually. Rowing is considered to be one of the best exercises on the planet, and researchers have found that it offers far more benefits than running, cycling, or any other cardio exercise provides. But besides that, I really just like that Bowflex included a cardio feature in general. It's extremely important to make sure you have a well-balanced regimen of both strength-training and cardio, and the fact that you can get both of these from a single home gym machine is awesome.
In addition to everything we've noted above, the Blaze has several other features and accessories which add more variety to its exercise options. First off, the bench is adjustable between four different seating positions: two flat-bench positions (back and forward), a 45-degree incline position, and a free-sliding position. Next, there is a leg curl attachment that can be easily installed to the end of the Blaze for more leg exercise options. And finally, the handles are multifunctional and can even double as an ankle strap.
All-in-all, Bowflex has made the Blaze extremely simple to use, and even total beginners will have no trouble at all learning to use this gym. Bowflex includes an easy-to-follow instruction manual on using all of the features as well as a detailed exercise guide to show you how to properly perform each exercise on the machine. The exercise guide shows images, details, and tips to help you get the best possible workout from the Blaze. I can't exactly copy and paste the entire guide into my Bowflex Blaze review, but check out the example below, which is a direct excerpt from their guide showing how to perform the rowing feature: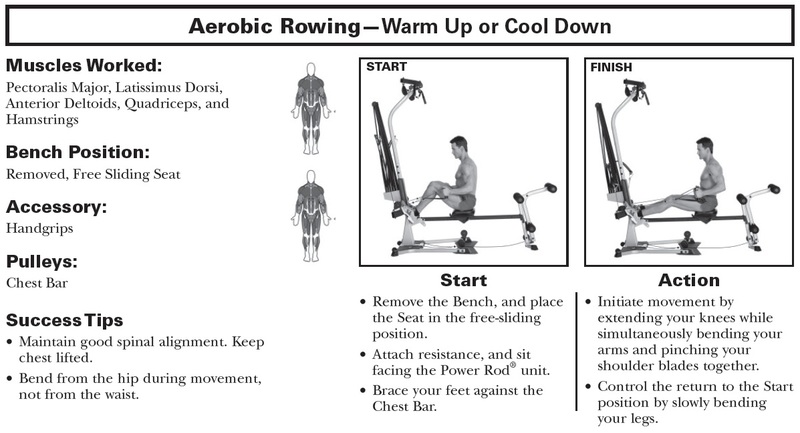 Resistance Rods
I've briefly mentioned Bowflex's resistance rod technology above, but I wanted to dedicate a section of my Bowflex Blaze review to it so that you understand how everything works as well as the amazing benefits that this type of resistance provides. Rather than using traditional iron weight plates like regular home gyms do, Bowflex uses a system called resistance rods. These rods are essentially flexible composite poles that bend to simulate the feeling of traditional weight, and each pole has a different thickness to provide a different amount of "weight." The rods are made with the same composite material used to create carbon fiber, so they're as strong and durable as a regular weight setup but in a much more lightweight, compact form.
But why resistance rods? Why not just use traditional weight like every other company? A lot of people are skeptical about whether this type of resistance really works, and I have to admit, I used to be too. Bowflex claims that, "No free weight system or weight stack machine even comes close," to the safety, efficiency, and results of a resistance rod system. I decided to do my due diligence and spent a few days reading into this type of technology, and turns out, Bowflex is right (scientifically speaking). There's an amazing report written by Dr. Jim Stoppani, a world-renowned fitness expert with a PhD in exercise physiology, which compares the scientific muscular benefits of elastic-style resistance versus traditional free weights. At the end of his rather long report, this was his conclusion:
"A program using elastic tubing resistance can provide similar benefits to a program that uses free-weight resistance, such as increased muscle strength, increase muscle tone and size and decreased body fat. In addition, a program that uses elastic tubing resistance can also provide benefits that are not offered by free-weight resistance programs, such as more functional strength, better injury prevention, greater ability to change muscle emphasis during exercises, greater muscle power development and easier use."
So according to the science of things, Dr. Stoppani's conclusion essentially proves that Bowflex's claims are true. Their resistance rod technology really is superior in terms of muscular benefits. After using the resistance rod system on the Blaze for the past several weeks, I've been really impressed with how effective the workouts are. For those that aren't familiar with how elastic resistance works, it feels quite different than lifting traditional weight. With traditional weight, you get the same amount of resistance from start to finish on an exercise. But with elastic resistance, like the Bowflex Power Rods, the resistance is easier at the start of an exercise and then gets increasingly more difficult as you complete the exercise movement. This unique progressive resistance not only works your muscles hard, but also makes it so that you cannot cheat your exercises by using momentum, which many people do when exercising with traditional free weight. Bowflex's resistance rods force you to use 100% muscle to complete the rep, which is why the workouts feel so intense when you're done.
Using the resistance rods is quite easy. The Bowflex Blaze comes with 210 lbs of standard resistance in the form of two 5 lb rods, four 10 lb rods, two 30 lb rods, and two 50 lb rods. At the end of each rod, there is a cap with a hole to hook the cables to. You can hook together any combination of rods that you want, giving you dozens of different resistance settings to choose from and making it easy to steadily increase resistance as you go. The 210 lbs should be a perfectly suitable range to work with, but if you're a stronger athlete, or if you eventually grow stronger to the point where you need more than what comes standard, you do have the ability to upgrade the resistance to 310 lbs or even 410 lbs. I liked that Bowflex included this option on the Blaze, because non-upgradable resistance was one of the main drawbacks of their lower-level PR1000 model.
Here's a quick video from Bowflex showing how to use the resistance rods, as well as some tips and best practices:
Quality, Durability, & Comfort
Bowflex is a premium equipment brand, so as you can expect, the Blaze is of very nice quality. It uses a high-strength steel frame and a 6-point floor design which keeps the system completely rigid so that it doesn't move around during your workouts. As funny as this sounds, that can actually be a problem with some cheaper home gyms, so I like that Bowflex made sure everything was solid. In addition to that, the cables are made with a plastic-coated braided steel and each of the pulley systems are compact and sealed, so every moving piece is made with strength and durability in mind. Something I personally like about the Blaze is that the seat is made out of a soft premium leather padding, making this a great choice for anyone looking for maximum comfort. Stability for the back is important on any home gym and the Blaze offers a solid yet comfortable platform to workout on. All of these features play a big role in the lasting durability. Quality and durability tend to go hand in hand, so if a product is made with high quality, generally it's going to last for a long time. Bowflex has a pretty good reputation when it comes to product life, and after seeing how well the Blaze home gym is made, I have no doubt that this home gym will last for years.
Warranty
While you might never experience an issue with your Bowflex Blaze home gym thanks to its premium quality and durability, it's always nice to have a warranty to back you up in the rare event that you do have a problem. The Blaze comes with three different warranty coverages. First, the frame is covered for 1 year in the event of any defects or issues with the general construction of the machine. Second, there is a long 5 year warranty on the Power Rods (aka the resistance rods) which covers an potential "loss of resistance." There have been a couple rare reports where people feel their rods have lost their power over the years, so Bowflex covers the Power Rods for a much longer period in order to ease any concerns about that. The third warranty coverage is on parts, which includes any of the little moving parts on the Blaze like the cable pulleys, handles, etc. These are covered for 60 days. From my own personal experience using this system, I can't imagine any of these parts would have an issue because they're made very well, but I still wish Bowflex would've offered a longer warranty here.
I wouldn't call this a warranty, but I wanted to note that Bowflex also includes a 6-Week Fitness Results Guarantee with purchase of the Blaze home gym. It's essentially like a 6-week trial period. If you buy the Blaze and aren't totally happy with it, Bowflex will let you return it and get your full money back. I like that Bowflex offers this guarantee because it's reassuring to anyone who might be on the fence about buying the Blaze. It's nice to be able to try a product and know you can get a full refund in case you end up not liking it.
Additional Images
Anything Bad About The Bowflex Blaze?
To be completely honest, I really didn't have any complaints about the Bowflex Blaze home gym. This is probably going to sound weird, but I hate when I don't have anything bad to say about a product I'm reviewing. I feel like it makes me sounds like I'm trying to sell it to you, rather than providing an honest review. But the truth is, Bowflex covered everything I look at when it comes to quality, performance, and ease of use. That's why it tops a couple categories in our Best Home Gym article.
One thing I will note, though, is that the resistance rods do take a little getting used to. As I discussed further above, elastic resistance has a different feeling than regular weighted setups. The resistance is easier at the start of an exercise but then grows increasingly more difficult throughout the movement. It feels rubber-band-ish. Most people aren't used to this type of resistance, and it even took me a couple workouts before I really got it down. But after a few weeks of use, you will master it, and believe me you will see why this type of resistance is much better for your muscles than a traditional weight system. The elastic resistance forces you to use every little muscle fiber to complete the movements, and after just one workout you'll begin to discover new muscles you didn't even know existed.
Since I didn't have any serious complaints in my own Bowflex Blaze review, I decided to go through all of the customer reviews on Amazon to see if there were any other flaws that I may have missed. At the time of this writing there are around 200 Bowflex Blaze reviews, and of those 200, only 18 are 3-stars or less (which is a good sign!). After reading through each of these, the common issue among these customers was that the Blaze is a great system to get you in shape and help you build some muscle, but it's not a good choice if you're looking to really get serious and start gaining some massive muscle. And that's true! The Blaze was not designed for people looking to get seriously ripped, it was designed for general fitness purposes to help you keep you in shape. It will build strength, build muscle, cut fat, and overall help improve your body and your health. But it won't turn you into the next Arnold Schwarzenegger.
So with that being said, I wouldn't really call this an issue with the Blaze, but more an issue with making sure you define your fitness goals before buying, and that's something that a lot of people forget to do before pulling out their wallet. Consider what you're trying to accomplish. If your goals are to pack on some serious muscle, then yes, you would be much better off using free weights. But if you're just looking for a great home gym for general fitness purposes like getting in shape, building some strength and muscle, and maybe cutting some fat as well, then the Blaze is the perfect choice. I read a story once of a guy who lost over 60 lbs by just using this machine everyday and eating right.
Bowflex Blaze Review Video
The Verdict
PROS
• Great workout variety with over 60 exercise options
• Ability to workout every muscle group on the body
• Built-in rowing station gives you a highly beneficial cardio feature
• Resistance rods are challenging and effective, offering more muscular benefits than traditional weight
• Resistance is upgradable up to 310 lbs or even 410 lbs
• Bowflex premium quality and comfortable to workout on
• Includes detailed exercise guide which teaches you how to properly use the machine for best results
CONS
• Resistance rods take a little time to get used to
• Not great for those that want to build massive muscle
Overall, I'd say the Bowflex Blaze is probably the best home gym that Bowflex makes, and offers an incredible value for your dollar. With over 60 exercises to choose from and a built-in rowing machine, the Blaze gives you a ton of functionality and is one of the only home gyms on the market that offers both strength-training and cardio in one machine. This allows you to get a well-balanced workout, which will give you better and faster results. The resistance rod system is refreshingly effective compared to a traditional weighted home gym, and as you've probably read above, the benefits are far better using this type of resistance. Whether you're looking to build strength, gain muscle, cut fat, or just stay in shape in general, the Bowflex Blaze is your perfect choice.
While the retail price of the Bowflex Blaze is $1,099, you can usually find it for much cheaper online. Most places like Sports Authority or Hayneedle have it for $799, but Amazon typically has it for even cheaper than that. Amazon's price varies a little from time to time so see the link below for the current price: