The Bowflex PR1000 is without a doubt the hottest-selling home gym on the market. This is Bowflex's entry-level home gym, and it packs a lot of value for your dollar. The PR1000 is rated extremely high by thousands of happy customers who rave over the its premium quality, low price point, and versatile features. It offers over 30 exercises for the entire body, and uses Bowflex's patented resistance rod technology to provide a challenging and super effective workout. If you've never tried resistance rods before, be prepared to discover new muscles you never knew you had! I was given the opportunity to try one of these out for a few weeks, so I wrote down a ton of notes while using it and put together this Bowflex PR1000 review for anyone considering buying one.
Product Overview
When you think 'home gym,' Bowflex is likely the first name that comes to mind. This extremely well-known brand has become a staple in the fitness industry, designing and producing home gym machines since all the way back in 1986. With that being said, Bowflex has an extremely unique design that many people were skeptical about when it was first introduced. Rather than traditional iron weight plates, Bowflex uses something called resistance rods to provide weight for their home gym machines. Although people were skeptical at first, resistance rod technology has come a long way over the years and has actually been scientifically proven to be more effective than traditional weights! (more on this in my Resistance Rods section below).
As I mentioned above, the Bowflex PR1000 home gym is Bowflex's entry-level model. The PR1000 was designed for the more casual fitness goers, those that aren't looking to gain massive muscle but instead are more looking to stay in shape, tone their muscles, and build up their strength. And for that purpose, this system does an amazing job – so great, in fact, that we named it the best choice under $500 in our home gym buyer's guide. Now that you've got the background on this home gym, let's get into the real details of my Bowflex PR1000 review.
Features & Specifications
• Number of exercises: 30+
• Standard resistance: 210 lbs
• Resistance is not upgradable
• Built-in cardio rowing station
• Leg extension/leg curl attachment
• 3 cable pulley positions (low, mid, high)
• Multi-function handles can be used for hands or ankles
• Foldable for easy storage and saving space
• Max user weight: 300 lbs (136 kg)
• Dimensions: 84″ x 38″ x 81″ (L x W x H)
• Workout area required: 103″ x 80″ x 82″ (L x W x H)
Setting Up The Bowflex PR1000
I haven't seen setup included on any other Bowflex PR1000 review before, so I wanted to give you a couple quick tips on setting this thing up in your home. The actual assembly of the PR1000 is pretty painless; there's nothing I really need to warn you about there. Bowflex includes a step-by-step instruction manual that's easy to follow and it only takes about an hour or two to get everything completely setup and ready to go. However, before you get started, I'd recommend mapping out an area of where you want the system to go. The PR1000's exact product dimensions are 84″ x 38″ x 81″ (L x W x H), but the actual workout area required is a bit larger because of how the resistance rods bow outwards when in use, so the space you should plan for is 103″ x 80″ x 82″ (L x W x H). This will ensure you have plenty of space to use your new home gym comfortably. While we're on the subject of space, something I found cool about the PR1000 is that it folds up to save space when you're not using it, so that makes it easier to put in tight locations.
Exercise Options
The Bowflex PR1000 home gym offers a little over 30 exercises to choose from, and there are options for nearly every muscle group, which is ultimately the main thing you want from a home gym. To show you all of the options you'll have, I've put together a table and categorized each exercise by muscle group below.
Chest
• Bench Press
• Incline Bench Press
• Decline Bench Press
Back
• Seated Lat Rows
• Lat Pulldowns
• Narrow Pulldowns
• Stiff Arm Pulldowns
• Reverse Grip Pulldown
• Seated Low Back Extension
Shoulders
• Seated Shoulder Press
• Front Shoulder Raise
• Crossover Seated Rear Deltoid Rows
• Scapular Retraction
Arms
• Triceps Pushdown
• Lying Triceps Extension
• Standing Biceps Curl
• Seated Biceps Curl
• Standing Wrist Curl
Legs and Abs
• Leg Press
• Leg Extension
• Calf Raise
• Standing Leg Kickback
• Seated Hip Abduction
• Trunk Rotation
• Seated Ab Crunch
To give you some more variation in your exercises, several of the features have more than one purpose. For example, the hand grips are multifunctional and can double as an ankle strap, and the bench is adjustable, giving you three different positions to choose from: flat, 45-degree incline, and a free-sliding position. For those that aren't very experienced in fitness, Bowflex includes a very helpful workout guide in the owner's manual to teach you how to use each feature, as well as images and tips on how to perform each exercise to get the best workout. Check out the example below, which is a direct excerpt from this guide showing you how to perform an incline bench press: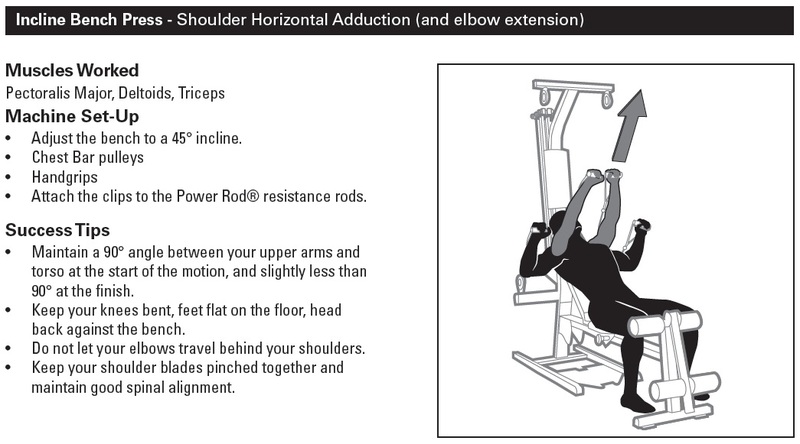 In addition to all of the above exercise options, the PR1000 also includes a built-in rowing station, which is probably my favorite feature about this system. The fact that you have a rowing feature built into your home gym gives you the ability to get a well-balanced workout of both strength training and cardio from a single machine, rather than having to do them separately. Not only that, but rowing is one of the most beneficial cardiovascular exercises of all time, and it offers a ton of fitness benefits to your muscles, heart, lungs, and more.
What I like about the PR1000 is that it's an extremely versatile home gym. It's not often you find a sub-$500 home gym with this much functionality, so I was really impressed with all of the exercise options offered by the Bowflex PR1000. Bowflex has made this system very easy to use, and anyone can learn to use it in a matter of minutes.
Resistance Rods
As part of my Bowflex PR1000 review, I want to teach you about all of the amazing fitness benefits of Bowflex's unique resistance technology. You've probably noticed by now that the PR1000, as well as the rest of the Bowflex home gym line, does not use a stack of weight plates like any other regular home gym does. Instead, Bowflex uses their own unique weight system called resistance rods. To put it simply: resistance rods are flexible plastic poles that bend to mimic the feeling of traditional weight. But don't be afraid, this isn't the same type of cheap plastic you find on children's toys. These rods are made from a high-tech composite material, essentially the same type used to create carbon fiber, so it's just as durable as titanium and nearly impossible to break. Each rod has a different thickness, therefore mimicking a different amount of weight.
Now, you're probably wondering, "How are these flexible poles supposed to give me a workout? What makes these better than regular weight?" Let me explain how, because I thought the same exact thing when I first heard about resistance rods, and I've done countless hours of research on the subject. The biggest benefit to resistance rod technology is that it's an elastic-type resistance. Imagine a rubber band. It's easy to stretch at first, and then becomes more difficult as you stretch it further. Why is that good? Elastic resistance like this has been found to provide twice as many muscular benefits as a traditional iron weight setup. There was a study conducted by Dr. Jim Stoppani, PhD, one of the world's greatest experts in fitness, comparing elastic resistance to free weight. After a mile-long report, this was his conclusion:
"A program using elastic tubing resistance can provide similar benefits to a program that uses free-weight resistance, such as increased muscle strength, increase muscle tone and size and decreased body fat. In addition, a program that uses elastic tubing resistance can also provide benefits that are not offered by free-weight resistance programs, such as more functional strength, better injury prevention, greater ability to change muscle emphasis during exercises, greater muscle power development and easier use."
As you can see above, resistance rods offer all of the same benefits that free weights do, in addition to several of their own distinct benefits on top of that. I have to admit, I was really quite impressed with how challenging (and effective!) a workout is using Bowflex's Power Rod system on the PR1000. The only caveat about resistance rods is that it takes a little time to get used to them, as this elastic-type resistance has a much different feel than exercising on a home gym that uses traditional weight. With a traditional free weight system, there is no change in tension during an exercise, meaning it gives you the same amount of resistance from beginning to end of an exercise. With Bowflex's Power Rods, there IS a change in tension. At the beginning of the exercise, the resistance is easier, and then it progressively builds as you follow through to the end of the exercise. Think of it like a rubber band, it's easy to stretch at first, but then gets harder as you stretch it further.
As Dr. Stoppani noted above, this type of resistance is the most beneficial because it builds excellent strength and power, but what it also does is provide resistance without too much initial pressure so you don't put a strain on your joints. This is good for people who've never been injured because it will help prevent future injuries, but it's even better for people who HAVE been injured because it makes building your strength so much easier than it ever has been before. I suffered a bad shoulder injury many years ago which still bothers me if I put too much pressure on it, but the Bowflex PR1000 Power Rods have been a breath of fresh air compared to the traditional weighted setups that I'm used to.
The PR1000 comes with 210 lbs of weight-resistance, and using the rod system is just as easy as traditional weight. There are 10 rods in total, one pair of 5 lb rods, two pairs of 10 lb rods, one pair of 30 lb rods, and one pair of 50 lb rods. The cool part about the resistance rods is that you can hook any combination of them together, which gives you over a dozen weight settings from as little as 5 lbs up to the max of 210 lbs. This is honestly going to be more than enough for the majority of people using it; casual fitness enthusiasts and other home athletes will definitely find this challenging with plenty of room to grow.
Check out this quick video from Bowflex showing best practices when using the Power Rods:
Quality, Durability, & Comfort
For an entry-level home gym, the Bowflex PR1000 is very good quality. I can't necessarily say I was surprised though, Bowflex is known for having the highest quality equipment around. It's just that home gyms under $500 usually tend to lack a little in terms of quality, but it was nice to see that they put just as much effort into their entry-level system as they would their top-level system. The PR1000 frame is built with a heavy-duty steel construction, and all of the cables are high-strength braided steel as well. As I mentioned in the resistance rods section above, the PR1000's Power Rods are even stronger than the steel construction is, so you have nothing to worry about there. I also really liked the seat on the PR1000. Bowflex uses this premium durafirm leather padding which is comfortable, tear-resistant, and won't wear out. It's nice to sit on and provides good support for the back during your workouts. In addition to the seat, the handles have a soft padded grip as well. I don't know why, but I have a thing about handles. It's the simplest detail and yet so many companies mess it up. Luckily for me, Bowflex did a good job with those.
Warranty
Bowflex offers a couple different warranty terms depending on the parts involved. There is a 1-year warranty on the frame, which covers any potential issues that arise out of defects on the general construction of the PR1000 (meaning the steel frame, bolts, etc.). This is highly unlikely, but nice to have just in case. Next up, there is a 5-year warranty on the Power Rods. This covers any potential "loss of resistance." There have been a couple very rare cases where the Power Rods just sort of lose their strength and no longer hold resistance, so Bowflex has you covered for a good 5 years in case that happens. Finally, there is a 60 day warranty on parts. This includes any moving parts on the PR1000, like handles, pads, cable pulleys, etc. I don't see anything going wrong with the parts because of how well this machine is made, but in my own mind I feel like Bowflex should have offered longer than just 60 days on this.
One additional measure that Bowflex offers is a Fitness Results Guarantee. Basically, if you buy the PR1000 and aren't completely happy it within six weeks, you can return it and get your full money back. I actually thought this was really cool of them to offer. It shows you that Bowflex is totally confident in the performance of their gym, and they're willing to put their money where their mouth is. It also makes your purchase 100% worry-free, because you know you can get a full refund in case you end up not liking the PR1000.
Anything Bad About The Bowflex PR1000?
I don't really have anything bad to say about the Bowflex PR1000 home gym, it's been a great system to test and performs exactly as it promises. If I had to be nitpicky, I'd say the only minor downfall is that it cannot be upgraded beyond the 210 lbs of resistance that comes standard. It's always nice having the ability to add more resistance if you need it, but truth be told, the majority of people considering the PR1000 will find that 210 lbs is more than enough weight to work with. Remember, this is meant to be an entry-level home gym, not one that's going to pack on major muscle. If you're looking for something to help tone your body, build some strength and muscle, and maybe lose some weight, then the PR1000 is an amazing fit for that. But if you're looking to get pretty serious about fitness and want the ability to upgrade weight down the road, I'd highly recommend looking at the Bowflex Blaze. The Blaze has twice as many exercises, the ability to upgrade resistance, and is only around $300 more.
I always like to hear about other user experiences when writing my reviews, so I decided to read through the customer reviews on Amazon to see if there were any other common complaints that I may have missed during my own use of the PR1000. At the time of this writing, there are around 500 Bowflex PR1000 reviews, and only 6% were critical (3 stars or less) which is generally a good sign.
After reading through each of these experiences, there was one common issue: the resistance, which I talked about above. People were complaining that the 210 lbs was not enough and then were upset to find out that it could not be upgraded – and that right there tells me that these people did not do their research before buying. I don't mean to call anybody out, but for the sake of giving you an honest review, it's important to make things fair. If these people didn't know that the PR1000 could not be upgraded, then they didn't read into the details like they should have. Bowflex clearly states several times that the resistance is not upgradable and that the PR1000 is not meant to build massive muscle. As long as you know that when you purchase, you're going to be just fine. I like to look at the majority when it comes to things like this. If 94% say the resistance is fine and 6% say it isn't, it's pretty obvious that I'm going to trust the majority experience.
Bowflex PR1000 Review Video
The Verdict
PROS
• Exercises available for every muscle group
• Multiple cable pulleys (high, mid, and low) let you work your muscles from several angles
• Built-in rowing station gives you a highly beneficial cardio feature
• Good range of resistance to work with (5-210 lbs)
• Bowflex premium quality and design
• Comfortable seat and platform to workout on
• Detailed exercise guide included to help you get the best workout
• Folds for easy storage and saving space when not in use
CONS
• Resistance is not upgradable
• Resistance rods take a little getting used to
• Not a good choice for those looking to build major muscle
Overall, the Bowflex PR1000 is an excellent machine and I'd say it's probably the best entry-level home gym on the market. It's a high-quality system that offers over 30 exercises for the whole body along with a built-in rowing machine, making this the perfect gym for those looking to get a well-balanced full-body workout because it offers both strength-training and cardio in one machine. Bowflex's resistance rod system is smooth and highly effective, and with 210 lbs of standard resistance, you have a wide range to work with. In my opinion, the PR1000 is a great choice for anyone looking to do any of the following: tone your body, build some strength, lose weight, or just help you stay in shape in general.
The PR1000 retails at $599 at Bowflex and that is currently the best place to buy it. Never hurts purchasing directly from the manufacturer. Amazon used to have it for cheaper, but more recently it has been out of stock and is about $50 more expensive there.
If you want to see how this machine stacks up to similar models, check out our Best Home Gym article.