If you are serious about getting in a great fat busting, cardio boosting workout from the comforts of your home gym, then you could not do any better than jump on a spin bike. Within a thirty-minute spin session, you will burn a ton of calories, work your entire body with an emphasis on your legs and give your heart and lungs a great fitness experience.
The best home use Spin Cycle on the market right now is undoubtedly the Keiser M3i. This indoor bike will give you the closest thing to commercial quality spinning that you will find anywhere.
The pedal motion, fluidity of change in intensity and comfort while sitting and standing to ride are second to none. This is an expensive stationary bike, but if you want the best spinning bikes for home use, you need to look no further.
For the best budget alternative to the Keiser M3i, we recommend the Sunny Health & Fitness Pro Indoor Cycling Bike, which provides you with a powerful 40-pound flywheel, heavy duty crank system and an impressively comfortable ride, all in a great price range.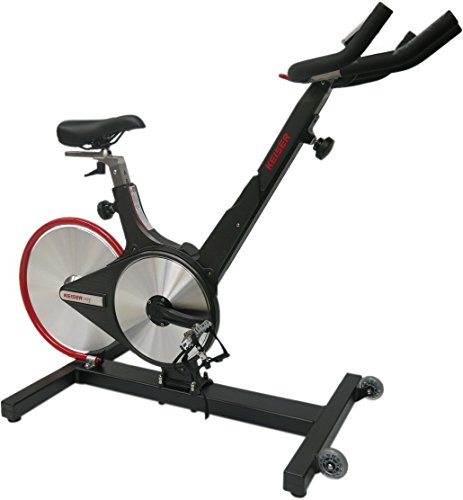 The Top 6 At a Glance
Keiser M3i – 4.75 Stars
Sunny Health & Fitness Pro Indoor – 4.5 Stars
Asuna Minotaur – 4.5 Stars
Sole Fitness SB 700 – 4.25 Stars
Sunny Indoor Cycle Trainer – 4.25 Stars
L Now Indoor Cycling Bike – 4.25 Stars
Kesier M3i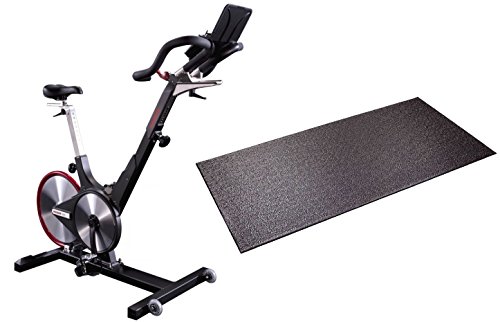 Pros:
Heavy Duty Construction
24 levels of resistance
Magnetic resistance system
Backlit computer console
Cons:
Features
The Keiser M3i is an extremely hard wearing spin bike that is packed with features that make it stand out from the crowd. It provides you with 24 levels of magnetic tension resistance to provide a smooth progressive intensity change.
The M3i makes use of magnetic resistance. This makes for a very smooth user operation as there are no touching parts in the system. It also results in whisper quiet operation so that your workout won't attract unwanted attention (apart from the sound of your huffing and puffing!).
This indoor bike features 4-way handlebars. They can be adjusted both up and down and fore and aft to provide you with the ideal riding positioning, whether you are seated or standing during your pedaling motion. The seat of the M3i is also adjustable fore and aft.
The Keiser M3i features Bluetooth connectivity through the module. This allows you to connect with the Keiser app and upload all of your training diagnostics for later analysis and feedback. Connecting to the BKOOL app will provide you with an immersive 3-d riding experience.
The Keiser M3i is a very sleekly designed bike that will complement any environment. You order comes complete with an exercise mat, media tray and stretch pads. This spin cycle also comes with wheels for ease of transport along with a water bottle holder.
Sunny Health & Fitness Pro Indoor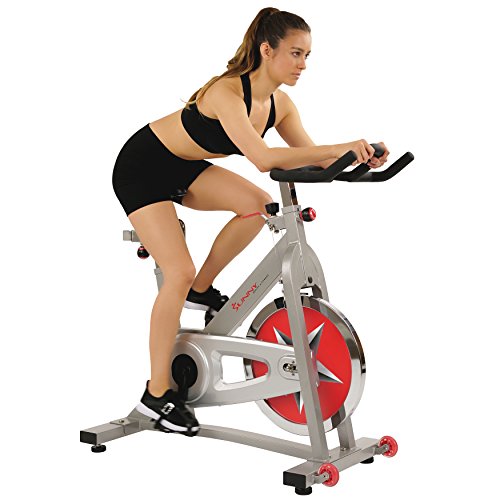 Pros:
40-pound flywheel
Heavy duty crank and chain mechanism
Fully adjustable seat and handlebars
Adjustable resistance system
Cons:
Features
The Sunny Health & Fitness Pro Indoor cycle stands out due to the fact that it packs some high-end features into a budget-priced spin bike. The most prominent of these features is its 40-pound flywheel. The flywheel is the source of power for any bike and, at 40 pounds, this one definitely gives you something to work with.
The grunty flywheel is supported by a heavy-duty steel frame which enables this indoor bike to support a maximum user weight of 275 pounds. The whole system looks and feels very solid, giving you the confidence that you'll be able to push it – and yourself – to the limit every workout.
This stationary bike features a quiet and smooth felt fabric brake pad system. This provides you with a range of tension levels to help you to tone and build muscle as you burn off the calories.
The advanced ergonomically designed handlebars of the Sunny Pro Spin bike put you in the ideal riding position while providing an extremely comfortable ride. Both the seat and handlebars are completely adjustable to allow for custom positioning on the bike.
Asuna Minotaur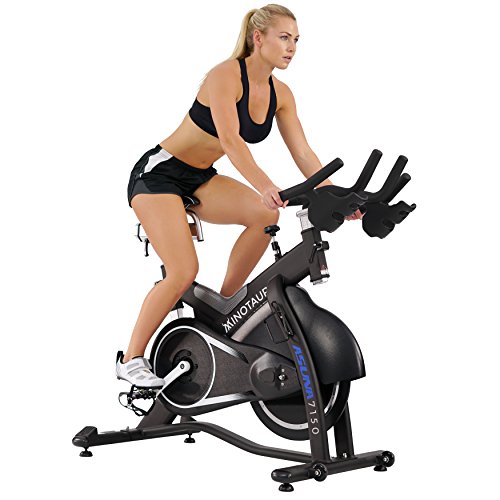 Pros:
Very solid bike
33 pound flywheel
4 position ergonomic handlebars
Foot cage SPD pedals
Cons:
No pre-set resistance levels.
The Asuna Minotaur is an extremely solid and sturdy bike that can be equally used for commercial or home use. It comes with a 33-pound high inertia flywheel to deliver a good level of pedaling resistance and fluidity of motion.
Its magnetic resistance is precise, responsive and quiet. The ergonomic handlebars on the Asuna ensure that you are comfortable and stable through a variety of hand positions.
The heavy crank system and smooth and reliable belt drive system deliver a superior level of performance. A conveniently located tension nob allows you to change up the intensity of the resistance at will.
The high-quality aluminum and chrome flywheel on the Asuna provides you with an extremely smooth, jerk-free riding experience. You will get greater momentum for a longer period of time on this bike.
The foot cage SPD pedals on the Asuna allow you to lock your feet in securely and really feel the momentum in your legs while riding. You will not have to worry about foot slippage when you take this spin bike through its paces durig spin classes.
The Asuna Minaotaur is a product of Sunny Heath & Fitness. Sunny is a California based fitness product manufacturer with a solid reputation for providing low cost, high-quality home training gear.
Your Asuna Minotaur is protected by Sunny's 5-year structural frame warranty.
Bladez Fitness Master GS Indoor Cycle Trainer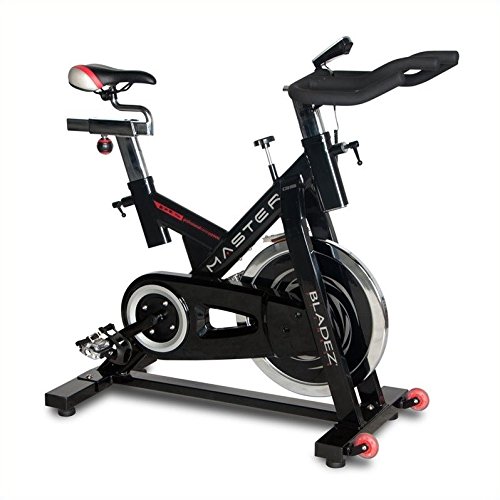 Pros:
45-pound flywheel
Smooth ride and jerk-free motion
Sturdy frame
Great warranty
Max weight 300 pounds
Cons:
Difficult to put together
The Bladez Fitness Master GS Indoorhome spin bike immediately impresses thanks to its 45 pound flywheel. This provides you with the smoothest, most jerk free and natural pedaling motion of any home spin bike that we have yet to come across.
The frame of this bike is also impressive. It is robust enough to handle a max user weight of 300 pounds.
The seat on the Bladez Fitness bike is ergonomically designed to provide you with maximum riding comfort. It allows for both fore and aft movement to provide ideal positioning. This is critical for proper pedaling leg alignment, especially when you are standing throughout the pedaling action.
The Kevlar braking system on the Bladez bike provides a reliable, quiet and responsive way to stop the pedals. The Bladez's integrated backlit blue LCD console displays your RPM, time, KCal, distance and speed. This console will allow you to connect a wireless heart rate chest strap monitor. This will allow you to train within your target heart rate zone, although the bike does not come with the chest strap – it will have to be purchased separately for about $70.
The Bladez Indoor Spin Cycle features a near silent bet drive mechanism to deliver a whisper quiet workout.
Sunny Indoor Cycle Trainer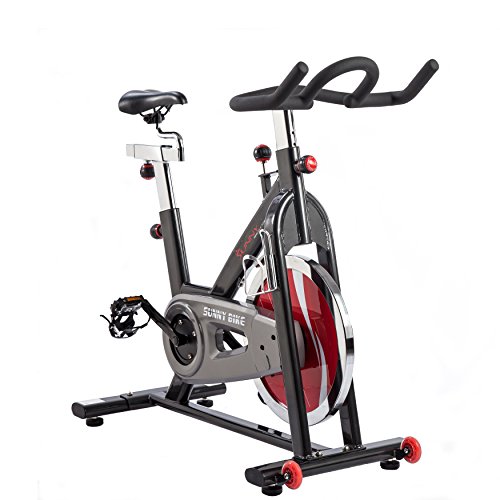 Pros:
49-pound flywheel
Felt resistance pads
Max user weight 275 pounds
Toe Cages
Cons:
The Sunny Indoor Cycle Trainer delivers a hardy 49-pound flywheel to provide you with a very sturdy, fluid and smooth riding experience. Felt pads provide adjustable pressure resistance. The study and stable frame allow for a maximum user weight of 275 pounds. Transportation wheels allow for ease of transport.
A fully adjustable padded seat is able to be moved up and down as well as forwards and backward. This allows you to get just the right distance from the handles bars to ensure ideal pedaling action and to relieve lower back strain. Seat adjustment is achieved with the simple twist of a knob.
The Sunny Indoor Cycle Trainer comes with toe cages. This provides you with a secure foothold to prevent slippage and keep you entirely secure through the cycling action.
The non-slip adjustable handlebars will give you a comfortable hold. They have been ergonomically designed for ideal upper body positioning and to reduce workout fatigue. The handlebar grips will provide extra hold, comfort and sweat resistance.
This bike features a chain drive system mechanism which enhances the fluidity of the riding experience. Your spinning bike comes with a 5-year warranty on the frame.
L Now Indoor Cycling Bike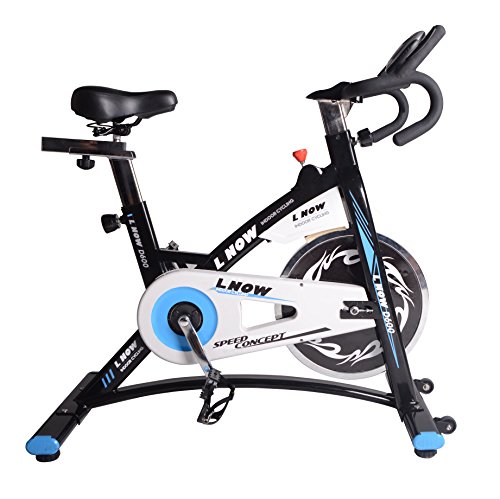 Pros:
40-pound flywheel
Solid leather transmission belt
3.4 inch LCD screen
Cons:
The L Now Indoor Cycling bike comes with a 40 pound bidirectional electroplated flywheel to power a smooth, fluid ride.
A solid leather transmission belt and a belt reel made from aluminum reduce muffle and smooth out your workout. They are also anti-stain and anti-rust resistant to ensure the durability of your purchase.
The handlebars on this bike are designed to provide comfort to your arms while you are training. A 3.4 inch LCD screen allows you to monitor your key training parameters including speed, distance, time, calories, odometer and heart rate. Large digits make it easy to see your training data while you are exercising.
The saddle and handlebars can be adjusted up and down, front and back. The ergonomically designed seat features three pressure pads on the underside to enhance your rider comfort. Another cool feature of this bike is that the transmission is fully surrounded by composite material, which affords protection from sweat, rust, dust and impact.
The L Now Indoor Spin bike is an impressive mid-priced unit with a good amount of power by way of its heavy-duty flywheel and some unique features that make it a user-friendly home spin bike.