by
Finding the best supplements to fuel your training can be a confusing endeavor. There are so many products available, each of which claims to be the only one that you need.  The reality is that many of the products that clog the aisles are not worth the money, being filled with placebos and proprietary blends (meaning that the label does not spell out the specific ingredient quantities). When it comes to workout recovery, you need to make sure that you are getting the right ingredients in the right amounts.
In this article, we'll discover the six best supplements for training endurance. We'll also provide you with a definitive buyer's guide so that you know what to look for when wading your way through all of those products out there.
The Top 6 Endurance Supplements
Extreme Endurance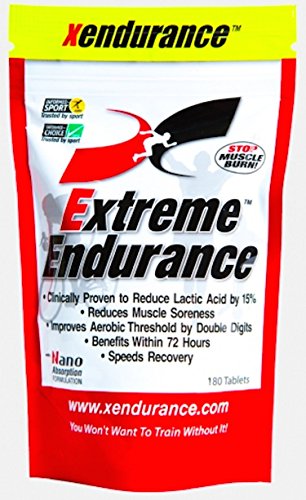 Buffers lactic acid
Clinically tested
At the top of our list, Extreme Endurance was developed for athletes by athletes. It is a lactic acid buffer that has the ability to increase aerobic threshold while reducing lactic acid by around 15 percent during your training session. This product comes in the form of a tablet.
This product buffers the hydrogen ions acid that re exercise-induced lactic acid. It contains papain, catechins, and electrolytes that are able to reduce tissue damage, inflammation and oxidative stress. The product contains a proprietary formula consisting of Calcium Carbonate, Papain, Magnesium Oxide, Potassium, Magnesium Hydroxide, Catechins, Selenium, Chromium, Black Pepper Fruit. The total dosage is 5100 mg, though we do not know the individual make-up of each ingredient.
Legion Pulse Pre-Workout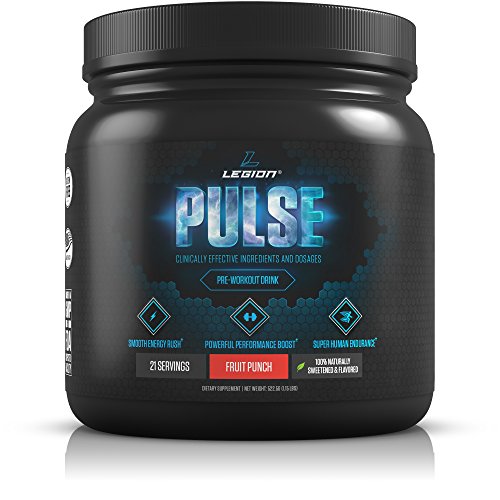 High dose ingredients
Contains electrolytes
The Legion Pulse Pre-Workout pre-workout provides you with five calories and 350 mg off caffeine per serving. That makes it a high stimulant pre-workout with the equivalent of about three and a half cups of coffee. Other ingredients with dosages are beta-alanine (4.8g),  taurine (2g), theanine (250mg), betaine (2.5g), l-citrulline DL-malate (8g), and l-ornithine HCL (2.2g). In addition, the product has added electrolytes, providing you with 6 percent of the recommended daily intake of sodium and potassium.
The large dose of caffeine in this product may cause jitteriness in some people. However, this product also contains taurine and theanine, which have both been shown to calm down the effects of caffeine. The citrulline included here is a proven nitric oxide booster to allow you to get better training pumps. The beta alanine contained in this product has also been shown to be an endurance enhancer. You get 4.8 grams per serving which are considerably more the clinically recommended dosage. A side effect of beta alanine, especially at this dosage, is tingling of the extremities.
You get 21 servings of Legion pre-workout in every tub, t an average price of around $1.90.  That makes this a relatively expensive product, with most of the competition working out to about a dollar per serving.
Silver Fern Brand Endurance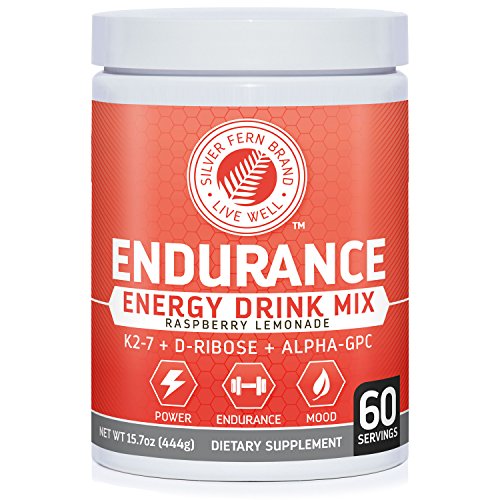 Boosts physical and mental endurance
Value for money
Reliable Silver Fern Brand Endurance is produced from a blend of energy enhancing natural ingredients designed to boost muscle recovery and to improve energy and endurance levels while exercising. The ingredient list includes Vitamin K2-7, which have been shown to enhance both physical and mental energy, D-Ribose which helps in energy production, Vitamin B6 to speed up body metabolism for faster energy production, Vitamin B12 to help fight fatigue, Ferrazone, which enhances oxygen circulation in the body and boosts blood cells production, Alpha-GPC , which is a mood enhancer, and L-Theanine which improves mental alertness.
This is a pleasant tasting energy drink that seems to work well, doesn't carry any side effects and is relatively inexpensive.
Sportlegs Supplement
Increases VO2 Max
Contains calcium, magnesium and Vitamin D
This Sportlegs Supplement is an endurance supplement in capsule form that is particularly popular among cyclists. The main ingredient in this product is lactate. It is based on the premise that by re-loading lactate into the muscles, you can trick the muscles into thinking that they don' need as much, therefore delaying the onset of lactic acid burn. This is meant to allow you to push harder before fatigue sets in.
The ingredients in Sportlegs are Calcium (136mg) to prevent bones less (especially important for cyclists), Magnesium (68mg) to offset the amount lost during exercise-induced perspiration, Vitamin D (68IU), which has been shown to raise testosterone levels and Lactate (1115 mg) to get you primed for the coming workout.
The claim that by taking lactate ahead of time, you can reduce the production of lactic acid is not universally accepted. However, this product certainly does seem to have the desired effect of allowing trainers to go for longer before fatigue sets in.
Sportlegs should be taken one hour before you start training or competition. It is recommended that you take one capsule for every 50n pounds of body weight, so a 200-pound guy would take four capsules 60moinutes before training.
Endurox Excel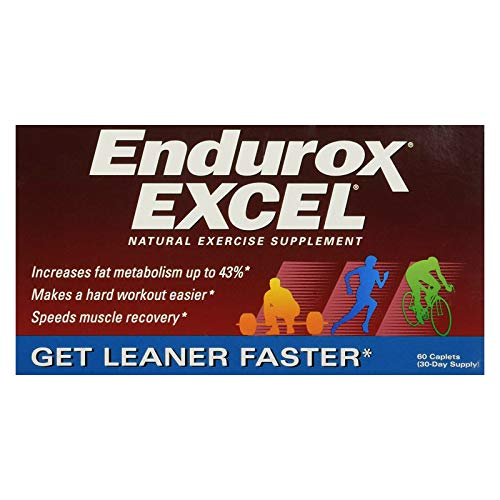 Boosts metabolism
Decreases lactic acid buildup
A little different from the rest, Endurox Excel is an endurance supplement in tablet form. It contains three key ingredients: Vitamin E, Siberian Ginseng, Ciwujia extract. These ingredients work synergistically to boost metabolism and reduce training fatigue. The potency of the product comes from Siberian ginseng, which is a proven endurance enhancer, and a metabolism booster. It has also been seen to aid in weight loss.
This product has the additional effect of reducing lactic acid buildup, which helps to prevent post-exercise soreness and muscle cramping.
Cellucor NO3 Chrome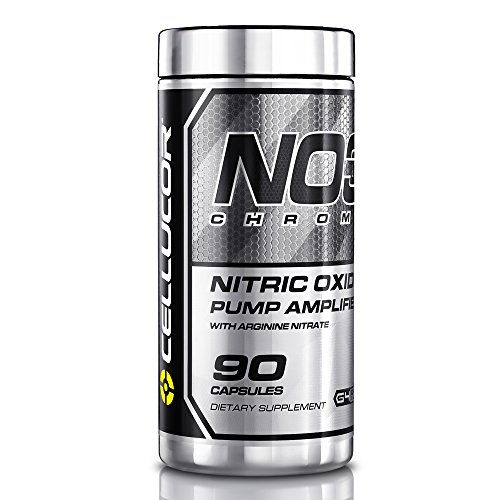 Contains Citrulline
Contains Grape Seed Extract
The Cellucor NO3 Chrome was released in 2017 by Cellucor and is one of the top pre-workouts on the market. It is available in 3 flavors, being Blue Raspberry, Fruit Punch, and Watermelon. NO3 will increase your muscle pumps in the gym to provide you with the enhanced blood flow and beefed up production of nitric oxide to work harder for longer.
Cellucor contains 4 g of citrulline per serving, which is the optimal dose for maximum pump effects. You also get Inositol-Stabilized Arginine Silicate under the name of Nitrosigine, yet there are no studies showing that this product is beneficial in enhancing energy.
Another ingredient in this product is Arginine Alpha Ketoglutarate or AAK. This is another nitric oxide booster. Also included are grape seed extract, trans-resveratrol, and arginine nitrate.
Cellucor NO3 is a rather expensive endurance product. Each container provides you with 20 servings, with an average cost of about $2.50 per serving.
Endurance Supplement Buyer's Guide
In this section, we are going to identify the best ingredients to look for in a quality endurance supplement. But before we get to that, here are a couple of things to take note of.
Be aware of proprietary blends. Proprietary blends relate to the ingredient listing on the label of the product. They will not indicate how much of each particular ingredient is in the product. This is not a good thing. You need to know how much of an ingredient is in the product to see if they are providing the clinical dosages that are required to achieve the result that the ingredient has been put into the product for.
You should also be on the lookout for artificial sweeteners and flavorings that add unhealthy ingredients into the mix. We have a list of the Best Natural Pre-Workout supplements that can boost your stamina, and they're free from a lot of sketchy ingredients.
Here are the key ingredients that you need to be looking for in an endurance supplement:
Quercetin
Quercetin is a flavonoid that occurs naturally in a range of fruits, nuts, vegetables, and spices. Its primary benefit lies in its ability to provide antioxidant, anticarcinogenic, anti-inflammatory and cardioprotective benefits. According to the US National Library of Medicine . . .
On average, quercetin provides a statistically significant benefit in human endurance exercise capacity (VO(2max) and endurance exercise performance.
The ability of quercetin to enhance performance and increase levels of endurance is not tremendous, and so this ingredient needs to be used in tandem with other ingredients.
The recommended daily intake of Quercetin for endurance training benefits is 500 mg.
L-Arginine
The amino acid arginine is contained in dairy products, meat, seafood, wheat germ, nuts, pumpkin, soybeans, and chickpeas. L-Arginine is essential in cell division, immune function, the release of hormones and the healing of wounds. Arginine is also used as a vasodilator, for reducing blood pressure and for treating stress and anxiety. It is arginine's ability to increase blood flow which makes it a valuable endurance booster.
L-Arginine supplementation I recommended at 1000 mg per day in capsule form or 4600 mg per day in powder form.
Rhodiola Rosea
Also known as Golden root, Rhodiola Rosea is a plant that grows in such cold climates as Siberia. It is commonly used to help to alleviate the symptoms of depression and stress. It is also being used to improve both physical and mental performance by boosting endurance. According to a conclusion in a study on Rhodiola Rosea . . .
Acute ingestion of 3mg of R. rosea resulted in a decrease in heart rate during submaximal exercise… it also appears to improve endurance exercise performance.
It is recommended that Rhodiola Rosea is taken in the range of 250 to 1000 mg per day.
Eurycoma
Eurycoma is a flowering plant that is common in Southeast Asia. It has been used for centuries for its antimalarial, aphrodisiac and fever-reducing ability. The plant is also believed to boost our natural production of testosterone. It only acts as an endurance booster for men due to this ability to increase levels of testosterone. Eurycoma, which is very bitter if taken in plant form. It is, however, available in tablet form under the brand name of Tongkat Ali.
L-Carnitine
Carnitine is an ammonium compound which is biosynthesized from the amino acids lysine and methionine. It occurs naturally in high quantities in such foods as red meat, dairy products, nuts, green vegetables, and fruits.
Carnitine speeds up the process by which fat is converted into energy. It also has the ability to help reduce fatigue, increase brain performance, reduce muscle damage and reduce fat levels.
The recommended dosage of L-Carnitine is between 500 and 2000 mg daily in either tablet, liquid, and powdered form.
Cordyceps
Cordyceps are parasitic fungi, known as a medicinal mushroom in traditional Chinee and Tibetan medicine. It is being hailed by many users as a natural energy booster and is being used as a stimulant, tonic, and adaptogen. The recommended dosage is between 3 and 9 grams per day.
Eleuthero
More commonly known as Siberian Ginseng, Eleuthero is a small, woody shrub native to Asia. For thousands of years, it has been used in Chinese medicine to treat angina, neurasthenia, insomnia an lack of appetite. It has also been shown to improve levels of endurance. A 2010 study, published in the Chinese Journal of Physiology found that supplementing with eleuthero extract at the dosage of 800 mg per day for eight weeks led to improved cycling performance, including a 3 percent improvement in both VO2 max and fat burning capacity.
The recommended daily dosage of eleuthero is 800 mg per day.
Iron
Iron is an essential mineral in the body. It is commonly used to treat anemia, a condition in which low iron levels lead to a chronic lack of endurance. Iron supplementation is especially necessary for female athletes.