If you are primarily interested in resistance training to work your muscles, then Bowflex has got you covered with their range of home gyms. The majority of them are based on the power rod resistance system, but the Spiraflex based Revolution home gym offers the closest to the feel of free weights.
If, however, you want more of a cross training focus, covering both your aerobic and anaerobic systems, then you need to check out their range of Max Trainers and the Treadclimber. Bowflex also offers a variety of dumbbells, treadmills, and benches.
In this article, we provide an overview of the Bowflex machine range to give you a better idea of how to narrow down your choices.
Best Bowflex Machines for Exercising
Bowflex offers machines in four categories. We'll review them all in this article:
Max Trainer
Treadclimber
Treadmills
Ellipticals
Home Gyms
Bowflex Max Trainer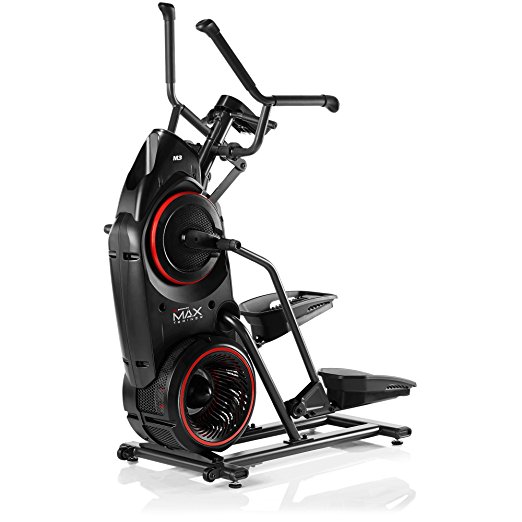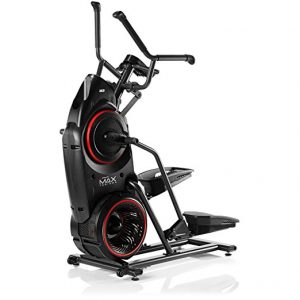 The Bowflex Max Trainer is a hybrid between a stepper and an elliptical that comes in 3 variants:
•    M3 Max Trainer
•    M7 Max Trainer
Each of these cardio machines is designed to burn the maximum number of calories in the minimum amount of time. 
Bowflex MaxTrainer M3
Pros
Cons
About the Machine
The Bowflex Max Trainer M3 is an extremely space-agey looking machine. It is the budget model in the Max Trainer range. But it still provides you with the much-touted 14-minute workout. It provides you with eight levels of resistance that are adjustable to enable you to progressively increase your training intensity.
The console on the M3 features an easy to read LCD with continuous readouts of your time, speed, calories, and distance. You also get target zone and burn rate indicators to allow you to fine-tune your workout. You get eight levels of adjustable resistance to keep you going strong. The handlebars on the M3 provide you with three different hand positions to allow you to work your body from different angles. It is a compact unit that fits easily into tight spaces. 
The M3 comes with two inbuilt workout programs that have been designed by top rated personal trainers. For your workout convenience, you also get a media shelf to securely hold your tablet while you are working out. 
Bowflex Max Trainer M5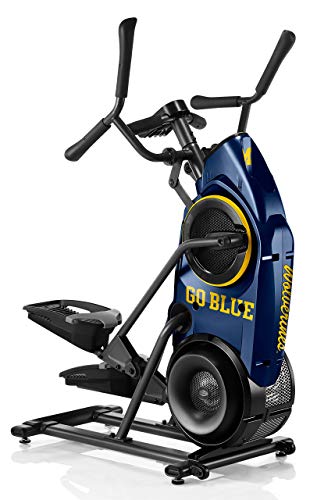 Pros
Cons
About the Machine
The Bowflex Max Trainer M5 is the mid-range offering in the Max Trainer line. The variable resistance is computer controlled for precision increments in intensity. The console provides you with Bluetooth smart technology, two workout programs, and clear readouts of all of your key training diagnostics. You also get eight workout apps, including fat burn, calorie burn, and calorie goal. 
You can download your key training data to your device via Bluetooth. The M5 provides you with 16 levels of resistance to allow you to progressively ramp up the intensity. On this, as with all three Max Trainer models, you get a zero-impact workout. The footpads are large and comfortable, and the elliptical motion of the machine gives you a natural movement that is very easy on the joints. As with the M3, the M5 is a very compact machine.
Bowflex Max Trainer M7
Pros
Wireless heart rate monitoring
Cons
About the Machine
The Bowflex Max Trainer M7 is the top of the range offering in the Max Trainer line. As with the other two models, the M7 provides you with an intense 14-minute workout to challenge the entire body that is zero impact and burns more calories than virtually anything else on the market. 
The M7 is a multi-use machine. You can store four user profiles on the console, with each person able to make use of personalized workouts. You get the much publicized 14-minute workout, along with an even more intense 7-minute option. It has more resistance levels than the other two Max Trainers (20 compared to 16 on the M5 and eight on the M3). You also get a greater range of workout options than with the other two models. 
A unique aspect of the M7 is that it comes with built-in wireless heart rate monitoring. All of your training data can be synced to the Bowflex fitness app. In addition, there is a media shelf so you can watch Netflix while training. The M7 comes with a 3-year warranty.
Bowflex Treadclimber
TC200 Treadclimber
Pros
Cons
About the Machine
Bowflex has superseded the Treadclimber with the Max Trainer, but the TC200 option is still well worth considering.
The Treadclimber TC200 is three fitness machines in one. You get an elliptical, a stair climber and a treadmill all rolled into one stylish unit. This makes for a very compact device to suit those with limited workout space. You get a pair of long pedals that are set at a horizontal but can be adjusted to a 40-degree angle. 
According to Bowflex, the Treadclimber will burn calories twice as fast as a conventional treadmill. Importantly, it does so without any of the joint stress that comes with traditional forms of cardio. The machine has a solid heavy-duty steel frame, and attached wheels. 
The Treadclimber provides you with five workout programs – Just walk, distance, calories, and interval. The heart rate zone light bar on the console tracks your pulse across four zones. The speed range of this machine is from 0.5 to 4.5 miles per hour. This limits the effectiveness of the Treadclimber for those who are into serious, fast training. 
The TC10 and TC200 review will tell you a lot more about these Bowflex machines.
Bowflex Treadmill
The newest models in the Bowflex treadmill range are the BXT116 and the BXT216. See how these Bowflex treadmills stack up to the ever-popular Sole treadmills in our comparison article, and read up on our Bowflex treadmill reviews while you're at it.
Bowflex BXT116 Treadmill
Pros
Lots of horsepower
Connects via Bluetooth to apps
Folds up
Cons
HR readers not as accurate
About the Machine
At the heart of all treadmills is the motor. It doesn't matter how fancy looking the exterior is, if the engine doesn't provide enough horsepower, you are going to be disappointed. The Bowflex BXT116 gives you a 3.75 HP motor that is up there with the best of the rest. The Burn rate console on the BXT116 provides you with a full complement of feedback diagnostics of time, speed, distance, heart rate, incline, total calories burned, along with a per-minute calorie burn calculation. 
Heart rate monitoring on this treadmill is seamless thanks to wireless chest strap pulse monitoring. You also get contact heart rate readers, but these are not as accurate as the wireless version. Bluetooth connectivity allows you to transfer your data to your device for later analysis. The full-color monitor provides you with a 7.5-inch screen. 
There are nine training programs built into this treadmill. Your purchase comes with an 8-week DailyBurn workout video. In addition, you get access to virtual reality workouts from Zwift. The running belt is 20 inches by 60 inches and comes with an impressive three-ply running belt. 2.75-inch diameter rollers are used on this machine. This is larger than you get on a standard home use treadmill, making for a longer belt life and a smoother running action. 
The BX treadmill is foldable and is covered by a two-year warranty.
Bowflex BXT216 Treadmill
Pros
Powerful motor
Large size
Great built-in programs
Cons
About the Machine
The Bowflex BXT216 provides you with a powerful 4 CHP motor to give you a continuous workout belt. This is about a full CHP more than you get with most home use treadmills. The three-ply treadbelt provides extra thickness to the running belt. Again, this is a lot thicker than a single ply mat, which you get on much of the competition. This makes the treadbelt incredibly durable and very comfortable to run on. 
The belt width of the BXT216 measures 22 inches by 60 inches. Again, this is more than you get on a standard treadmill. The computer on the BXT216 features a 9-inch full color, backlit display screen that gives you an easy to view readout of your important training data, including total calories burned, burn rate (per minute burn rate calculator), Incline, distance, Heart rate, time, and speed. There are 11 pre-programmed workouts that have been created by professional trainers and targeted to specific training goals. 
The BXT216 is Bluetooth compatible, enabling you to get wireless stat sharing to your favorite device. You get a 15-year warranty on the frame, with five years on parts and two years for labor. 
Bowflex Elliptical
Bowflex provides you with a range of ellipticals to fit different budgets and user needs. Their two flagship products are the BXE116 and the BXE216. The Bowflex BXE116 is the entry-level model, though the price is certainly not entry level in comparison to the competition. A 30-pound drive provides a smooth, natural elliptical motion. There are 20 levels of resistance on this machine.
A unique aspect of the 116 (and the 216) is that it comes with adjustable pedals, which allows you to get a more challenging cardio workout and provides variety in your workout. The handlebars support three handlebar positions. The 7.5-inch console provides you with nine workout programs – Manual, Fat Burn, Calorie Burn, Calorie Goal, Heart Rate, 8-Minute Interval, 16-Minute Interval, Strength, and Custom. You also get samples of some other popular workout programs and a one-year subscription to DailyBurn videos, along with 8-week trials of RunSocial and Zwift.
Read our Bowflex elliptical reviews here!
Bowflex Elliptical vs Max Trainer
With the introduction of the Max Trainer, Bowflex have shaken up the cardio fitness industry. So, does it make the elliptical machine redundant? Let's investigate.
Both the Elliptical and the Max Trainer provide you with a great cardio workout. They also both target your lower body muscles. However, they do so quite differently. The elliptical is designed to mimic the natural running motion of being outside. As a result, you get a horizontal, oval, elongated motion. However, the Max Trainer simulates a stair climbing action, giving you more of a vertical climbing action. This works your glutes, hamstrings while the elliptical hits the quads and calves more directly.
The big advantage of the Max Trainer over the Elliptical is that it burn more calories. One reason for this is that you are engaging the large muscle groups of your glutes. Bowflex claim that working out on the Max Trainer will burn 2.5 times more than any other cardio machine, including their elliptical machines. Bowflex have done a number of trials to back up this claim. In one of them, the Max Trainer consumed 600 calories over the course of a 30 minute workout.
The act of climbing on the Max Trainer is more intense than training on the elliptical. This is another reason that it burns more calories. Another major benefit of the Max Trainer is that it provides you with several built-in high intensity interval training (HIIT) program to allow you to take your training to the next level.
Both the Max Trainer and the Elliptical provide you with an upper body workout through the moving arms. However, testing done by the Bowflex people shows that the Max Trainer works more muscles of the upper body than does the Elliptical. This is though to be because the action that you are engaged in on the Max Trainer prevents you from planning on the machine the way that you can on the elliptical.
The Bowflex range of ellipticals do provide some advantages that you do not get with the Max Trainer. They offer more variety in training your lower body. For example, you can pedal both forwards and backwards. You can also train on an incline, which provides you variety in the way that your lower body muscles are worked. Some of the Bowflex ellipticals can also be folded for ease of storage, making them more compact than the Max Trainer.
The bottom line on the Max Trainer versus elliptical question, however, is that the Max Trainer will provide you with a more effective workout, which is really what it's all about.
See how the Max Trainer compares to the Treadclimber in our Max Trainer vs TC200 article.
Best Bowflex Home Gyms
Bowflex is one of the most well-known brand names in the entire fitness industry. When it comes to the home gym market, they are market leaders. Their iconic power rod-based home gyms, starting with the Bowflex 2000 in 1986 are in millions of homes the world over. Now, their product range is quite large.
Bowflex PR1000
Pros
•    Compact & Foldable
•    Horizontal, Incline & Decline Bench
•    Lat Pulldown
•    More than 30 exercises
•    210 Pounds of resistance
•    Built-in rowing machine
Cons
•    Resistance level cannot be upgraded
•    Limited negative resistance
About the Machine
The Bowflex PR1000 was introduced in 2008. Ten years on and it is still one of the most popular in the range, and it's not hard to see why. Bowflex classifies this as a budget home gym, but it is still manufactured with all of the workmanship standards of the most expensive models. 
The frame is made from high-grade commercial steel. The cabling is all of aircraft quality. High-grade Duraform leather padding is on the back and seat pads. 
 You get 210 pounds of Power Rod resistance with the PR1000, in the standard poundages of 5, 10, 30 and 50 pounds. On this home gym, you are not able to upgrade to extra poundage. That means that when you get too strong for the 210-pound resistance, you are going to be very limited. 
You can do more than 30 exercises on the Bowflex PR1000. That may not sound like a lot compared to some of the other models which allow for more than double that number. But think about it – how many different exercises do you actually do in the gym? Probably not more than 15 and definitely no more than 20! With that perspective in mind, 30 exercises doesn't sound so limiting. You can do all of the moves that you know from the gym, including the bench press, lat pulldowns, shoulder press, and bicep curls. You also get a rowing rail so that you can perform rowing type exercises. 
This home gym is exceptionally compact. It is also portable and can be easily folded to be stored away when not in use. The dimensions of the PR1000 when set up are 84 x 38 x 81 inches. The minimum floor-space that is recommended is 103 x 80 x 82 inches. The shipping weight of the unit is 148 pounds.
The PR1000 comes with a 12-month warranty on the body, five years on the power rods and 60 days on parts. Check out our Bowflex PR100 review to get the other specifics on this machine.
Bowflex Xtreme 2SE
Pros
•    Squat Bar
•    Ab crunch harness
•    Upgradeable by 200 pounds
Cons
•    No instructional video
About the Machine
The Bowflex X2SE is a middle of the range home gym that sits halfway between the PR1000 and the top of the line Revolution. Just like the PR1000, it comes with 210 pounds of resistance as standard. You can upgrade to either 310 or 410 pounds at the cost of $99 for every 100-pound upgrade, which you are unable to do on the PR1000. 
The XS2E provides you with the ability to perform around 70 exercises. That's twice as many as you get on the PR1000. This home gym comes with a high and a low pulley, which allows you to hit your body parts from a variety of angles.
The XS2E has a footprint of 53 x 49 x 82 feet. This is quite a compact area, making it useful for people who have limited room to work out in. The machine weighs 185 pounds. This is a lot lighter than you find with most of the competing gyms in this price range, thanks to the light weight of the power rods. 
Your purchase of the xS2E comes complete with an ab crunch shoulder harness and a squat bar. You can then buy the following add-ons:
•    Leg press
•    Stirrup handle
•    Ankle strap
We have a full breakdown of the Bowflex Xtreme 2SE Home Gym right here, so check that out. You can also compare the Bowflex PR1000 vs Xtreme SE.
Bowflex Xceed 
Pros
•    210 pounds of Power rod resistance as standard
•    65+ exercises
•    Compact design
•    Heavy duty steel frame
Cons
•    Difficult to assemble
About the Machine
The Bowflex Xceed is a mid-range home gym offering from Bowflex that caters to the intermediate level lifter. It allows you to perform more than 65 exercises to hit every muscle group. The Xceed comes with 210 pounds of standard power rod resistance. This can be upgraded to either 310 or 410 pounds with an additional $99 purchase per hundred pounds.
The power rods allow for weight increments of 5 pounds. 
The resistance increments on the Xceed go up in lots of 5 pounds. Keep in mind, however, that the resistance provided on this and all power rod driven machines is no equivalent to free weights.
The Xceed provides you with a heavy-duty steel frame that provides you with an extremely strong, solid until that is built for the long term. That provides you with confidence, knowing that the base of the unit will not wobble when you start going heavy. This machine is also adjustable so it will suit people of different heights. 
The seat on the Xceed is very comfortable. It is also stylish looking, being made from heavy duty polyurethane foam. You can adjust the seat to allow for customized positioning. There are also a number of cable and pulley options on the Xceed that will enable you to hit your muscles from some angles. 
The Xceed comes with a squat bar, a lat pulldown bar, and an ab strap. This is also a compact machine, taking up a footprint of just 7' x 4'. It comes with a 7-year warranty on the frame and pulley system. When it comes to the power rods, you get a lifetime warranty!
The Bowflex Xceed comes to your doorstep completely unassembled. Putting it together is quite a mission, requiring a couple of hours of your time.
Be sure to check out our Bowflex Xceed review page for more information.
You've read about them both, now compare the Bowflex Xceed vs Xtreme 2SE in our article.
Bowflex Revolution
Pros
•    Innovative Spiraflex Resistance System
•    Huge exercise range
•    Heavy Duty construction
•    300-pound max resistance
Cons
•    Requires quite a large workout area
•    Expensive
•    Difficult assembly
About the Machine
The Bowflex Revolution is the premier offering in the Bowflex home gym line. On it, you can do more than a hundred different exercises. Unlike every other Bowflex home gym that you've come across, the Revolution does away with Power Rods in favor of the Spiraflex system. 
The Spiraflex system was inspired by anti-gravitational experimentation at NASA. It makes use of precision designed plates which are made with a heavy-duty elastic inside of them. When you do a rep, the Spiraflex plates rotate around the center of the plate. As a result, the elastic strap stretches to create the resistance. 
Unlike the Power Rods of the other Bowflex system, the Spiraflex plates resemble old-fashioned free weights. However, they do not weigh the actual amount that they represent. You get the following resistances with the Bowflex Revolution . . .
•    5 pounds
•    10 pounds
•    20 pounds
•    40 pounds
The Bowflex Revolution came out with a max resistance level of 220 pounds. The XP version gives you 200 pounds, upgradeable by 80 pounds at an extra fee. With the Spiraflex system, you get a more realistic resistance than with the Power Rod system. It is consistent across the whole range of the rep.
On the Revolution, you can get a good leg workout in, which is more of a challenge on the Power Rod based home gyms. In this case, you get a leg press along with a harness for performing squats. You can do more exercises on the Revolution than you can on any other Bowflex home gym. With this machine, you can also perform your exercises from a wide range of angles by way of the independently moving arms which allow you to adjust to ten positions over a range of 170 degrees. 
You can buy a wide range of accessories for the Bowflex Revolution as follows:
•    Tall Seat Back
•    Leg Press Plate
•    Leg Press Seat Back
•    Preacher Curl Assembly
•    Resistance packs
•    Hand-grips & Foot Harnesses
A drawback of the Bowflex Revolution is that it doesn't lend itself to taller users. If you are more than six foot, three inches in height, you will struggle to fit into some of the stations. Advanced lifters will also find the weight maximums too limiting. This is also a very expensive home gym at around double the price of many competitors. 
You can read our full Bowflex Revolution review here.
Bowflex Ultimate 2
Pros
Strong, durable construction
95 exercises available
310 pounds of resistance, upgradeable
Comfortable bench seat
Pros
About the Machine
The Bowflex Ultimate 2 came out in the mid 2000's and provides you with 310 pounds of power rod resistance, upgradeable to 410 pounds. You are able to do more than 95 exercises to work every area of your body. The no-change pulley system allows you to change your exercises very quickly, minimizing the rest time between sets so that you don't cool down between exercises. 
The Bowflex Ultimate 2 provides you with a cardio machine. This allows you to get both a cardiovascular and a resistance training workout on the same machine. This machine is also great for low impact training, making it ideal for people who have joint problems. The warranty on the Ultimate 2 includes 12 years on the machine and a lifetime on the power rods. 
This is an older machine which is no longer being produced by Bowflex. However,it is available from a large number of resellers and can be purchased at a great price. Refurbished models will generally come with a 6 month guarantee. 
It should be noted that the Bowflex Ultimate 2 was recalled in 2007 because 10 users reported box separation. Three of them resulted in injury. All registered owners were sent a repair kit. There were no further reports or problems.
Read our full Bowflex Ultimate Home Gym 2 review to get all the specs.
A Bowflex Overview
The Bowflex home gym has its genesis with the idea of an engineering student in 1979, with the first model hitting the market in 1986. Before the advent on the internet, they were sold through TV infomercials. 
The Bowflex range allows you to perform virtually every type of exercise that you can do in a commercial gym. Bowflex gyms can be purchased for anything from $650 to around $3,000. 
Power Rod System
The main point of difference with Bowflex home gyms is their unique resistance systems. The majority of machines make use of the Power Rod system, while the newest addition to the line-up, the Bowflex Revolution, introduces the brand new Spiraflex technology. 
How It Works
The Power rod system makes use of a pulley/cable system. The resistance comes from long, flexible power rods made from polycarbonate fiber. The system is similar to draw a bowstring in terms of the movement of the bow. When you start doing a rep, the resistance only begins at 30 percent of the stated weight. Then, as you keep going, the resistance gets progressively harder. You are just moving the full weight for the last third of the movement. 
Disadvantages
Another drawback with the Power Rod system is that you do not get any negative resistance. When you do an exercise, there is a positive and a negative part to the rep. The positive is the lifting part, and the negative is the lowering part. A lot of research exists to show that you get more benefit regarding strength and muscle gains on the negative part of the rep. 
Effectiveness
As a result of these factors, working out on the Bowflex is not as effective as using traditional free weights and cable pulley machines. 
Weight Range
The power rod system provides you with a very smooth and fluid range of motion which makes it easy on the joints and connective tissue. The power rods themselves are made from a composite polymer material. They are sheathed with a protective rubber coating. Each rod is weighted, with typical weightings at 5, 10, 30 and 50 pounds.
The majority of Bowflex home gyms provide you with a total potential maximum resistance of 210 pounds, but some of them are upgradeable to 310 and 410 pounds with the purchase of additional power rods.
Spiraflex System
The Bowflex Spiraflex technology was introduced in 2006. They call this their 'next generation' technology. It makes use of the same pulley/cable resistance system but uses a different form of resistance. It involves circular cams that coil the applied muscular force. The Spiraflex system has the advantage of providing a constant level of resistance, unlike the Power Rods, which makes it more comparable to traditional forms of weight training resistance.
Bowflex Accessories
Most Bowflex home gyms do not include accessories as standard. Instead, you have to pay for an ab attachment or a storage rack. The Bowflex Revolution has the most possibilities for attachments, but they can be quite spendy.
Conclusion
I hope this complete Bowflex machine breakdown has been helpful. There are a huge variety of Bowflex machines, including Bowflex home gyms, to consider. But once you look at your training goals and match them up with the features of the machines, you should be able to make a great choice.