Compression pants are commonly used in tons of different sports and activities because of the numerous physical benefits they offer during exercise. Not only do they provide support and stability to the leg muscles, but this pressurized performance gear has also been found to reduce muscle fatigue, improve blood circulation, and accelerate muscle recovery, making compression sportswear essential to any athlete regardless of what you use them for. But besides the benefits, there's no denying one clear fact: compression pants look seriously slick.
These days, you can find compression pants on just about any athlete from novice to professional, but with so many different brands and options out there it can be daunting trying to find the best compression leggings for you! Some are better for running, some are better for sports, and so on. That's where we come in.
My girlfriend and I are a couple of multi-sport fitness junkies who love to find the best of the best when it comes to anything fitness-related. We recently became super intrigued by compression sportswear and wanted to try out a few different brands, so we bought and tested 8 of the highest-rated compression tights (4 men's pants and 4 women's pants) to see who really made the best compression leggings. Just to make sure we weren't being biased on anything, we also had my brother Cole and his wife Lauren test out everything too (they're also major fitness people so they were the logical choice to help us out).
If you're considering buying a pair, read our reviews below to make sure you're getting the best compression tights and the most value for your dollar.
Choosing The Best Compression Pants For You
Before you get started reading about each model, we just want to throw out one quick piece of advice to help you find the best compression tights for you. Consider what type of activities you'll primarily be using these compression tights for. Are you mostly going to be using these to run in? Or maybe you're a cyclist, or a weightlifter?
There are a couple of features such as breathability and fitment that just give certain models an edge over the others depending on what exercises you'll be doing while wearing them. As part of our compression pants reviews, we made notes about which activities each particular model excelled in so that you can easily find the best compression pants or base layer for your own sport or activity.
Best Compression Pants
2XU Men's Elite Compression Tights
★ Editor's Choice: Best Compression Gear Overall
• Thick, high quality material that's comfortable, breathable, and very durable (& made in the USA!)
• Designed for all-season use, making them ideal for any sport/activity in all weather conditions
• Unique targeted support system provides different amounts of compression in certain areas for maximum muscle protection and stability as well as optimal blood circulation which reduces fatigue
• Very easy to move around in; special circular knit design allows for multi-directional stretching, giving you full 360-degree range of motion
• Pants fit pretty true-to-size with drawstring waistband so you can adjust the fit around your waist
• Lightweight high-filament yarn wicks away moisture and sweat to keep pants dry during use, also provides UPF 50+ sun protection (blocks 99% UV rays)
• Highest-rated men's compression pants on Amazon with 96% positive customer reviews
• Only downside is the price tag is higher than others
Why We Chose The 2XU Elite's
After testing each of the four different men's compression pants, my brother and I felt that the 2XU Elite's were the best pair of compression leggings overall. The 2XU's excelled in literally every category we looked at when comparing pants: quality, comfort, durability, compression type, movement, and more.
The 2XU Elite compression pants use a very unique targeted support system that they call the Muscle Containment System (or MCS, for short). 2XU developed MCS as a way to essentially map out certain muscle groups and provide different types of support and pressure to each muscle in order to get the most benefits out of their compression leggings. Here's what they have to say about it:
MCS is a revolutionary fabric support system traced over key muscle, tendon and fascia groups to focus greater compression power to wrap precise areas and reduce muscle oscillation and damage. Front panels are engineered with powerful PWX FLEX (70D) fabric combined with MCS focused to the quads. Rear panels are engineered with powerful PWX WEIGHT (105D) fabric for support to the hamstrings and MCS focused to the calf.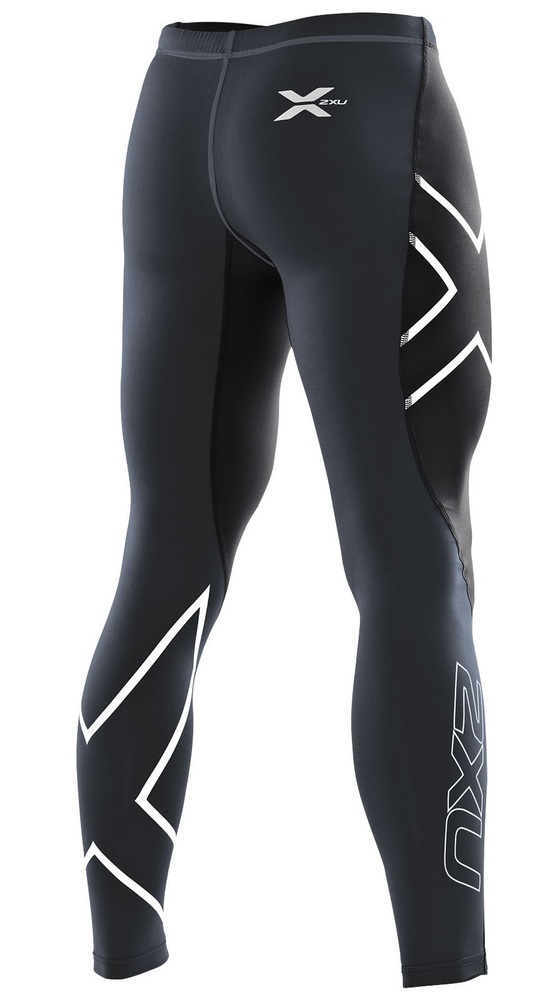 And trust me, it's noticeable. When you slip into 2XU Elite tights, your legs feel empowered, like you just put on some sort of superhero suit (Batman would be very proud). The MCS material is thick and feels good on the legs, providing the perfect balance of pressure and support to each of your leg muscle groups. The other brands we tested had much thinner material and did not even come close to the amount of support that these provide.
In addition, the 2XU Elite pants also feature a unique circular knit pattern in the groin area so that you can easily move in all directions with no restrictions. Having a good range of motion is essential because a lot of compression pants tend to be somewhat restrictive when it comes to range of motion, but neither my brother nor I had that problem whatsoever with the 2XU tights.
All in all, the 2XU's fit very well, and they even have a drawstring at the waistline if you feel you need a more secure fit (although neither of us had to use this).
As part of testing each pair of tights, we tried them out in the frigid cold of the morning as well as the blistering heat of the day. The 2XU Elite's were the only pair of compression pants that I can truly say were comfortable in all conditions. In the mornings, they provide a lot of warmth and will keep your legs in prime condition to exercise. In the daytime, the fabric breathes quite well and does a good job at removing moisture and sweat which not only keeps your legs dry, but also ensures your body stays cool and doesn't overheat. A couple added benefits of the material is that it's antibacterial, removes odors, doesn't chafe during exercise, and blocks 99% of UV rays.
The only downside of the 2XU Elite compression pants was the price tag. While most compression tights are around $20-50, the 2XU's run around $100. We of course took price into consideration when making our decision on which pair we considered to be the best compression tights overall, but both of us agreed that the 2XU's were well worth the extra cost for the ultra-premium design, awesome amount of support, and the numerous other advantages over the rest of the brands we tried.
I guess we weren't too surprised, as we all know that quality tends to come at a cost. Since compression pants are something that are going to last you a good amount of time, spending a little extra cash to get the best brand was worth it in our opinion.
In fact, if you want to save a little bit of money on them, 2XU sells them for cheaper on their Amazon store than they do on their website. On their website, the Elite compression pants run you $120, but on Amazon you can typically get them under $100 (2XU is always running sales on there).
Check out this quick video review from 2XU's Director of Product Development:
---
Dr. Skin DABB11 Compression Pants
★ Editor's Choice: Best Value For Your Dollar
• Great quality material, a little on the thinner side compared to the 2XU Elite, but very comfortable and easy to move around in
• Designed for all-weather/all-season use; breathable in summer and retains heat in winter (although material may be a little thin for temperatures below 30 degrees Fahrenheit)
• Same amount of compression throughout entire construction for even pressure distribution
• Pants fit securely, nearly true-to-size, and do not bunch up or move around once you put them on
• Aerocool design uses multi-layer fabrics to absorb and wick away moisture, removing odors and keeping pants dry during use
• Protects from sun radiation by blocking 98.8% UV rays
• Highly rated by customers with 92% positive reviews
Our Thoughts On The Dr. Skin DAB11's
If you didn't feel like shelling out $100 for the 2XU Elite Compression Pants and want a great lower-cost alternative, the Dr. Skin DABB11's were an excellent runner-up. The bullet points above provide a lot of great info on this particular set so I don't have to go into too much detail here, but the DABB11's were a surprisingly nice set of compression pants.
While the 2XU's were an amazing product, the DABB11's seemed to offer the most value for your dollar when you consider features versus price. They offered great quality, a nice comfortable fit, and a good even amount of compression for any type of exercise in (almost) all weather conditions. While the pants were a little on the thinner side in terms of material, at a price tag of under $20, how can you complain?
---
Nike Pro Cool Tights
• Made with premium Nike quality with ergonomic seams that lie flat against your body
• Uses less compression than other pairs we tested as the Nike's are designed for a more natural feel, which means slightly easier movement but much less compression benefits
• Mesh panels at front and inseams helps ensure there is no chafing during exercise
• Signature Nike Dri-FIT fabric wicks away moisture to help keep the pants dry and keep you cool in more heated situations
• Available in 9 different color options
• Rated well but not great with only 84% positive customer reviews on Amazon
• Other customer reviews warn of waist coming apart of losing elasticity
The Verdict: With as popular as Nike is as a company, and with as much as I love some of their other stuff like training shoes or socks, both of us were a little disappointed with the Nike Pro Cool's. They're made with good quality and serve a good purpose, but we thought they felt more like base layer tights and less like actual compression pants. I get that they're going for a more natural feel, but come on Nike, don't call them compression pants if they barely have any compression!
---
TSLA Compression Leggings
• Material is nice and soft but very thin, unsure about durability over time
• Designed as a base layer for all-season use, however TSLA specifically says these are not made for warmth so keep that in mind if you are often exercising in colder temperatures
• Same amount of compression throughout entire construction for even pressure distribution
• Pants fit securely and are easy to move around in, but run a little small so if you are in between two sizes you should go with the bigger size
• Two-way air circulation senses moisture and absorbs or pushes it out which keeps pants dry
• Available in a super wide variety of colors (12 to choose from)
• Rated fairly well with 88% positive customer reviews on Amazon, most people just warning about the thin material like we did
The Verdict: Although these are a super popular set of compression tights online, the super-thin material makes these tights virtually useless in the cold and the thinness also compromises the overall durability, so we wouldn't recommend these as a good set of compression pants when you have brands like the 2XU Elite or the Dr. Skin DABB11 to choose from.
CW-X Women's Stabilyx Tights
★ Editor's Choice: Best Compression Tights Overall
• Ultra-premium quality material that's soft on the skin and tear-resistant for good durability
• Designed for all-weather use, so they're great for any activity or exercise both indoors and outdoors
• Unique Support Web design provides targeted compression to different muscles and joints to give you maximum support and stability as well as optimal blood circulation (which reduces fatigue)
• 4-way stretch body fabric gives you full range of motion and makes these very easy to move around in
• Designed specifically with our female anatomy in mind, so they fit securely and are super comfortable, plus there's a drawstring waistband for easy adjustment at the hips
• Coolmax fabric material ensures no itching or chafing and makes these very breathable by wicking away moisture/sweat to keep you cool and dry (also blocks 99% of UV rays with UPF 50+ protection)
• Multiple color options and a capri version is available as well
• Highest-rated women's compression pants on Amazon with 97% positive customer reviews
Why We Chose The CW-X Stabilyx's
After doing a bit of running around through different exercises and activities, us girls agreed that the CW-X Stabilyx Tights were definitely the best compression tights for women. I don't mean to knock any of the other brands, but nothing else even came close to the quality, comfort, and (mainly) the support of the CW-X pants.
The CW-X Stabilyx Tights use a really unique patented compression design that they call the Support Web (such a fitting name once you read its purpose). Let me explain what this does. The Support Web uses a carefully designed system of fabrics that wrap around your legs (like a web) and provide different levels of compression and support to each part of your leg. Why is this good? Check out this statement from CW-X's website:
The patented CW-X Support Web™ bands together the muscles and ligaments of the lower leg to stabilize the knee and reduce vibration for increased efficiency.

The CW-X Support Web™ also harnesses the midsection, supporting the lower abdominals, hips and back to channel power through the core. Variable compression facilitates circulation during and after activity, minimizing lactic acid build-up so that you can be active longer and recover faster.
The 'web' name makes it sound kind of funky, but take my word for it, this special support system is second to none. There are support panels all the way down the leg which is nice because the extra stability gives you more leg power (great for those with bad knees), but the thing that I really loved about the CW-X Stabilyx tights was the amazing core support.
These compression pants have a slightly higher rise than most other brands, but that extra inch or so in rise combined with the web of support fabrics helps wrap the hips and gives you much more stability in the abdominals, obliques, and lower back, which makes a massive amount of difference during exercise (in a good way!).
In addition, something else that's great about the CW-X's unique design is that the Support Web provided a good amount of compression with compromising any range of motion. Despite the support fabric, Lauren and I could still move our legs completely freely like there was nothing there, which was awesome!
The guys insisted on testing each pair of pants in different weather conditions, so we got up with them in the black of morning to test the tights in the cold and also tried working out with them later in the day in the afternoon heat.
The CW-X Stabilyx's were the only pair of compression pants that were good in the cold, the others that we tested were just too thin and didn't keep us warm enough. It's not like these are super thick tights so I was a little worried about that at first, but they actually did surprisingly well. Exercising in the heat was no issue either.
The Coolmax fabric that CW-X uses was perfectly breathable and it also did a really good job at wicking away sweat to keep my legs cool and dry. Best of all, there was no chafing and the pants didn't bunch up at all, they stayed right in place like they're supposed to.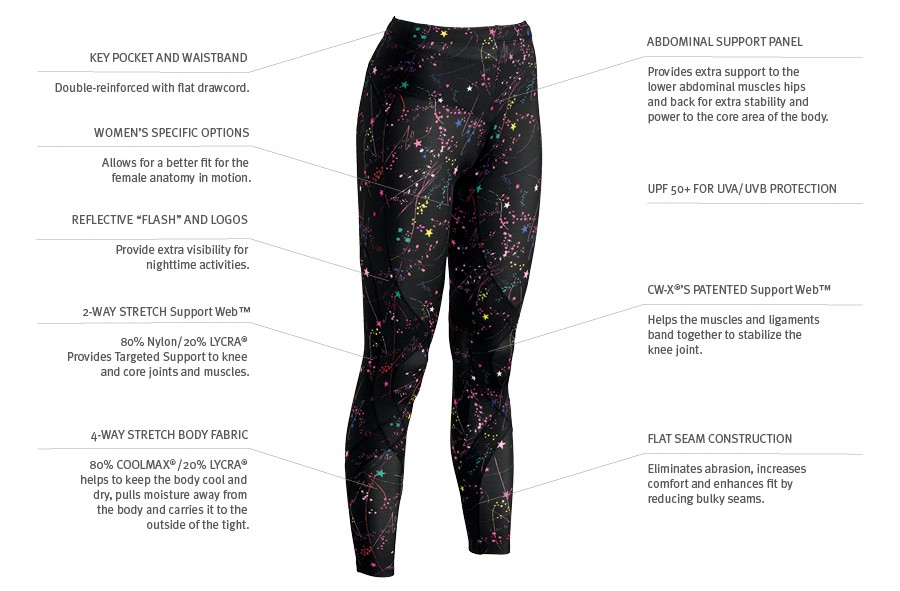 Now, there are two minor downsides to the Stabilyx pants. First, we read some reviews online of the reflective pieces peeling off after a few washes. We haven't had that problem with our pair, but as long as you follow the directions and hang dry these after washing, you should probably be fine. If worse comes to worst, they're covered under warranty so just email CW-X and they'll likely just replace them for you.
The second downside is that the price tag is about twice as much as most other compression pants. While a typical pair would cost your $25-50, these cost just shy of $100. Price is always something to consider during any purchase, and while I'm typically not one to go for a higher-priced product, I would actually say that these are well worth the extra cost. Lauren and I talked about this and she agreed as well. The numerous benefits far outweigh the downside of a higher price tag.
To help you out, we did some searching around on the price. They're available at quite a few places online, but the cheapest place we found them was on CW-X's Amazon store where you can get them for about 20% off.
CompressionZ Tights
★ Editor's Choice: Best Value For Your Dollar
• Premium soft fabric material that's comfortable to wear and hugs the legs tightly & smoothly
• Great for all weather conditions, good thickness so they retain warmth in the cold weather but material is also very breathable which helps keep cool in the heat
• Same amount of compression throughout entire construction for even pressure distribution (still works well just not as intricate as the CW-X's multi-level Support Web)
• 4-way stretchable SmartFabric gives you full range of motion and makes moving around easy without any restrictions, itching, or chafing
• 100% money-back guarantee so you can return them if you're not happy, yay worry-free purchases!
• Fits small so be careful when ordering, may have to order 1 size bigger (read other reviews on this)
• Rated highly by customers with 92% positive reviews and #1 best-selling women's compression pants on Amazon
Our Thoughts On The CompressionZ Pants
If you're thinking "no way" to spending nearly $100 on the CW-X Stabilyx tights, then you should definitely consider the women's tights by CompressionZ. This is an awesome pair of compression pants, and if I didn't already know the price was around $20, you could have easily told me they were $70 and I would've believed you.
As you can see by the bullet points above, the CompressionZ pants offered a lot of great benefits and in our opinion they offered the most value for your dollar when it came to weighing features versus price tag. If I wasn't so obsessed with the incredible Support Web design on the CW-X tights, I would've probably chosen the CompressionZ pants.
2XU Women's Compression Tights
• Silky smooth high-quality material that's comfortable but surprisingly thin
• Designed for all-weather use so it's nice and breathable in the heat, but given the thinner material I'd probably only use it as a base layer in the cold
• Multi-level compression design provides different amounts of pressure and support to certain areas of the leg for stability, protection, and optimal blood flow
• Unique medical circular knit pattern allows stretching in any direction for the best range of motion
• Drawstring waistband for easy adjustment around the hips
• Lightweight material helps transport sweat to keep your legs dry and block UV rays (UPF 50+)
• Rated fairly well by customers with 86% positive reviews, but many people warning about the thinness of the material like we did
The Verdict: Although the guys chose the 2XU men's pants as the Best Men's Compression Pants overall, we were pretty disappointed with the women's version (which sucks because we had really high hopes for these!).
The 2XU tights were nothing like the compression and support we got from the CW-X tights. Both brands actually have very similar designs as far as multiple-level support, but CW-X really nailed it with our female anatomy whereas the 2XU left a lot to be desired.
Under Armour ColdGear Compression
• Made with genuinely good quality (it is Under Armour, of course) so that material was nice
• Breathable and comfortable in the heat and did even better in the cold, retained warmth very well so props to UA on the ColdGear line actually working!
• Uses noticeably less compression than the other tights we tested, almost to the point where they shouldn't even be called 'compression' tights – just regular tights
• Lightweight fabric stretchable in 4 directions is good for range of motion
• A little chafing while exercising because of the seams, but not completely intolerable
• Rated pretty well by customers with 88% positive reviews, but a lot of people warning about having no compression in these pants
The Verdict: In our opinion, Under Armour did a great job with the ColdGear line and we thought these are great tights to wear in the cold whether you're running, cycling, or doing some other exercise. However, these 'compression' pants didn't really offer the one thing we bought them for – compression. If you're looking for running tights to keep you warm, these work very well, but if you want true compression pants, we wouldn't recommend the Under Armour's.
Conclusion
Overall, we all had a good time testing out each of the above brands. The guys chose the 2XU Elite as the best option for men, and the girls went with the CW-X Stabilyx as the best option for women. If you have any experiences of your own, please feel free to share them below!