by
A compact treadmill is a great exercise option for people who have limited space and who move frequently. However, the vast majority of compact treadmills on the current market are flimsy machines with weak frames and low output motors. Finding a foldable treadmill that doesn't compromise on structural integrity is not easy.
That's why we've gone in search of the best compact treadmills on the current market.
Here are our Top 5 Compact Treadmills:
Nordictrack C1650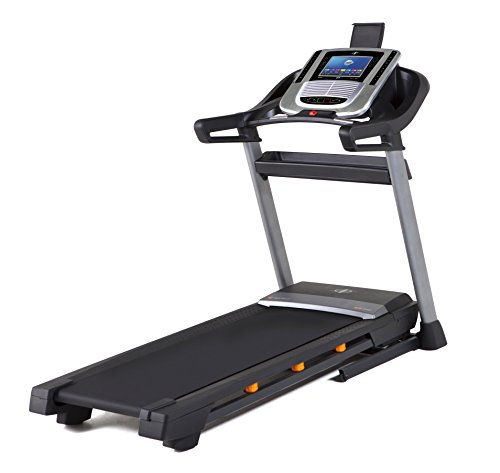 Pros:
Full color console
Adjustable cushioning
Long running belt
Auto incline / decline
Cons:
No wireless heart rate monitor
iFit live requires subscription
The Nordictrack Commercial C1650 is a bridge between Nordictrack's budget home use treadmills and their high end commercial models. We've rated this as our No.1 compact treadmill because it provides you with a slimline, lightweight design, along with a high end console, lots of programs and  a well cushioned, spacious running track. It provides you with some great basics plus a  few premium features, all in a  compact unit.
Benefits
Full Color Console 
Unlike the majority of treadmills at this price-point, you get a full color console with the C1650. It also features a touchscreen web browser. That means that you can surf the net, watch YouTube videos or read your emails as you are working out.
Adjustable Cushioning
The C1650 allows you to select the ideal level of underfoot cushioning for you. You can easily turn up the cushioning level up for softer, higher cushioned padding and turn it down for  firmer, rod-like underfoot feel.
iFit Live
iFit live is a comprehensive fitness app. It allows you to download new workouts from the Internet and track your workout over time so you can monitor your progress. You can program in running trails from all over the world.
Extra Long Running Belt
Despite its compact nature, the running belt on the C1650 is a full 60 inches in length. This makes it ideal for taller runners who have an extra long stride.
Incline / Decline
With the C1650 you get the options of  15% incline and a 3% decline. These provide you with more options for cross training workouts. These functions are operated automatically, which means that you can change the incline mid way through your training without having to get off the treadmill.
Tablet Holder
The C1650 provides you with a sturdy bracket which is located just above the console. This allows you to place your tablet on the treadmill without covering the main console, so you can watch your favorite movie while also keeping an eye on your training diagnostics.
Drawbacks
No Wireless Heart-rate Monitor
This treadmill does provide you with a hand sensor pulse monitor, but these are nowhere near as accurate as a chest strap pulse monitor. You are able to connect a chest strap monitor to the C1650, but the strap does not come as standard with the treadmill.
iFit Live Subscription
The iFit Live feature does require a subscription fee. You don't need to have iFit Live to use the treadmill, but it is a nice extra.
Sole F80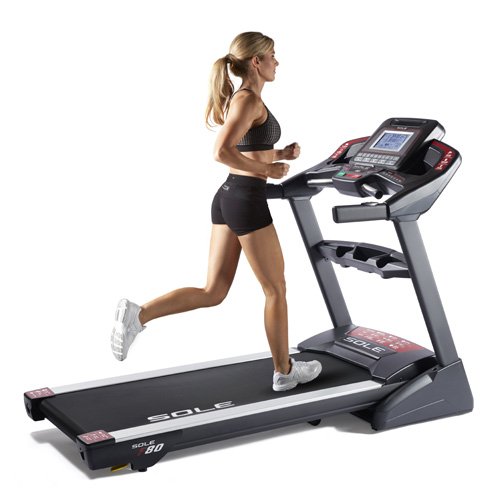 The Sole F80 Treadmill is a compact high end machine that is foldable. It features a large, easy to use console, a 3.5 CHP motor and 30 levels of power incline. It is our second favorite compact treadmill.
Pros:
Large console
Very sturdy
Foldable
3.5 CHP motor
Large rollers
Cons:
Short hand rails
No wireless heart rate monitor
Heavy
Benefits
Large Console
The console on the Sole F80 features lots of large buttons and a big screen. The buttons on the console are oversized, making them easy to access when you are running on the treadmill. The large clear multi-facet display makes it easy to read your training data. The console also features a cooling fan.
The console provides you with  good deal of training feedback. This includes time, distance, calories burned, and heart rate. There are also stereo speakers on either side of the console to provide for a premium music experience. Console holders allow you to store your water bottle, keys and wallet.
Solid Design
This treadmill has a solid steel frame. It can accommodate users up to 150 kg.
Large Rollers
At each end of the running mat, the Sole F80 has 2.5 inch rollers. As the mat goes around these oversized rollers, noise and wear will be significantly reduced. The cushioned flex whisper quiet deck also makes this  a very quiet treadmill to operate, which allows you to enjoy music or watch TV while exercising. The flex technology used in the deck will also reduce foot strike impact by up to 40% compared with road running.
High Speed
The max speed on the Sole F80 is 19 kph (11.8 mph), which is virtually sprinting speed. This provides you with enough grunt to suit even the most hardcore of athletes.
Auto Incline
The Sole F80 has a motorized incline of up to 15 levels. This provides you with plenty of options to increase the intensity of your workout without having to interrupt the flow of your training.
Hand Pulse Sensors
Located directly under the console are a pair of short handles that have built-in hand pulse sensors. This allows you to keep  constant monitor of your training heart rate. The console is also set up to take  wireless heart rate monitor, though this does not come with the unit.
Emergency Safety Stop Button
A bright emergency safety stop button is centrally located to allow you to immediately stop the treadmill if you have the need.
Foldable
When you have completed your workout, simply walk to the rear of the running track and lift the hydraulically assisted base to transform the treadmill into  compact unit for storage. It also has wheels for ease of transportation.
Drawbacks
Short Handles
The side handles of the Sole F80 are rather short. This won't be a problem for experienced runners, but novices and seniors may want longer handles to provide more safety while exercising.
No Chest Strap Heart Rte Monitor
The Sole F80 is set up to take a chest strap monitor but you will have to buy this separately, which will cost about $70.
Heavy
Even though this is a compact treadmill, it is quite heavy. This is largely due to the large 3.5 CHP motor. However, because the unit is foldable and comes with large transport wheels it is quite easy to move around.
ProForm Pro 2000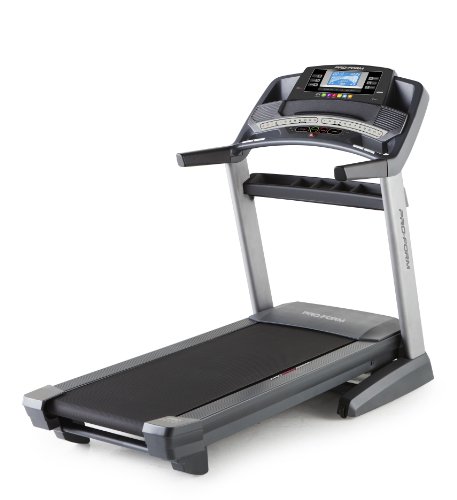 The ProForm Pro 2000 provides you with a slimline compact design that still delivers  hardcore workout with advanced electronics. It's got a 3.25 CHP motor and power ramp and is iFit compatible.
Pros:
Large running mat
Foldable with shock assist technology
3.25 CHP motor
Auto incline / decline
Large track rollers
Cons:
No USB Charger
No headphone jack
Bad tablet placement
Benefits
Large Running Area
With a running mat with dimensions of 60 inches by 22 inches, you will never feel cramped on this treadmill. This gives you the freedom to stride out even if you are well over 6 feet tall. It is also ideal for seniors, providing plenty of width to move.
Foldable
The ProForm Pro 2000 is a completely foldable treadmill. It has built-in shock assist technology. This makes it a breeze to fold the unit up to a compact storage size.
Powerful Motor
The 3.25 CHP motor provides you with a quiet, seamless operation. You will be able to sprint on this machine up to 12mph, providing  workout for all fitness and ability levels. The motor is covered with a lifetime warranty. The unit can handle  user weight of up to 350 pounds.
User Friendly Monitor
The ProForm Pro 2000 monitor features quick touch controls so that you can easily hit the buttons while running. The 7 inch LCD display is backlit for ease of viewing. There are 32 built-in workout apps in the monitor's computer, each one designed by fitness professionals. This provides you with a huge range of training options.
Stereo speakers with iPod capability are located on either side of the monitor.
Auto Incline / Decline
This treadmill provides you with an auto incline / decline function which allows  range between  15% incline and  3% decline. This gives you the ability to add some serious intensity to your workout.
Large Track Rollers
The 2.5 inch dimeter track rollers ensure that you get  very smooth, natural operation of the running belt, along with absolute quiet. The large rollers also help to extend the life of the running belt.
Drawbacks
No USB Charger / Headphone Jack
This model does not come with a USB charger or  headphone jack, so you are unable to listen to your music independently.
Bad Tablet Placement
The tablet placement shelf is positioned in such a way that your tablet will obscure the screen of the monitor. That means that you are unable to see your training data when enjoying your favorite movie.
Life Fitness F3
The Life Fitness F3is a sturdy and reliable compact treadmill that features excellent shock absorption. This makes this folding treadmill especially beneficial for seniors and those with joint issues.
Pros:
Auto fold technology
Excellent shock absorption
User friendly console
Pros:
Short handles
No wireless heart rate monitor
Benefits
Flex Deck Folding Technology
Life Fitness make use of their patented Flex Deck technology on this folding treadmill. This provides you with an auto fold function with just the press of  button, making this one of the easiest compact treadmills to fold up and store that we have ever come cross. It also features large wheels for ease of transport.
Great Shock Absorption
The Flex Deck shock absorption technology provides you with a superior level of underfoot support. The same shock absorbers that are used on commercial equipment all over the world are featured on the Life Fitness F3.
Easy to Use Console
The console on the F3 has easy to operate programming with large buttons and a large clear screen. The control panel allows you to scroll backwards and forwards through the five different manual control programs and the five heart rate control programs. The console also features innovative 'walk', 'jog' and 'run' buttons, which allow you to have these options right at your fingertips.
The console is placed at eye level to make it easy to view while you are exercising. The capacitive touch keys illuminate when usable and dim when not in use.
Good Sized Running Track
With dimensions of 55 inches by 20 inches, the Life Fitness F3 provides you with a decent sized running track. Though not as large as some of the other compact treadmills in this review, it will provide all but the tallest of users with plenty of room for running, jogging and walking.
Drawbacks
Short Handles
The side handles on the F3 re not very long. This limits the mount of safety assistance that you can get while running.
No Wireless Heart Rate Monitor
While the F3 does come with standard hand pulse sensors to gauge your training zone. these are not very accurate. There is no provision here for  a chest strap monitoring system.
Merit Fitness 715T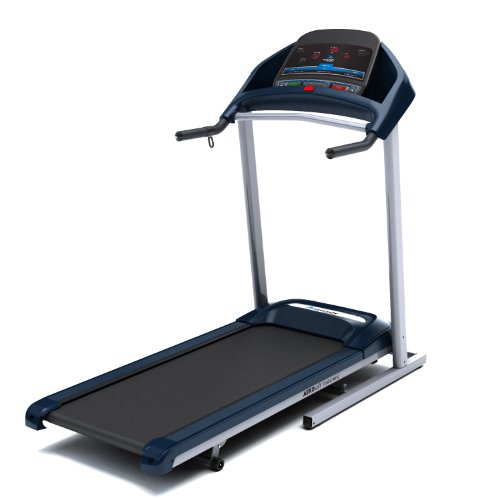 The Merit Fitness 715Ttreadmill is  a budget treadmill that folds up to a very compact storage space. This entry level model is ideal for apartment living and is suitable for both running and walking.
Benefits
Aerosoft Cushioning System
The Merit 715T features the Aerosoft cushioning system which provides you with an enhanced level of underfoot cushioning. This reduces the impact of foot strike. This makes it a great choice for people who have joint problems.
Lightweight Yet Sturdy
The overall weight of the Merit 715T is just 100 pounds. This makes for a lightweight, yet surprisingly sturdy treadmill.
Quality Console
The large, clearly visible console on this treadmill provides you with 3 LED screens. It will keep  track of your distance, time, speed and level of resistance. The console also has a large, centrally located emergency stop button. It also has a pair of cup holders.
Four Workout Programs
The Merit 715T gives you four workout programs. These have been designed by fitness professionals for specific goals such as fat loss, endurance and sprint training. You also have the option of creating your own program.
Drawbacks
Limited Running Space
The running mat on the Merit 715T treadmill is only 18 inches by 47 inches, which does not provide you with very much running space, potentially limiting taller users to only walking on this fitness treadmill. This is the trade off for having such a compact unit.
What to Look for in a Compact Treadmill
Motor Size & Treadmill Speed
When shopping around for a compact treadmill, one of the most important specs to keep in mind is the motor size and speed. The size and speed of your compact treadmill motor determines how fast you can go, and is the deciding factor on whether or not you'll be buying a walking treadmill, or something cable of handling a full-on run. Walking treadmills are great, but they don't suit everyone's needs.
Track Dimensions
The next spec to watch for is the track size. This is easy to overlook but, you'll quickly notice the difference between a short and long track, especially if you are a taller runner. If the track is too short, you may end up being limited to walking only.
Track widths run anywhere between 16 and 22 inches typically, with 20 inches being perfect for the majority of users. You may be able to get away with less if you are on the smaller size, but ideally shoot for the upper range.
Track Cushioning
The best compact treadmill should have sufficient track cushioning so that prolonged use doesn't cause pain. Especially if you are a runner, prolonged use of a treadmill can really add wear and tear to your joints, so be sure the compact treadmill you end up with is up to snuff.
To get a good feel for cushioning, you really should try out the compact treadmill you are considering purchasing. At least read customer reviews, if you aren't able to try it out, and look for people's reviews of the cushioning specifically.
LCD Display Console
Not quite as important as the previous points, but still something you'll want to consider. The LCD console of the treadmill should be large enough that you can read it while moving at a brisk pace. LCD consoles that are backlit are an added bonus, and is a feature you should seriously consider splurging on.
Workout Programs
Even budget compact treadmills come with workout programs these days, many of which are designed by fitness professionals to provide you with a great workout. 
Weight Capacity
Depending on your size, weight capacity may be another factor to keep in mind. When it comes to compact treadmills or a folding treadmill, their weight capacity can often take a hit, with some only being made to accommodate up to 200 pounds! You can see how this could quickly become an issue for some.
Portability
If you're shopping for a compact treadmill for the home gym, portability is another factor to be mindful of. A folding treadmill is incredibly convenient, as they can be tucked away near-effortlessly, after a good workout, minimizing the footprint of your compact treadmill greatly.