Have you ever wondered about trying a nutritional cleanse?
Consider trying the Beachbody 3 day Refresh program.  This Beachbody program is designed to help you break bad eating habits, and detoxify your body.
Below is our Beachbody 3 day refresh review where you can read about how this program will help you lose weight fast.
Complete Beachbody 3 Day Refresh
About the Cleanse
Most importantly, the Beachbody 3 Day Cleanse speeds up your metabolism by providing satisfying shakes and fiber drinks to keep you nourished. The program also allows fruit, veggies and tea for snacks, and low calorie dinner recipes, so you will not feel deprived.
After the 3 days you will be able to feel the benefits of this program for weeks, which will help you keep the weight you lost off, but also reset your cravings and help you sleep soundly at night.  You will come out of it reset, recharged and refreshed.
What is Included with Your Purchase?
The kit for the Beachbody 3 day refresh comes with Shakeology shakes, a protein based drink called Vanilla Fresh, a Fiber Sweep drink, and a program guide with easy-to-follow instructions.  For 3 days your breakfast will consist of a Shakeology superfood shake.
By mid morning you will have the Fiber Sweep drink. Lunch is the Vanilla fresh protein shake. For dinner another Vanilla Fresh shake.  NOTE: There is an option to add fruit, veggies, tea, and other low calories snacks throughout your day, but those things DO NOT come with the kit. The program guide will give you a detailed grocery list of healthy snacks to purchase.
What is Shakeology?
Shakeology is basically a protein rich, fiber based shake made with superfoods.
Think of all the "good for you" foods that may be lacking in your diet; super greens and plant based proteins that supply your body with nutrition, and you have Shakeology.  It's been made with all these unique ingredients that supply antioxidants, fiber, vitamins and minerals, plus probiotics that are hard to get from normal grocery store products.
The combination of all these global ingredients are meant to met the complex needs of nutrition your body craves. Without a balanced diet, your body will struggle to function properly, and Shakeology sets you up with a healthy foundation for the day.
When you order your Beachbody 3 Day refresh kit, there is an option to order a kit that comes with Shakeology.  If you are already a Beachbody client using Shakeology, you can order the kit without it, therefore reducing your cost, but buyer beware: Shakeology is part the program. You have a Shakeology shake for breakfast all 3 days of this cleanse.   Most of us will probably need to purchase the kit with Shakeology.
Shakeology Flavors
It comes in 6 different flavor choices and 2 of them are vegan. You have your choice of:
Chocolate
Vegan Chocolate
Vanilla
Greenberry
Latte
Vegan Strawberry
For this particular program, I suggest taking a vegan option, because it is easier to digest.
At one of my local coffee shops, they offer Shakeology, and I have tried all the flavors. I honestly cannot tell the difference between Chocolate and Vegan Chocolate, so my advice to try the Vegan Chocolate.
Overall, the two chocolate flavors are your best bet, but if you are not a chocolate fan, try the Vegan Strawberry.
What is Vanilla Fresh?
The Vanilla Fresh drink is what you will have for lunch and dinner. It is packed with potato protein to help curb your hunger. Also in this drink are 22 essential vitamins and minerals, and probiotics for your digestive health.  The ingredient list includes agave, natural vanilla flavoring, potato protein, pea protein, and oat protein.
I thought that the Vanilla Fresh drink tasted a bit like the Shakeology Vanilla shake, but not as tasty.  I had a friend who added coconut milk to the drink to improve the flavor. I honestly thought it was ok and didn't need anything added to it.  But, since we all have different palettes, I thought I would mention the coconut milk trick.
What is Fiber Sweep?
You are asked to take the Fiber Sweep drink sometime during mid-morning.  It is supposed to gently clean your waste system out. It employs psyllium husk seeds, chia seeds, and ground flax.
Ok, I should warn you that this fiber rich drink may cause you to bloat.  Don't be alarmed, that is the drink doing it's job. To help reduce the bloating, drink water! The program recommends that you drink half your body weight in water during the 3 days.
You may also experience a little gas, which could suggest you need to increase your fiber intake in your daily diet. Fiber helps your digestive tract to run smoothly, and it balances your blood sugar levels too.  If you find that gas is an issue during the program, there are some "low gas producing" snack ideas included with your program guide.
The Program Guide
Your kit comes with a program guide that gives you easy to follow instructions for the program.  It explains how the Beachbody 3 Day Refresh program works. It offers tips on what to expect during the program.
Also included is a shopping list with approved fruit and veggies snacks, the list comes with a menu planner to help you make smart choices.  There are recipes for fresh pressed juices, and also a list of flavorings to use to jazz up your snacks.
The Maintenance Guide
With your purchase you will also receive a maintenance guide.  This program is designed to work long after the 3 days of calorie restriction.  The maintenance guide will give you tips on how to prolong your results. I highly recommend you look it over after the cleanse is finished.  The advice given here is sound and uplifting.
Yes, you can have snacks!
During this cleanse you are mainly drinking shakes, but you can add fruit to the shakes to kick it up a notch.  Banana is one of the fruits on the list, so I threw one in with my shakes. This especially helps with the Vanilla Fresh drink, if you find it hard to tolerate.
You have an approved list for veggies too, and a healthy fat list to choose from (think avocados and almonds). You are allowed tea, but it has to be taken without dairy milk, although a natural sweetener like Stevia is allowed for taste.
I found that as long as you drink the recommended amount of water, you stay pretty full. The program guide includes dinner options too.
30-Day Money-Back Guarantee
Beachbody offers a money-back guarantee.  Since the program is designed to feel its effects for weeks after, they are now backing up that promise with a 30 guarantee.
If after 30 days you don't feel better and lighter, you can request a full return of the purchase price. This does not include the price of shipping.
Can You Exercise?
The Beachbody 3 Day Refresh is a program that restricts the calories you eat. Therefore, it is recommended that exercise be limited to activities that are mild.
Beachbody On Demand  offers a 3 day yoga program to try while doing this cleanse. As a yoga teacher, I didn't feel the need to check it out. Instead I did some Restorative yoga of my own choosing to help calm my nervous system.  I also continued to walk my dog, because duty called, but we did not go an any long hikes.
Side Effects to Watch Out For
Food Cravings
I personally did not have any powerful food cravings.  I think the protein shakes and fiber sweep do a good job keeping you full, as long as you drink water constantly.  I mention the food cravings because Beachbody suggests that they may happen. Hydrate!!! This should help with cravings.
Irritability
Because of the reduced calories, it is not uncommon to experience a little irritability.  I combated this with Restorative yoga, and short, slow walks outside with my dog. Nothing can cheer you up like fresh air! Give it a try.
Beachbody believes that any irritation will not last long. I agree, I was a little cranky when I had to teach, but the good news is I didn't have to do the class, just teach it.
Body and Headaches
If you do experience any body aches or headaches, know that they are a temporary reaction to the program and not meant to last.
I can't stress this enough… drink your water!!! I did not have any aches or pains, but I had a friend who was a little achy, but that went away after she finished the program.
Sleep
While this program can help you sleep better after you complete it, you may have trouble sleeping during your 3 days.  I mention this because I can tell you first hand that the sleep irregularities clear up when the program is finished.
Not only that, but after the program you may notice that you sleep more soundly.
Meal Prep
I imagine that if you are not used to meal prepping or cooking your own meals, you may find Beachbody 3 Day Refresh a challenge in the kitchen.  The thing is, the more you prepare your own food, the more nutritious your food becomes.
Another benefit to this program is it demonstrates the importance of making most of your meals, instead of relying on takeout or pre-packaged convenience foods.
The program guide comes with dinner options to choose from, or you can buy the ingredients on the produce list and make your own concoctions. Here is a recipe for tomato and cucumber salad. I still make this to snack on! It's delicious!
Tomato and Cucumber Salad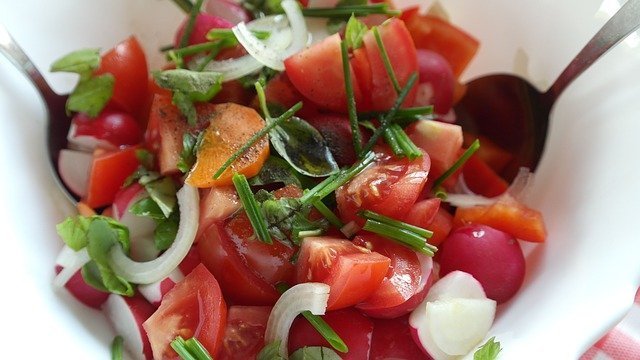 (Serving Size: 2)
Recipe (This recipe will make enough for two servings)
2 Tablespoons Red Wine Vinegar (can substitute with apple cider vinegar)
1 Tablespoon Balsamic Vinegar (can substitute with white wine vinegar)
1 lemon, juiced
1 tablespoon Extra Virgin Olive Oil
1 container of cherry or grape tomatoes, halved
1 cucumber, sliced
1 tablespoon of red onion, diced
2 Tablespoons basil leaves, chopped
Results
After the Beachbody 3 Day Refresh program, I lost 5.5 lbs.  If you follow instructions, and stay on the path, this cleanse will work!
It's been about a week now and I find myself still wanting to eat clean. I am more motivated to exercise, and have been running again now that the weather has warmed up.
I think doing this cleanse right before the warm weather returned really helped me stay motivated. So, you may want to pick a time that feels right before you embark on this program, timing really is everything.
I am sleeping better too.
I highly recommend this program. It is not as restrictive as some cleanses, as you still get to eat actual food.
When it was over, I really did notice a difference, both in my body and my mind.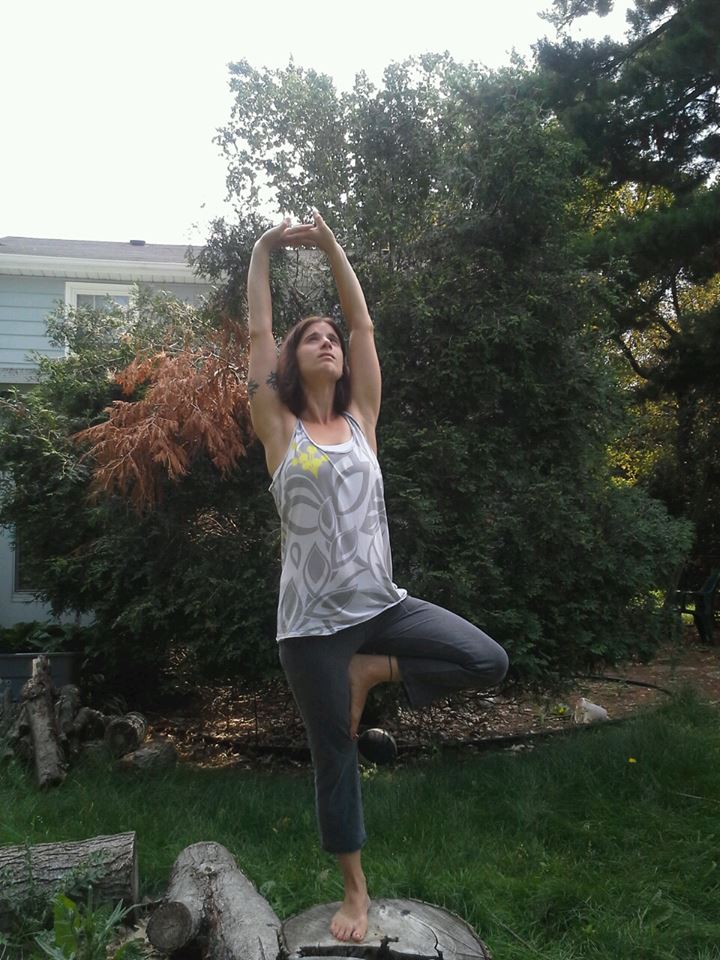 I am a devoted mother, wife and yogi with a passion for fitness and writing. I am a certified and registered 500 hour yoga teacher and have been teaching since 2013. When I am not teaching yoga or spending time with my family, you can find me somewhere on a hiking trail in the mountains of Southern Colorado or walking my dog Queenie.