by
With space being a limiting factor, an elliptical trainer is a smart choice for any home gym.
Ellipticals combine the features of a stepper, and stair climber and an upper body cardio worker all in one. When it comes to finding a solid, functional elliptical at a reasonable price point, the Exerpeutic 1000XL is one to check out.
The 1000XL has sturdy construction, smooth fluid stepping action and zero impact while training. We also love the price point, which makes this an affordable machine.
However, its major limiting factor is the short stride length. People who are average height or above and serious about max calorie burn and muscle activation will want to opt for a longer stride length. The best overall choice is the Fitness Reality E-5500 XL.
Introduction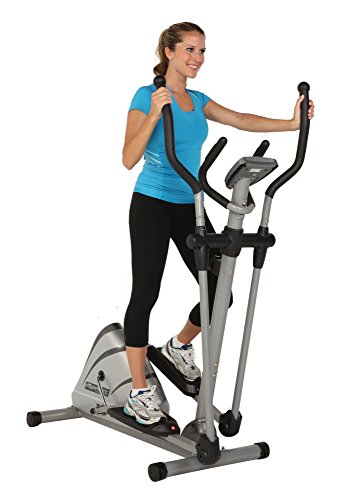 Exerpeutic are a brand of Paradigm Health and Fitness with a well established reputation. They have been operating in the home fitness market for decades and are based in Southern California. The 1000XL is their middle of the range home elliptical machine.
This rear mounted unit is a dual action cardio trainer which provides a smooth, natural stepping motion. Its magnetic resistance provides you with 8 levels of resistance to accommodate all fitness levels.
With a 300-pound maximum user weight and a sturdy construction, the Exerpeutic 1000XL is able to meet the training demands of most people. Let's check out what online reviewers think of this product . . .
Wallmart reviewers give the Exerpeutic 1000XL an average of 3.5 stars based on 888 review
Target reviewers rated this machine at 4.2 stars based on 10 reviews
Ebay reviewers rate it at 4.3 stars based on 3 reviews
The Pros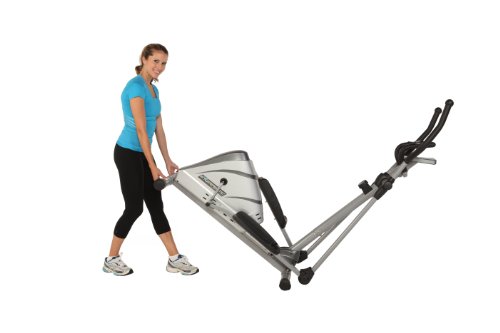 Stability
Many home cardio machines are notoriously dicey when it comes to their robustness. With the Exerpeutic 1000XL, however, you get a very solid unit. The frame is constructed from solid steel tubing and provides you with a very firm base to work from. Unlike lesser machines, the base won't slide around when you ramp up the intensity level.
The maximum user weight of 300 pounds is impressive in an elliptical that you can pick up for under $200. The foot pedals and handles are also very secure, providing you with confidence that you are using a serious workout tool.
Smooth Operation
The Exerpeutic 1000XL provides you with a natural stride motion. That means that there is no stuttering or jitteriness, as you often get with other models in this price range. This natural motion allows you to focus on your cadence and on the muscles you are working far more effectively. The hand striders also provide you with a very natural arcing movement, allowing you to maximally involve the muscles of your upper body.
The natural elliptical motion of this machine eliminates any bouncing movement you may experience with other elliptical machines.
Magnetic Resistance
With 8 levels of magnetic tension resistance, the 1000XL delivers a good level of variable training potential. This allows you to increase the resistance level as you progressively get fitter and stronger. The transition between resistance levels is smooth and fluid, so that you workout will not be interrupted by any jerkiness.
With 8 levels of resistance, this elliptical can be tailored to all family members from youngsters to the elderly.
Low Impact
The Exerpeutic 1000XL has been designed to reduce impact, stress and strain on your joints and tendons. It achieves this by way of a very smooth gliding motion that has zero impact. This keeps your hips, ankles and joints out of the danger zone.
This is an easy unit to mount and dismount. It has the engine mounting at the back, keeping it out of the way of your leg movement as you stride. Oversized foot pedals further enhance the ease of use, ensuring that there is no impact on your joints.
Dual Handles
With the Exerpeutic XL1000 you get two sets of handles bars. The first set is mounted just below the console monitor. These handles are a fixed set that are designed to allow you to grip them when solely working your lower body on the foot strider. The other set of handles are of a movable strider type. These are designed to be used in conjunction with the foot strider to deliver a dual action workout for the entire body.
The stationary handles are fitted with pulse sensors to provide you with a readout of your training heart rate.
Power Source
The precision balanced flywheel and v-belt drive provide a smooth and quiet operation. This allows you to watch TV or listen to music while working out with no interference.
Forward and Backward Motion
The 1000XL comes with a dual direction flywheel. This allows you to stride both forwards and backwards, seamlessly changing direction at will. This adaptation is rare to find in an elliptical at this price point. It allows you to target the muscles of your hamstrings and glutes more effectively with a balance of stride direction.
No Foot Slippage
Placement of your foot is essential in getting a good elliptical workout. If your foot slips or slides around in the pedal housing your balance could be compromised. The 1000XL excels in this regard. It provides you with large pedals with a built-in rib design.  This will prevent any foot slippage when exercising.
Easy to Read Monitor
The centrally located monitor provides you with an easy to read large electronic display. It will provide you a running record of your distance, calories, burned, time exercising, speed, scan and heart rate. This allows you to adjust your training as required to stay within your target heart rate zone and achieve your workout goals.
Compact and Transportable
The Exerpeutic 1000XL has a compact footprint, making it an ideal choice for apartment dwellers or those with limited space requirements. The dimensions are 54 inches long by 23 wide by 63 inches high. The total weight of unit is just 76 pounds. To make it even more user friendly, it comes with transport wheels to allow for ease of transport.
Cons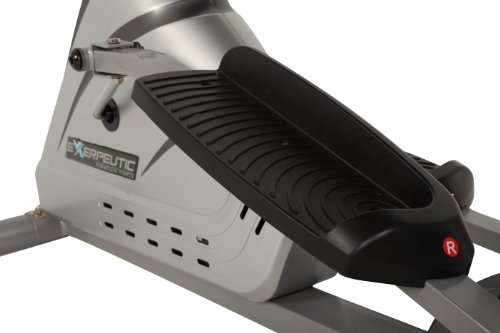 Limited Stride Length
The major complaint with the Exerpeutic 1000XL is the restricted stride length. At just 13 inches, it is about one third shorter you would experience on all commercial and most home gym ellipticals. This impacts the effectiveness of your workout. Unless you are very short, you won't be able to fully engage your leg muscles on each stride.
Non Programmable
Most ellipticals, even the home versions, come equipped with in-built training programs that have been designed by industry experts to provide you with a range of effective workouts. However, you don't get any of that with the Exerpeutic 1000XL. The monitor is strictly there to give you a readout of your training diagnostics.
This lack of structured training programs means that you are on your own in terms of how you actually train on the machine.
Nothing to Hold Your Gear
The lack of a console on the Exerpeutic 1000XL means that there is nothing for you to place your iPad, magazine or phone on when you are exercising. The inclusion of a tray would have made this aspect of the machine much more user friendly.
There is also no water bottle holder on this unit, which makes it a hassle for you to stay hydrated.
Needs Regular Lubrication
Although the Exerpeutic 1000XL does provide you with a smooth level of stride movement, it will require constant lubrication in order to keep it that way. This will ensure that the chain pulls smoothly.
The Bottom Line
When it comes to the Exerpeutic 1000XL, the old maxim 'you get what you pay for' applies. The 1000XL gives you a good level of stability, smooth operation, backward and forward motion and dual handle bars. On the other hand, it has a very short stride length, which is a major limiting factor. It also lacks programs, and doesn't give you some of the basics you'd expect, such as a magazine and water holder.
This is a solid machine at a good price. However, if you are intent on burning calories and maximally stimulating your leg muscles, you will want to look elsewhere.
Our recommendation for a longer stride length is the Fitness Reality E-5500 XL.
The Fitness Reality E-5500XL operates on a double transmission system. That means that you get two flywheels and a two-belt design system to give you a smoother, momentum free ride. You also get 18 inches of range of motion.