The yoga block is one of the most popular yoga props, and for good reason!
The best yoga blocks can be placed under your joints to provide a soft support as you practice.  You can use them under your hands in a lunge position to bring the floor closer to you, you can sit up on one or two blocks if your hips feel tight, you can place them to your low back for support in bridge pose so you can hold the posture longer.
Think of yoga blocks as a way to help you settle into a yoga posture, while keeping your body safe. They can help increase your flexibility level, and can be used as an extension of your arms or legs.
Below is a list of the best yoga blocks on the market.
The 7 Best Yoga Blocks
Manduka Recycled High Density EVA Foam Yoga Block
The environmental Manduka Recycled High Density EVA Foam Yoga block makes the top of the list for many reasons.
For a foam block, it is remarkably supportive and durable. Manduka does make blocks made out of cork as well, but this review is on the foam blocks. As a yoga teacher, I prefer foam blocks over cork blocks because they don't feel uncomfortable when you use them under your body for support.  They are crafted from recycled, high density foam.
Theses yoga blocks have slip-resistant edges so you can get a nice, firm grip on them. They only come in two colors, but they have stenciled upon them the phrase "practice on" to give them a little flair.
A downside to these blocks is that the price is only for one block, and you really want to have a set of two.  Of course, you can purchase two, but these are more on the pricey side. However, they are high quality blocks that last forever.
Pros
Durable
Supportive
Made from recycled materials
Cons
Only sold as one block, and you really should have a set of two
Yogu Yoga Blocks Set of 1 or 2 EVA Foam or Cork Wood
The Yogu Yoga Blocks come in EVA Foam or Cork Wood, and in a set of one or two, so they really give you options.
Pro Tip: You want a set of two yoga blocks! Also, I like foam blocks better if you are using them for support, like taking a seat on a block if your hips feel tight, or placing them under your hands during a lunge to bring the floor closer to you.
That being said, cork blocks are great when working on balance postures, because they are more form than foam blocks and will not slip.
Another nice thing about these blocks is that you have your pick of sizes too. They come in a 3" height and a 4" height, and i personally favor the 4", because it gives more support.
Yogu also offers a 1 year warranty and a 90-day satisfaction guarantee. My only critique: They only come in a few color choices.
Pros
Choice of foam or cork
Choice of 3" or 4"
1 year warranty and a 90-day satisfaction guarantee
Cons
Hugger Mugger 4" Foam Block
I consider Hugger Mugger products to be one of the best on the market.
When you buy this brand you know you will be getting high quality products. This foam yoga block is lightweight, so if the thought of using studio or gym blocks that a million people have touched before concerns you, just throw this block into your gym bag and take it with you!
Even though it is lightweight, it is still incredibly durable, this block was made to last.  It comes in all the standard yoga colors (black, blue, purple, green) but also has one with a cute design called "storm" if you prefer to stand out.
It does not come in a set of two, and it is on the more expensive side.
Pros
High quality and durable
Lightweight and portable
Standard colors and 1 cute design
Cons
URBNFit Yoga Block 1 or 2 Set with Yoga Strap
This yoga block by URBNFit Yoga blockscome in a set of 1 or 2.  They are made from 100% EVA foam (EVA foam is free of toxic chemicals and totally recyclable).
You also get a yoga strap with your purchase and free PDF workout guide to help you learn how to use your new yoga props. It should be noted that the yoga strap only comes with the purchase of a set of two yoga blocks.
These blocks were designed with beveled edges to provide comfort and a soft grip. They are easy to clean, just spray down with tea tree oil and water and give them a wipe to keep germs away.
URBNFit also offers a 100% satisfaction guarantee, if you have any issues with your purchase they will work with you to fix it.   You only have a few colors to choose from, so they are as stylish as other blocks.
Pros
Made of materials free of toxic chemicals
Free PDF workout guide with purchase
Easy to clean
Cons
Not as stylish as other blocks
Purity Wave Yoga Blocks Set of 2
With a clever design, the Purity Wave Yoga blocks are made with cork wood.  Cork wood is self cleaning and anti-bacterial, which makes them ideal blocks for hot yoga. They are also moisture absorbent so they dry very quickly.
When you purchase these blocks (they come in a set of 2!) you will also receive a carrying bag. Purity Wave calls these "half sized" yoga blocks, meaning they have a smaller width and height than typical blocks.  This means they are lightweight, you can toss them into your free carrying bag, and travel easy with them.
I have mentioned that I like foam blocks better for support under your joints, but cork blocks are firmer and better for working on balance poses and core strength.  However, the smaller size of these yoga blocks gives them a durability and softness that is surprising in a cork block.
Also, the price is affordable, especially considering all you get for your purchase (2 blocks, one carrying bag).
The only downside is that they don't also offer a standard size instead of just the "half-sized" blocks.  A standard size is better for taller, and larger body types.
Pros
Self cleaning and anti-bacterial
Affordable
Surprising softness for a cork block
Cons
Only offered in "half sized" not standard size
Gaiam Yoga Block
Gaiam is a company that offers good products at affordable prices.  But, in the case of this Gaiam yoga block, it does not come in a set of 2, so I highly recommend you purchase two blocks.
The Gaiam yoga block is made from supportive latex free foam, and it features an easy to grip surface. It should be noted that they also make a cork wood block too, but this review focuses on the foam block.  The foam option is more affordable than the cork, and comes in many colors, not just the typical studio colors.
The block itself is lightweight, and is a great option for support under your joints, like under your sits bones in a seated position, or under your hands during a kneeling posture.
Pros
Lightweight and supportive
Easy to grip surface
Cute colors
Cons
Does not come in a set of 2
Amazon Basics Yoga Blocks
Great for beginners, the Amazon Basics Yoga blocks come in a set of 2, and are the most affordable on the list.
I would try these blocks if you are on a budget, or if you are a beginner and not ready to invest a whole lot of money into your yoga practice.
These are very good quality, and come in the wider 4" size, which I prefer because they are more stable.
These are made with EVA foam (free of chemicals) and have a non-slip surface, so they are good for support during balance postures.  They only come in 2 colors; purple or black, so they are not as stylish as other blocks on this list.
Pros
Comes in a set of 2
Perfect for the yogi on a budget
4" size means it's more stable
Cons
---
Yoga bolsters make great yoga props, too!
---
Foam Yoga Block Or Cork Yoga Block?
Not all blocks are created equal; some are made from foam materials and some are made of cork wood.
I find that foam blocks create a nice cushioning for your joints and are better used for support under hands, low back, head, and shoulders.  But, foam blocks are less stable and durable than cork blocks.
Cork blocks are great for support during standing postures, and to use for help with alignment during inversions.  Also, since cork wood is self-cleaning, they do better for a hot yoga practice.
If you are confused about which type of block to add to your arsenal, consider they type of yoga you practice.
In my opinion, foam blocks are better for gentle or slower paced yoga, like yin or restorative.  In these practices, you will rely on the blocks to support your body parts and hold postures longer. Therefore, you want a softer support.
Cork blocks are suited better to heated classes and faster classes. They don't slip around as much as foam blocks, and will stay put when you start to sweat.
How to Use Yoga Blocks
Use two blocks under your hands when in a lunge position.  What this does is bring the floor closer to you, so you don't have to strain your muscles.
Use one block under your low back during bridge pose so you can sustain the pose longer and get a really nice stretch to your hip flexors.  Eventually, as your flexibility increases, you can add two blocks to deepen the stretch.
Place one block under the hip of your bent knee during pigeon pose, especially if your hip hovers over the ground.  Once again, the block provides support so you don't strain. You can also put a block under your forehead during pigeon pose so you can feel more grounded as you stretch.
If you are in a seated position and your hips feel tight, consider taking a seat on one or two blocks to help relieve the tension.
Place a block under your hand during Ardha Chandrasana or Half Moon Pose to help you feel balanced and supported.
Put a block under the foot of your standing leg during Tree Pose.  The block will challenge your balance and help you gain core strength.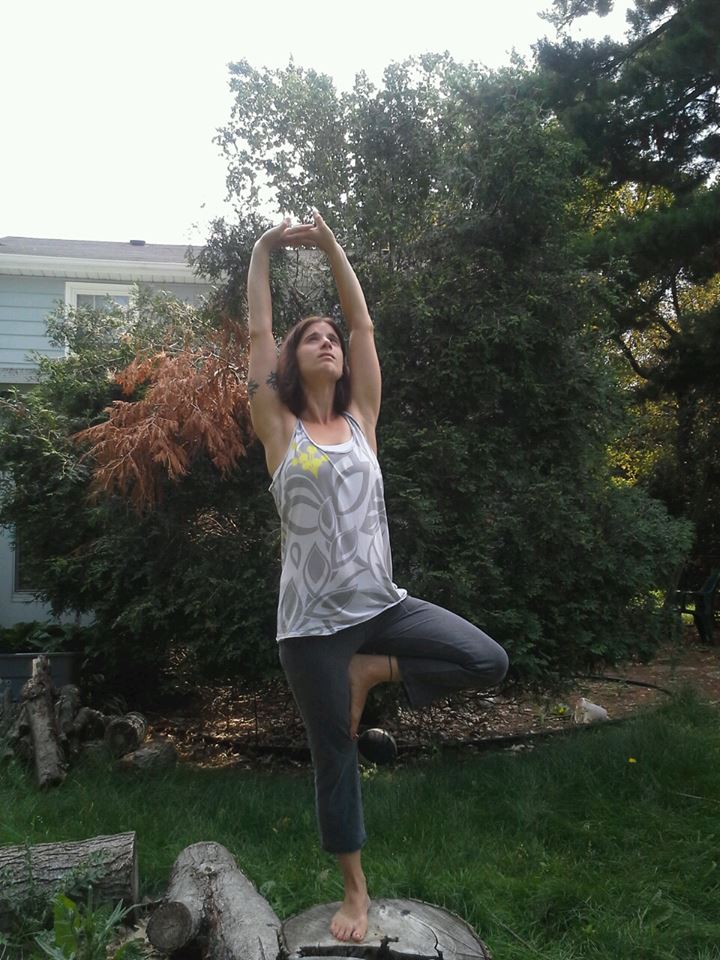 I am a devoted mother, wife and yogi with a passion for fitness and writing. I am a certified and registered 500 hour yoga teacher and have been teaching since 2013. When I am not teaching yoga or spending time with my family, you can find me somewhere on a hiking trail in the mountains of Southern Colorado or walking my dog Queenie.