There are two main types of treadmills: motorized and non-motorized. While motorized treadmills usually steal most of the spotlight in the fitness industry, non-motorized manual treadmills offer a lot of their own unique benefits that make them an excellent alternative for anyone looking for a good indoor running machine.
Motorized treadmills can be extremely expensive and quite bulky, but manual treadmills are generally low-cost, small in size, and easy to transport or store anywhere in the house. The only issue is since they are on the cheaper side, a lot of them can be poor quality, so finding the best manual treadmill can be a little challenging as you sift through the many models available online.
A good friend recently asked me for help in finding the best manual treadmill for his new apartment, so I went into full-research-mode to help him find the perfect choice. I started by finding the top 15 best-selling models available and slowly nit-picked my way through each one, comparing things like quality, features, and cost, until I found 4 solid recommendations for him. Below are the top 4 choices that I would say are the best manual treadmills you can buy.
#1 – Weslo CardioStride 3.0
After spending the last week or so going back and forth comparing all the pro's and con's of each model, I'd say the Weslo CardioStride 3.0 was the #1 best manual treadmill out of the rest. This was the most well-rounded model when it came to quality, usability, and price – the three most important aspects in buying nearly any fitness product, especially manual treadmills. Let's go through the details and I'll show you exactly why I chose the Weslo CardioStride.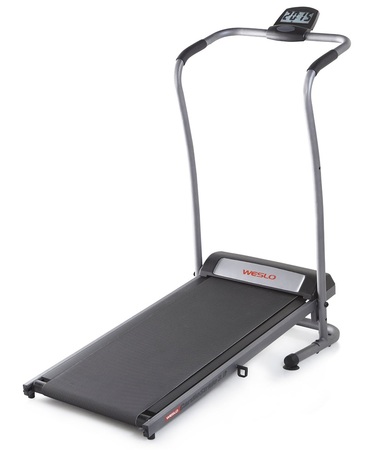 The first thing I looked when comparing models was the design of the walking platform. A lot of models are known for having little issues that make usability a bit of a chore, so the platform design is something I weighed heavily when "scoring" the different treadmills and this is where the Weslo CardioStride really set itself apart from the rest. The two most common issues with the design are frame and platform size, and belt slippage.
For starters, the walking platform and frame on the Weslo 3.0 is wider than any other non-motorized treadmill on the market, and has a fairly generous weight capacity, making running a possibility. While most other models are only 12-13 inches wide, the Weslo measures a full 17 inches in width (and 41 inches long).
Why is this a great benefit? At only 12 inches wide, other manual treadmills can have the tendency to rock back and forth slightly while you exercise because they don't have a very secure stance. It can also make walking or running feel unnatural because the platform is so narrow, making you modify the way you move to accommodate the slim track (which is NOT good for your body). A wider platform, weight capacity, and frame like this one on the CardioStride allows you to move completely naturally with no restrictions and also provides far more stability while you're exercising.
Next to the size of the walking platform, weight capacity, and frame, the other common issue with manual treadmill platform design is belt slippage. Take a look at the customer reviews of nearly any non-motorized treadmill online and you'll see complaints of the treadbelt slipping often and needing readjustment. The CardioStride 3.0 was the only non-motorized treadmill I found that had virtually no complaints of this issue, which I'm assuming is because there are two screws at the back end of the platform that allow you to easily tighten or loosen the belt according to your personal preference. Once you find your sweet spot, you're good to go. If it ever comes loose, you have a super easy way to adjust it.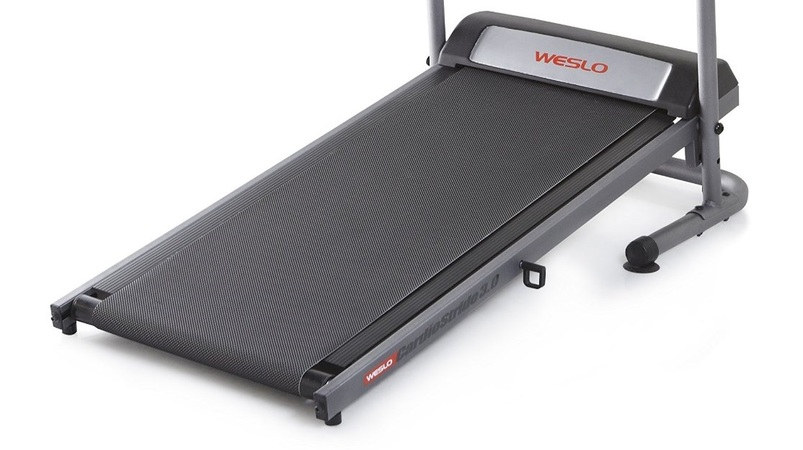 Something most people don't realize before buying a manual treadmill is that ALL manual treadmills have a fixed incline position – there is no flat position like a traditional motorized treadmill. If that's news to you, let me quickly explain why, because it's actually a good thing even though some people view this as a negative.
Because manual treadmills have no electric motor to power them, it's somewhat difficult to push the belt with your feet at a flat position, so these treadmills provide a fixed incline position to make the movement a little easier for you. In addition to making the treadbelt a little easier to move, the incline position also reduces impact to your joints and increases calorie burn because it's a tougher workout, which are a couple of nice extra benefits for you.
Anyhow, the point of explaining this is to let you know that the Weslo CardioStride's incline position is fixed at a gentle 15 degrees, which is a pretty standard setting for most manual treadmills. Like I said, most people don't realize this before buying and then get pretty upset to find out there's not flat setting, so I wanted to make this clear ahead of time. If a 15-degree incline sounds a little steep to you, people have found that sliding a couple of rubber furniture bumpers under the back end of the treadmill helps safely elevate the rear to give you an easier angle. Got to love loopholes!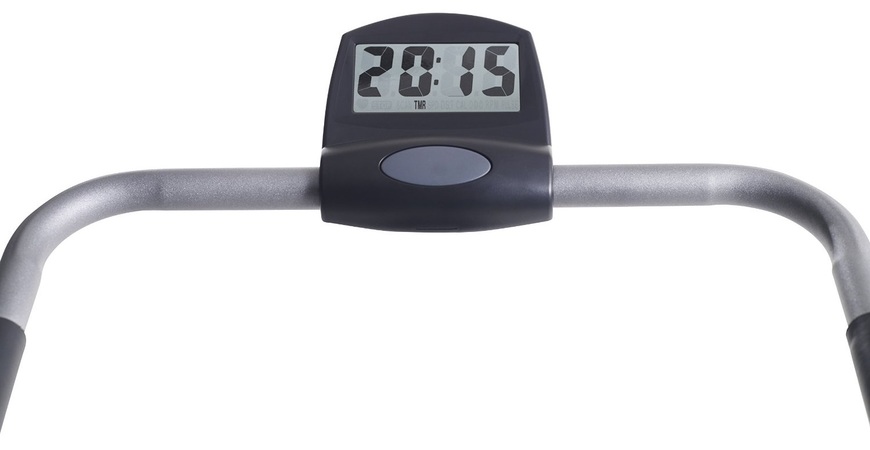 At the front of the CardioStride 3.0 you have a large easy-to-read display screen that tracks all your regular functions like speed, time, distance, and amount of calories burned. It's rather basic in appearance, but gets the job done just fine (which is all that really matters). I liked the display on this model more than any of the others because the numbers and font are much bigger and easier on the eyes when you're trying to track your workout.
Another feature I love about the Weslo treadmill is the folding space saver design. The deck folds vertically for easy storage or to maximize space when you're not using it, making this super ideal for home gyms and even the smallest of workout areas. Most manual treadmills provide a folding feature like this so it's not like Weslo is doing anything new here, but the folding function is a lot easier to use on this model and as you can tell in the picture below it folds extremely thin!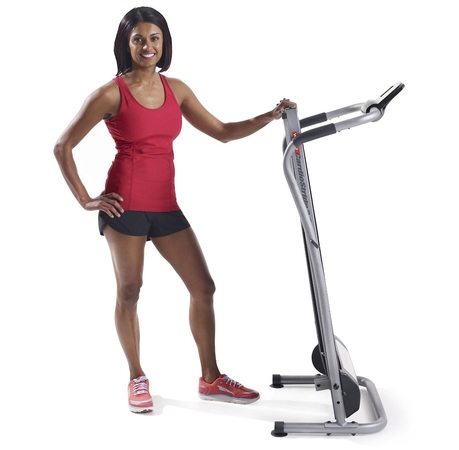 All-in-all, the Weslo CardioStride 3.0 offered the best usability out of any other model I researched and the final thing that really secured this as my top pick was the incredibly low price. Although the CardioStride's retail price is $149, you can usually buy it on Amazon for around $100 or less, which is cheaper than any other manual treadmill on the market and makes this the best value for your dollar by far.
As it turns out, this also happens to be the #1 recommendation from ConsumerSearch.com in the manual treadmill category, so apparently I wasn't the only one who thought it was the best model of the bunch.
#2 – Confidence Fitness Magnetic Manual Treadmill
If for some reason you weren't a fan of the Weslo CardioStride, then the Confidence Fitness Magnetic Manual Treadmill would be another great choice for you to check out. This is another pretty popular model online; in fact, the Confidence Fitness treadmill actually has the #1 highest customer review rating out of any other manual treadmill on Amazon. There were just a couple of small drawbacks that brought this model down to the #2 spot.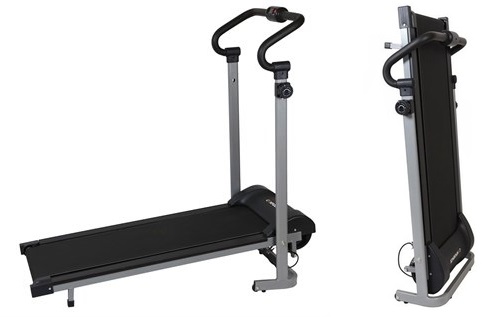 As I said in the review of the Weslo model above, the biggest thing to look at when trying to find the best manual treadmill is the design of the platform. With the Confidence Fitness treadmill, I did not find any reports of belt slippage (which is great), but I do see some potential issues with the sizing.
The size of the treadbelt on the Confidence Fitness treadmill is 14 inches wide and 39 inches long, which should be perfectly fine for those under 5'8″ height but may feel a little restricting if you're taller than that or have the tendency to take longer/wider strides. There are several reviews from people taller than that who say they have no issues with the sizing, which is reassuring, but I've personally felt a little restricted on small belts in the past so I'm only saying this as a forewarning that it could potentially be an issue for you as well.
This is one of the reasons I loved Weslo's treadmill so much; the large treadbelt provided a comfortable amount of running or walking room for any height or stride.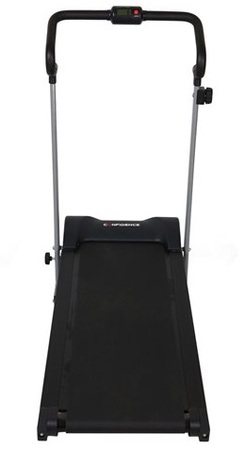 Just like Weslo's CardioStride 3.0, the Confidence treadmill comes fixed at a gentle 15 degree incline. What I found cool about this treadmill, though, was that it offers adjustable resistance! Using a smooth magnetic system, Confidence Fitness gives you 8 different resistance levels to choose from, allowing you to customize your workout and make things easier or tougher as you go. Most manual treadmills don't offer advanced features like this, so that was definitely a plus-one for this model!
At the center of the handles in front, you've got a small multi-function computer that tracks all the regular data like time, speed, distance, and calories burned during your workout. Nothing too much to report here, this is standard for manual treadmills and gives you all the necessary info to track your workouts.
The only other real downfall of the Confidence Fitness manual treadmill was the price. Retailing at $299, this is literally double the price of the Weslo CardioStride. I did my fair share of looking around online for cheaper deals, and even though you can buy the Confidence treadmill on Amazon for nearly 50% off, this still puts the price at $50 more than the CardioStride. The choice is up to you on whether you liked the Confidence Fitness treadmill better, but for me, the higher price and restricted sizing put this model at #2 on the list of best manual treadmills.
#3 – ProGear 190 Manual Treadmill with Twin Flywheels
Number 3 on the list of best manual treadmills is the ProGear 190 Manual Treadmill with Twin Flywheel. Not the best name, as far as manual treadmills go, by any means, but a solid contender in our list, nonetheless! This bare-bones manual treadmill is an excellent addition to any budget home gym.
The ProGear 190 features an adjustable incline, giving you 2 different options, to vary your workout intensity. As a result of the twin cast iron flywheels and generously sized belt rollers, the belt movement on the ProGear 190 is nice and smooth. 
It's fairly compact, as far as manual treadmills go, with the frame measuring in at 47 x 23 x 51 inches. Bearing in mind that this is a folding treadmill, it's great for those short on space, with the frame being easily tucked away when not in use. 
As with anything on the budget end of the spectrum, there are a few issues that I have with this manual treadmill. First is the user weight limit. Wanting to burn some calories from the comforts of your own home is an admirable thing, but the user weight limit of just 230 pounds severely limits who can use this budget treadmill. Also, due to its frame size and weight capacity, you really can't run on the ProGear 190 Manual Treadmill with Twin Flywheels.
#4 – Stamina InMotion
Last but certainly not least, the fourth spot on the list goes to the Stamina InMotion manual treadmill. This popular model has been around for many years and back in 2011, Livestrong.com even named this the #1 on their top 10 manual treadmill list. Unfortunately, times have changed and better models have come out since then which is why the Stamina took the #3 spot on my best manual treadmill list, but it's still a great model nonetheless.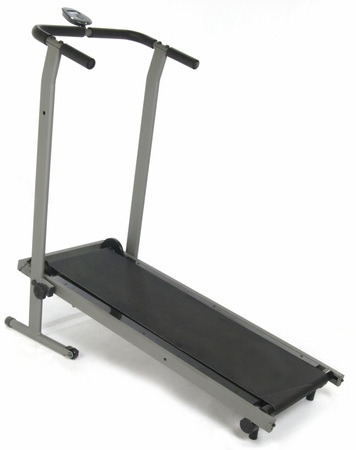 The Stamina InMotion was very similar to the Confidence Fitness treadmill I reviewed above in that it was a great choice but just offered a few drawbacks that kept it away from earning the #1 spot.
As far as platform design goes, the Stamina treadmill suffers from the 2 common manual treadmill issues: belt slippage and small size. Reviews have noted that you commonly have the readjust the treadbelt because it slips off the track, and while this isn't necessarily a safety issue or anything like that, it's just a small annoyance to have to do so often (especially when this can be easily avoided with choosing one of the other two models above). In addition, the treadbelt is only 12.3 inches wide, making this feel a little narrow to comfortably walk or stride.
One thing that's unique about the Stamina InMotion is that this is one of the only manual treadmills that allows you to adjust the incline position between 8 degrees and 10 degrees. Truth be told, it's not a big jump, but it's nice to have that sort of functionality especially if you're concerned with the incline being too tough on the other models. At 8 and 10 degrees, this is the lowest incline on any manual treadmill. Most others are fixed anywhere from 13-15 degrees.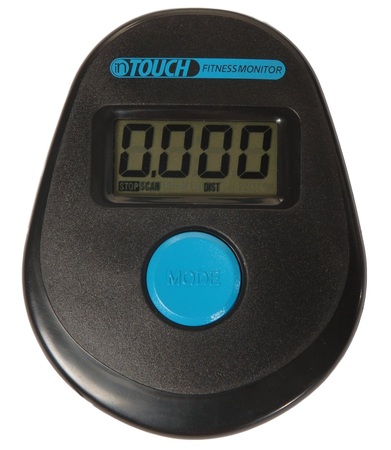 Similar to the other choices on the list, the Stamina features an electric monitor at the front of the handlebars that tracks your workout progress. It monitors the usual functions such as time, speed, distance, and calories burned.
Although it does have some little issues with usability, the Stamina InMotion is still a solid alternative to the other two choices on this list. Pricing is pretty much on-par with the Welso CardioStride so this won't cost you a lot, and you can usually get a nice discount as well as free shipping if you buy it on Amazon.
Why Use A Manual Treadmill?
Low Cost
Regular treadmills cost a fortune; it's not unusual to see a price tag anywhere from $500-1,000 if you want something that's quality and reliable. Manual treadmills, on the other hand, are a lot more cost-friendly and you can pick a nice one up for under $150. So what's with the massive difference in price?
For starters, manual treadmills do not use a motor. As you probably already know, regular treadmills are powered by an electric motor (that's what moves the belt beneath you). These electric motors are costly to produce, so companies have to make up their back-end cost by increasing the price of the treadmill. Not only that, but most also require annual maintenance which means you'll be paying more than just the initial price tag to keep your motorized treadmill going! Since manual treadmills provide no motor and instead are self-powered by your own two feet, it keeps the price nice and low with no need for additional maintenance.
Another thing that contributes to the low cost of a manual treadmill is the minimalist design. Regular motorized treadmills are typically twice the size and jam-packed with a ton of additional features like big LCD display screens, programs, speakers, cargo holders, and more. While those features can be nice to have, they tend to add quite a bit to the price tag. Manual non-motorized treadmills have a much more simple design and only include enough technology to track the basic exercise functions like time, speed, odometer, etc.
Easy Storage & Portability
Another benefit to the minimalist design that I was just talking about above is that manual treadmills can be easily folded up to save space when not in use. This is especially nice if you need to put it in storage or move it out of the way for some reason.
Let's say you regularly exercise in your living room and your treadmill is smack-dab in the middle of the room facing the TV while you walk or run. What happens when you make plans for the family to come over and have dinner? You can't have a treadmill sitting in the middle of the room, which is where the manual treadmill's easy portability really comes into play. Simple fold it up and move it into the next room while everyone's over, then roll it right back out when you're all done.
No Electricity
Using less electricity is always a good thing, but this benefit goes further than just reducing your electrical footprint or lowering your utility bills. The real benefit of not needing electricity to power your treadmill is that you can use it anywhere!
Thanks to its easy portability and no need for an electrical outlet, you can wheel your treadmill around anywhere you feel like exercising. Most people tend to stay within the house to exercise, but if you're more outdoorsy you can take a manual treadmill out in the backyard or even on your front porch. It's nice to have this kind of flexibility because exercising in new areas keeps your workouts fun and refreshing.
Conclusion
Although non-motorized treadmills are generally known to have more issues than their electric motorized cousins, finding the best manual treadmill is just a matter of carefully picking through models until you find a solid choice. In this case, Weslo's CardioStride 3.0 offered the best usability, the least amount of issues, and a super low price tag. You can't really ask for much more than that.