Hoping to lose a few extra pounds here and there? I know of two brands that might be able to help your cause. Plexus and Isagenix have vastly different product line-ups, but they do have one thing in common. That is, both companies offer their own weight loss solutions that have been said to be some of the most effective choices you can find.
While that might be true, I couldn't help but wonder – which one performs better for faster, easier, and safer weight loss? So I put both of their meal replacement shakes to the test and dove into hours of research to find the answer to my question. Now, after collecting all the information I could find, I can confidently say that between these two weight loss pros, Isagenix is the top performer.
If you're wondering what made me decide in favor of Isagenix, then keep on reading. Here, I've put together a complete product comparison to help you see what each choice has to offer.
IsaGenix Weight Loss Products
Under the Isagenix brand, buyers are encouraged use products in combinations that maximize weight loss results. Their line-up includes their premiere weight loss shake, IsaLean which also comes in a dairy-free variety. Then they have the Cleanse For Life, a cleansing shake for digestive health, and IsaGenesis which provides antioxidants and helps with Telomere support.
The products can be purchased separately, but Isagenix also offers attractive product bundles at reduced costs. From 9-day packages, to 30-day packages, and even an ultimate cleansing bundle, there's definitely a combination to suit your needs.
Plexus Weight Loss Products
Plexus on the other hand, has five different products for buyers to choose from if they want to lose weight. They also have other offerings, including the Plexus 96 meal replacement shake in two flavors, Plexus Block, Plexus Accelerator, and Plexus Boost.
While Plexus also offers combinations of products at reduced prices, their bundles aren't quite as elaborate as Isagenix. Personally, I felt that their packages lacked the appeal of what Isagenix had to offer. They weren't really put together to give you a longer lasting supply. Instead, they end up working like samplers to give you an idea of how the products can work together.
IsaGenix Vs Plexus: Nutritional Content for Weight Loss
Although the Slim is Plexus's premiere product offer, I felt that I had to choose the Plexus 96 Shake for the purpose of this comparison. It falls within the same category as the IsaLean, which is a meal replacement shake.
IsaLean
The first thing I want to bring to light is their nutritional profiles. The Isalean meal replacement shake measures 240 calories per serving. This contains 5 grams of fat, 45 mg of cholesterol, 240 mg of sodium, 24 grams of carbohydrates, and 24 grams of proteins. It's this bulky combination of macronutrients that makes the formulation capable of satiating your appetite. The high carbohydrate content makes you feel full with a single serving, and the protein maintains the satiation hours after you take a shake.
Plexus
With Plexus 96, it's a completely different picture. The nutritional values for this formulation are comparatively smaller. It only contains only 15 grams of protein, 1 gram of fat, 4 grams of carbohydrates, and 30 mg of cholesterol. Each serving of Plexus 96 contains just 100 calories – less than half a serving of Isagenix's IsaLean Shake.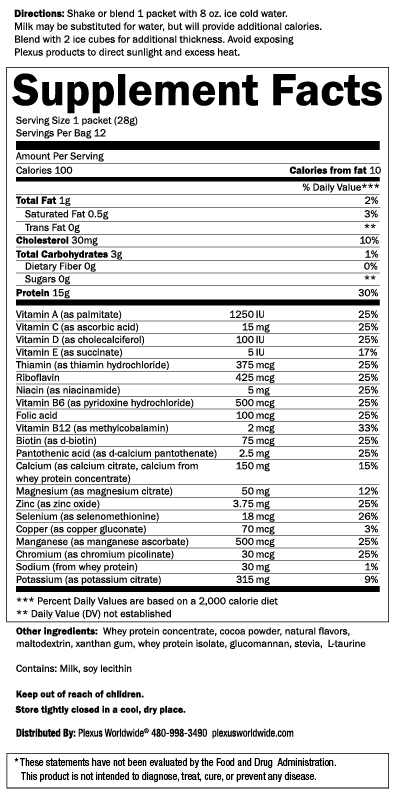 So with much smaller values, why does Plexus 96 lose to Isalean when it comes to weight loss?
The answer lies in appetite satiation and suppression. While many of us expect to use these shakes as total meal replacements, formulations that lack the beef, so to speak, to keep us feeling full will simply make us crave for food. So to bridge the hunger gap, you might sneak in a snack or two before the next meal. While Isalean contains much more of everything, it can keep you feeling full for longer, thus keeping you from reaching for another snack too soon.
Plexus 96 might have you feeling satisfied after a serving. But those hunger pangs will start to kick in just shortly after. So you become much more susceptible to taking extra meals and snacks, thus counteracting your weight loss efforts.
IsaLean Vs Plexus: Nutritional Values for Overall Wellness
Because they substitute actual meals, these formulations should contain valuable micronutrients we would otherwise get from food. These vitamins and minerals are essential for proper cellular functioning, and help guarantee healthy physiology on a molecular scale.
I've found that Isalean contains slightly more vitamins, with 23 different micronutrients listed in its nutrition facts. Compared to Plexus 96's 21 vitamins and minerals, it's easy to see that Isalean once again wins this particular category. And the numbers don't lie.
In terms of the individual values of each vitamin, Isalean also offers more than Plexus 96. Some of the greatest discrepancies can be found with each formulation's Vitamins A, C, and D content. Isalean boasts at 50%, 32%, and 80% of the daily recommended value. Plexus 96 on the other hand, contains only 25% of each which is a far cry from what Isalean has to offer.
Shake Preparation and Recipes
Visit the Isagenix website and you'll find a number of different recipes you can prep with your Isalean powder. These include ice cream sandwiches, custards, protein balls, brownies, ice creams, sorbets, and even salsas. The recipes are also fairly simple, so you can whip them up with little time and effort. Plus, these suggested preparation options indicate that buyers can use the powder for more than just shakes. So you won't have to worry about losing interest in the formulation.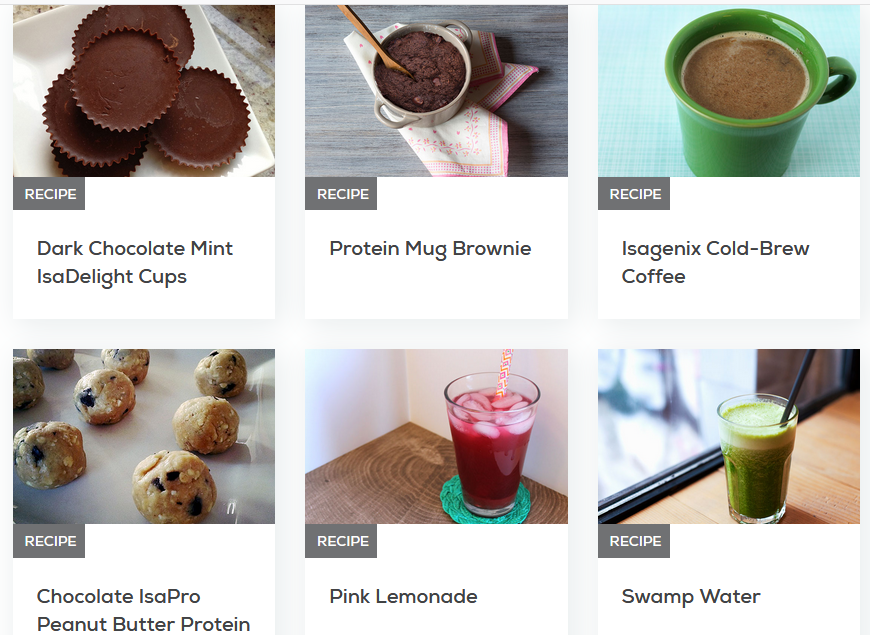 For Plexus 96, there aren't a lot of suggested recipes. That said, you might have to do a lot of guesswork to make anything other than the shake itself. It's also unclear as to how many meals you can replace with the formulation. While Isalean clearly indicates that the powder can be used to replace up to two meals a day, Plexus 96 doesn't really tell you how often you can use the formulation as a meal.
IsaLean Vs Plexus: Taste & Texture
So, we've already established that Isalean pretty much dominates the comparison with its rich nutritional profile and effective methods for appetite satiation. But what consumers really consider when making a choice is taste. After all, a better tasting mix will make it easier to stay faithful to that weight loss dream.
Although Isalean doesn't have the ideal texture, it's pretty stellar in terms of taste. Most of its flavors resemble the flavor of any other commercial drink mix you might find. The standard formulation comes in four different flavors, namely Creamy Dutch Chocolate, Creamy French Vanilla, Strawberry Cream, and Chocolate Mint. Isalean is also available in naturally flavored, dairy-free, and kosher alternatives.
When it comes to texture, I have to admit that I'm not a fan of Isalean. While it doesn't have that grainy, clumpy issue that most of these shakes pose, it doesn't really feel to pleasant in the mouth. Most users agree that Isalean shakes tend to have a slimy texture to them which might not settle to well with some. Nonetheless, the taste does make up for it. So you might be able to let it slide especially if you've got a better oral tolerance.
Plexus 96 seems to have taken a completely different route compared to other brands in terms of their flavor selection. Offering just two flavors – vanilla and chocolate – some might say that Plexus 96 doesn't really make too much of an effort to cater to more users. Taste and texture wise though, I can't really say that it's bad. I definitely wouldn't call it great either.
In a nutshell, the Plexus 96 formulation is just okay. Taste isn't anything special, and I can't say it's something that you'd look for. Vanilla in particular is bland and plain. So I recommend that you buy the chocolate alternative instead if you want something that's a little more flavorful.
The Winner – Isagenix Isalean Shake
Based on everything I've learned through my research, the answer is clear. With a richer nutritional profile and more effective appetite satiation properties, theIsalean shake from Isagenix works much better to curb hunger and help you on your weight loss journey.
Although Plexus 96 tries to be an effective solution, it really just pales in comparison to Isalean. Its nutritional profile and macronutrient content falls short of what Isalean has to offer. And unfortunately, it wasn't able to make up for the discrepancy with its taste and texture either. So all in all, it seems more like a supplementary shake to help you achieve better overall health and wellness without replacing any meals as the formulation was intended to do.