by
The Bowflex Xceed is, in our view, the preferred model in the Bowflex power rod home gym stable. It provides you with 65 exercises, 210 pounds of resistance and is compact and stylish. For those of you who don't like the power rod system, we suggest going with the Marcy MD 9010G.
Bowflex is one of the most established and trusted names in the home fitness industry. They offer an ever-growing range of products that includes a number of home gyms that are based on the power rod resistance system.
We'll see how the Xceed stacks up to the best that the rest of the market has to offer and we'll also put it alongside the Bowflex Xtreme so that you can be sure that you're getting the right machine for you.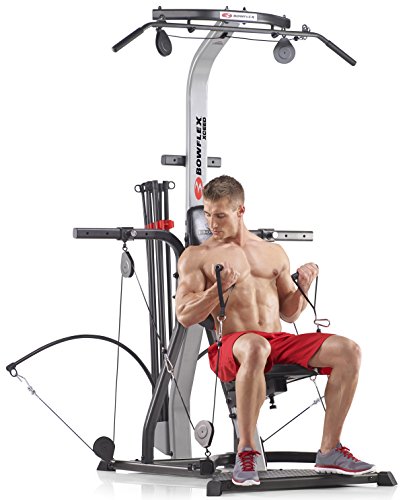 Key Features
210 pounds of Power rod resistance as standard
65+ exercises
Compact design
Heavy duty steel frame 
The Bowflex Xceed is a compact home gym that is designed to provide you with a full complement of exercises to work every part of your body. It gives you a total of 65 exercises. This puts the Xceed at the mid-point level when it comes to the Bowflex range. The Bowflex Xtreme is a beefier version which ups the exercise capacity up to around 75 exercises.
The Xceed provides you with a maximum resistance of 210 pounds. This is provided by way of the unique Bowflex power rod system. The system is upgradeable to 310 and 410 pounds. However, the resistance provided by the power rod system is not quite the same as using fee weights. You do not get any resistance during the negative part of the rep and the positive resistance is variable, only reaching its full capacity during the last one third of the range of motion.
With this machine you are able to make weight adjustments in jumps of five pounds.
Bowflex has built a reputation based on quality of design and construction and this machine upholds that standard. As an overall unit it looks pretty stylish, even futuristic. It will complement most decors and probably wouldn't look out of place in your lounge room. It's trademark red and black bench seating is both stylish and comfortable, being made from heavy duty polyurethane foam.
The sixty-five exercises that you can do on this machine include all of the standard moves that you'd expect to see in a commercial gym, including squats, bench press (vertical) and deadlift. The cable system provides you with a high and low cable attachment so that you can work your muscles from a range of different angles.
Your purchase of the Xceed comes with the following extras:
Ab strap
Lat pulldown bar
Squat bar
The Bowflex Exceed has a footprint of 7 feet by 4 feet, allowing it to fit into most confined spaces. Be aware, however, that the power rods do require a little extra room to flex. This will require about one hundred inches side to side.
Bowflex offers a pretty impressive warranty package on the Xceed. The frame and pulley system comes with a 7-year warranty, while Bowflex cover the power rods with a lifetime replacement guarantee.
Where Does the Xceed Fit into the Bowflex Line Up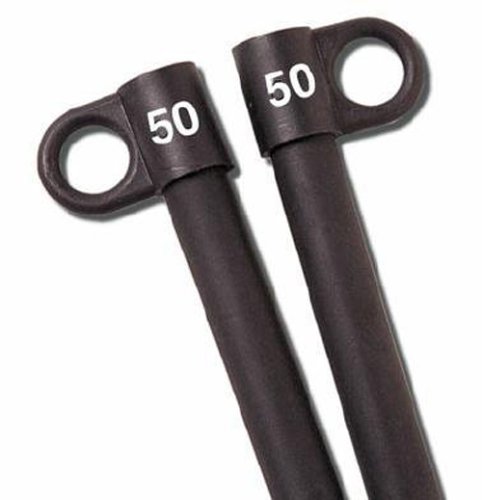 The Bowflex Xceed is just one of six home gyms in the Bowflex line-up. These are the . . .
Bowflex PR100
Bowflex PR300
Bowflex Blaze
Bowflex Xtreme SE2
Bowflex Xceed
Bowflex Revolution
All of these machines except for the Revolution make use of the power rod resistance system. The revolution makes use of the SpiraFlex system, which is a plate technology innovation which works independently of gravity to provide inertia free resistance. It also provides more than one hundred exercises. However, the Revolution is priced at nearly four times that of the Xceed, so doesn't rank as a fair comparison.
The closest to the Xceed is theXtreme 2SE.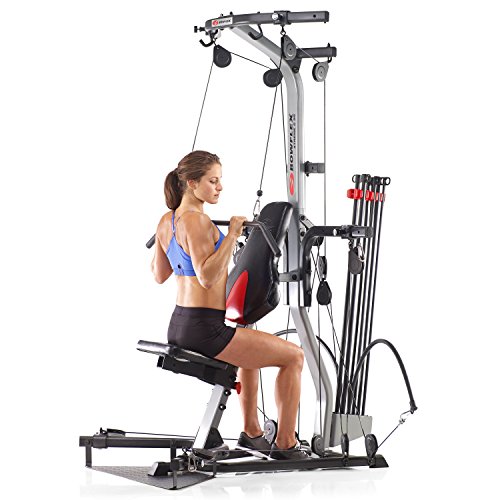 Xceed vs Xtreme
These two machines are pretty similar. The Xtreme costs quite a bit more than the Xceed, however. They both provide you with 210 pounds of power rod resistance, which is upgradeable to 310 and 410 pounds and they both allow you to go up in lots of 5 pound jumps.
The reason that you pay more for the Xtreme SE 2 is that it provides you with ten more exercises than the Xceed. When it comes down to actual practice, however, these make little real-world difference. The 65 exercises that are available on the Xceed are more than enough for most users. They include all of the basics that you will ever need.
The Xceed does not have the quick-change system that you get with the Xtreme. It allows you to very quickly and effectively change the cables on the machine without having to muck around to the extent that you do on the Xceed.
Weighing everything up, however, we feel that the Xceed is the better option and recommend this as our preferred Bowflex home gym.
Bowflex Xceed Competitors
Marcy Smith Cage MD-9010G
The Marcy Smith Cage MD-9010G is an extremely looking home gym designed for some serious workouts. It is constructed with a heavy-duty steel frame of 2 inch by 2 ¾ inch square tubing. The result is a home gym that is built like a commercial gym unit.
The MD-9010G combines three different types of resistance building machines to allow you to perform more than a hundred different exercises. The unit comes with a unique cable-cross dual pulley system that allows them to perform a full complement of functional and sports specific exercises.
The Smith machine design on the unit provides you with high quality one-inch guide rods to provide a very smooth controlled guidance system. The machine comes with a bench that can be inclined to 7 angles of adjustment. You also get adjustable bar catches and bar stoppers.
Th cage uprights feature chromed diamond striker plates and commercial grade bar and safety catches. The pulleys on this machine feature 3 3/4 inch nylon pulleys with sealed ball bearings. The bench back and seat are made from high density box deluxe upholstery.
The obvious point of difference between the MD-9010G and the Bowflex Xceed is that the Marcy home gym does not come with a weight stack, whereas you get 210 pounds of power rod resistance with the Bowflex. However, quite a few people don't like the feel of the Bowflex power rod system due to its lack of negative resistance and unnatural feel.
The Marcy MD-9010G is quite a bit less expensive than the Bowflex Xceed. We believe that, if you used the difference to purchase some second hand weight plates, you would end up with a better long term investment by purchasing the Marcy MD-9010G.
Total Gym XLS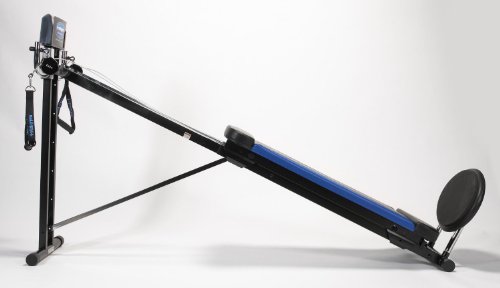 The Total Gym XLS is the top of the line offering from Total Gym, the people who have been promoting their angled slant board gravity system for decades. It is a feature of late night infomercials with Chuck Norris as their key spokesperson.
The combination of slant board, gravity and your bodyweight combine to allow you to do more than 80 exercises on the Total Gym XLS. This is quite a few more exercises than you can do on the Bowflex Xceed.
All of the exercises that you do on the Total Gym XLS make use of cable resistance. This allows you to work the muscles from an almost infinite number of angles. The resistance on the XLS feels quite different to what you get on the Bowflex Xceed. Because you are working against your own bodyweight, the resistance feels more natural. It also gives you resistance on the negative part of the movement, in contrast to the Xceed which only allows for positive resistance.
Total Gym provides you with good back up service and customer support. This includes a well put together DVD which walks you through everything you need to get up and going with this home gym. You do not get a DVD when you buy the Bowflex Xceed.
The total maximum user capacity is 400 pounds. This means that you will probably be able to add extra resistance to your workout for a greater challenge.
The Total Gym XLS comes with the following accessories:
Wing attachment
Leg pull attachment
Ribbed squat stand
5 workout DVDs
Exercise chart
Training deck
Nutritional / meal planning guide
Total Gym provides you with a six-month warranty on all parts long with a lifetime frame warranty.
Weider 214 lb Home Gym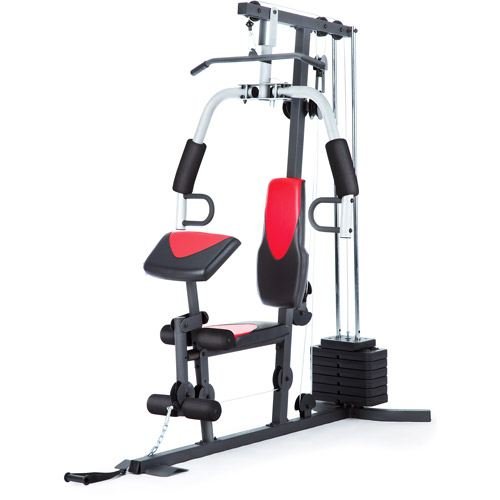 The Weider 214 lb Home Gym is a budget machine that allows you to perform a basic home gym workout. It is far more limiting in terms of exercise range than the Bowflex Xceed but it does allow you to do a few fundamental exercises very well. These include the bench press, seated row, lat pulldown, leg extension, leg curl and pec dec fly. However, you cannot do squats on this machine.
This is a very compact unit that doesn't require a lot of overhead use. For the price the Weider home gym will give you a pretty basic, limited workout. After a few months, you will probably grow out of it. We suggest avoiding this by investing a little more to purchase the Bowflex Xceed.
Conclusion
The Bowflex Xceed provides you with a full complement of workout options in a compact space and utilizing a proven, safe and reliable resistance system. It is a very stylish, well-constructed machine that is robust yet flexible. Of all the Bowflex home gyms this is the one that we recommend.
Before you invest in the Bowflex Xceed we suggest that you try the power rod system out before you buy. If you don't gel with this type of resistance then we recommend the Marcy MD 9010G or, if you want a home gym with built-in resistance, the Total Gym XLS.