by
When it comes to home use treadmills, Bowflex and Sole may not be names that come readily to mind. With a little digging, however, you'll discover that these two companies do, in fact, offer quality across all price points in the treadmill market. In this article, we'll put Bowflex and Sole treadmills face to face to explain which one deserves to take pride of place in your home gym.
We've come to the conclusion that the Bowflex BXT 216 is a better buy than the Sole Fitness F63. It has a more powerful motor, a larger running track and it comes with a chest strap monitor for the most accurate heart rate monitoring.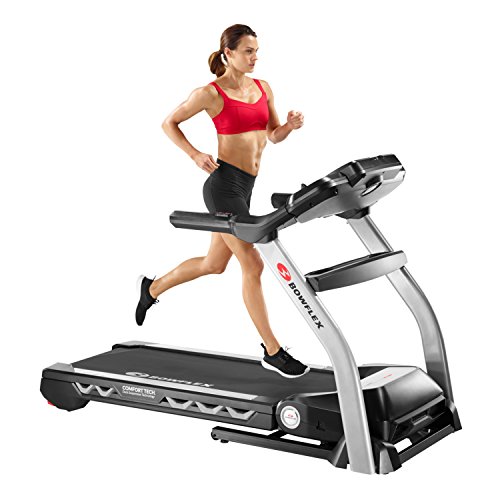 The Bowflex Treadmill Line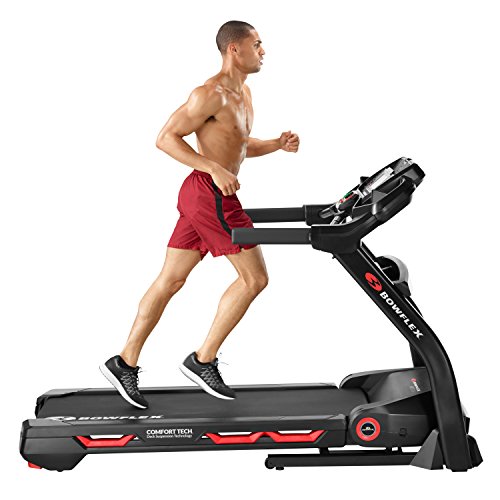 There are three main models in the Bowflex treadmill stable. These are the . . .
Bowflex Treadclimber
Bowflex Max Trainer
Bowflex Results
Here's a quick overview of each of them . . .
Bowflex Treadclimber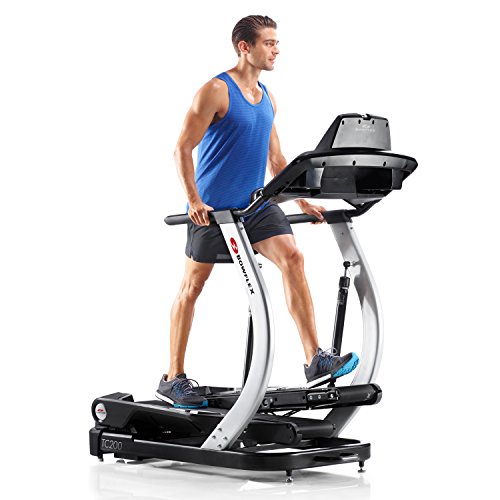 The Bowflex Treadclimber is a hybrid between a treadmill and an elliptical machine. With the enhanced calorie burn that you get from moving from a flat training surface to a stepper, this machine allows you to burn a lot of calories. Bowflex claims that you will consume two and a half times more calories than if you were walking on a flat treadmill.
The Treadclimber replaces the conventional flat running bed with long side by side treadles that operate from moving belts. These are able to tilt by 40 percent, to allow you to lessen the pressure on your knees and ankles.
Bowflex claims that working out on a Treadclimber will allow you to get your workout in half the time that it would take on a conventional treadmill. However, these units are rather pricey, setting you back in excess of two thousand dollars.
Bowflex Max Trainer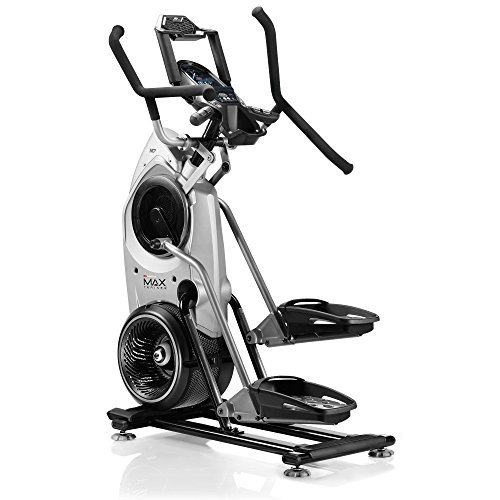 The Bowflex Max Trainer takes the elliptical / treadmill concept and runs with it to provide a machine that is ideally suited for runners. It provides almost zero impact to your joints. The Max Trainer provides you with a 14-minute workout that claims to be the most effective cardio workout that are ever likely to get – burning as many as 600 calories in 30 minutes.
The latest incarnation of the Max Trainer, the M7, features enhanced dual mode LCD / LED displays, commercial grade handles, aerobar grips with burn rate and resistance level adjustments.
Bowflex Results Treadmill
The Bowflex Results Treadmill is a new offering from Bowflex that came out in 2017. There are two treadmills within the Results range, the BXT 116 and the BXT 216. These are mid treadmills. Both of them have folding frames.
The running belts on these machines are maintenance free and they both feature Bluetooth enabled consoles. These are high quality, low impact treadmills that feature advanced comfort cushioning and automatic incline.
The Sole Treadmill Line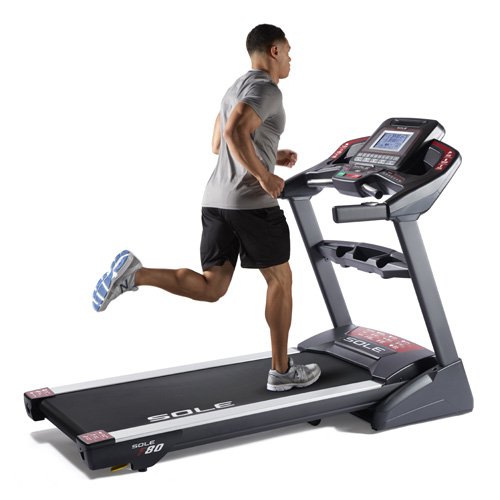 There are seven treadmills in the Sole Fitness stable. They are the following:
Sole F63
Sole F80
Sole F65
Sole F85
Sole S77
Sole TT8
Sole TT9
The Sole F63 is the lowest priced unit in the range. It provides you with a 20 x 60 inch running belt, along with six customizable programs and two heart rate control programs. Each model adds features until you get to the top of the line Sole TT9 which supplies you with a 4 HP AC Drive motor.
The Bowflex Results BXT 216 Treadmill Up Close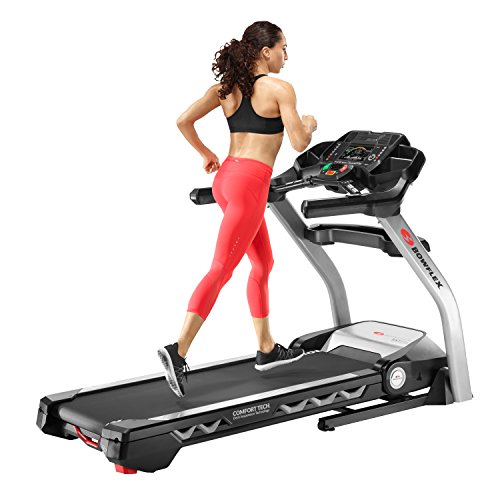 Features
Solid construction
4 CHP motor
11 workout programs
22 x 60 inch running belt
Generous warranty
Construction
The Bowflex Results BXT 216 is a well-constructed, stylish machine, as you'd expect from this manufacturer. This is a foldable treadmill, which is enhanced by the Bowflex shock assist system. You don't see many treadmills with such a solid frame that are able to be foldable, so this nice to see.
Motor
The BXT 216 is powered by a 4 CHP belt motor. That is a lot of grunt. Most home treadmills top out at 3 CHP, so you are getting more than what most you'll find on the majority of competing models here. This enhanced power means that you will be able to use the machine multiple times each day without any problems. The top speed on this treadmill is 12 miles per hour.
Programs
The console of the BXT 216 comes with eleven built-in workout programs. These include programs for weight loss, speed, performance, heart rate training zone and more. This gives you plenty of variety in your training, helping to keep your workouts interesting and keeping the results coming.
Running Belt
The running belt on the BXT 216 is large enough to allow most people to get the walking and running stride that they need. It measures 22 inches in width by 60 inches in length. In addition, the belts on the new Results treadmill range feature three-ply maintenance free workout belts. As a result, the belt will never need waxing and you won't ever have to recalibrate them.
The belt rollers are 2.75 inches in diameter. This is a greater diameter than you find on most home gym treadmills. The wider the rollers, the reduced amount of wear you get on the running belt. A larger belt roller is also less taxing on the motor.
Console
The console of the BXT 216 is quite impressive. It allows you to see your per minute calorie burn. This is in contrast to most treadmills, which will only display your total calorie burn for the entire workout. Both the BXT 216 and the BXT 116 come with their own chest strap monitors so that you can get the most accurate heat rate monitoring.
The monitor features Bluetooth connectivity so that you can very easily export your workout data to your device for further analysis. Bowflex has put out the Results mobile app but the data can also be paired with such popular apps as MyFitnessPal and FitBit.
The console features a 9-inch color display and the built-in media shelf comes with a USB charging port.
Warranty
Bowflex provides you with a rather impressive warranty on the BXT 216, giving you 15 years on the frame and drive, 5 years on the motor and mechanical and 2 years on parts, labor and electronics.
Bottom Line
The Bowflex Results BXT 216 is a high quality treadmill that looks great and has some impressive features. You get a 4 CHP motor, that provides a max speed of 12 mile per hour, eleven workout programs and a generously sized running belt. In short, the BXT 216 impresses us a lot.
The Sole F63 Up Close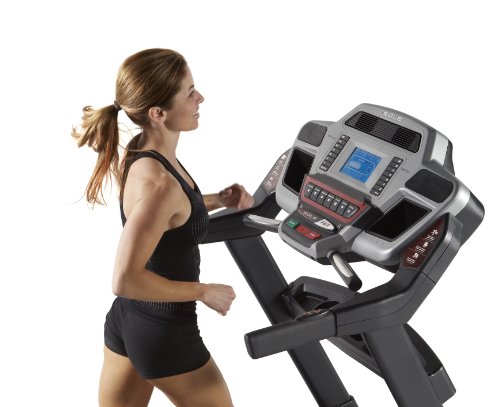 Features
3 CHP Motor
15 level incline
10 training programs
Max speed 12 mph
20 x 60 inch running belt
Quality Construction
The Sole F63 is a high quality unit that features heavy duty materials that are truly commercial grade. This treadmill has been built to last and will definitely go the distance. It features superior cushioning, oversize belt rollers and a solid motor.
Good Sized Running Track
The running track on the Sole F63 provides you with a 20 inch by 60- inch surface. This should give all but the extremely tall the room that they need to stride out as they run. The two-ply belt provides you with plenty of cushioning to help absorb the impact on your joints. This is coupled with Sole's CushionFlex Deck, which has been shown to reduce joint pain by between 35 and 40 percent compared with running on the pavement.
Power Incline
The Sole F63 provides you with a 15-degree maximum incline. This can be done automatically with the simple switch of a button. Inclining the angle of your workout will greatly increase your calorie burn. You can control the incline on the running belt either on the handlebars or on the console.
Built-in Workouts
The Sole F63 provides you with ten workouts to allow for versatility in your training. This has been upgraded from six programs. Programs include fat loss, cardio training and muscle toning. Two user profiles are able to be saved with custom programs to be used during your next workout.
Compact Design
The F63 provides you with a compact design so that you can put in even the most constricted of environments. This is a foldable treadmill that quickly and easily folds up for convenient storage. The horseshoe design of the unit makes for a very rigid and sturdy yet design.
Bottom Line
The Sole F63 is an impressive home treadmill that is built as solidly as a light commercial treadmill. It provides you with a generously sized running belt, a decent 3 CHP motor and ten running programs.
About Bowflex
Bowflex is one of the true originators of the modern fitness industry. The Bowflex power rod system was introduced in 1986 with the Bowflex 2000X. Since then they have regularly reduced new models based upon the power rod resistance technology. With these products they became so successful that, in 1999, they changed their name to Direct Focus Inc. and purchased a number of fitness companies, including the Nautilus Corporation, Schwinn Fitness, and Stairmaster. The company is now known as Nautilus Inc.
Bowflex has steadily expanded the product range to include treadmills, elliptical trainers and unique machines that are hybrids between ellipticals and treadmills. All of these machines are built to a very high standard and have a stylish, upmarket finish.
About Sole Fitness
Sole Fitness is one of the largest fitness equipment manufacturers in the United States. They are the preferred provider of treadmills to hotels across the nation. Their move into light commercial treadmills has been a huge success. They provide treadmills, ellipticals and cycles for the home fitness market across all price points.
Which is Best?
Both the Bowflex BXT 216 and the Sole Fitness F63 are high-quality mid-priced treadmills. They are on a par on many levels, however the motor on the BXT 216 is more powerful. The BXT also provides you with a chest strap monitor whereas you don't get this from the Sole Fitness F63. Finally, the BXT 216 has a slightly larger running belt. All of these factors incline us toward the Bowflex BXT 216 as our favored mid-priced home treadmill.