We're all pretty familiar with the Bowflex polymer carbon rod based workout system. It's become a favorite of home gym enthusiasts for close to 30 years. But now Bowflex has the home gym industry buzzing anew with the release of their latest incarnation – the Bowflex Home Gym HVT << On Amazon. [products asin="B079WM51PR" ] HVT stands for Hybrid Velocity Training. This is even a step beyond their hugely successful Max Trainer. It combines cardio and resistance training to provide you with a fast and effective workout that maximizes your results in less time. In fact workouts take as little as 18 minutes. Every [easyazon_link identifier="B079WM51PR" locale="US" tag="homegymr09-20"]Bowflex HVT[/easyazon_link] workout features a special sequence of moves. They combine short bursts of cardio activity with dynamic full body movements designed to maximize muscle activation. This has the effect of firing up your metabolism to burn calories while building sculpted, lean muscle. There are four different HVT workout programs:
Sprint to improve your power, speed and recovery
Circuit focuses on strength, form and range of motion
Builder increases your strength and endurance
Manual allows you to create your own customized HVT workout
This is a revolutionary workout system that provides you with an ideal blend of resistance and cardio. We love it and highly recommend it for those who have the budget and the space.
What Do You Get?
The Bowflex HVT will come to you in two boxes. It will include all the hardware you need to put it together. There are the following main sections to the machine:
Pulleys – there are three pulley positions, allowing you to customize your positioning. They are upper, middle and lower.
Platform – this is a raised platform area which provides the base for your workout.
Media Shelf / Console – the media shelf is located on the main frame of the unit. It is where you put your training manual and where the LCD monitor is located. It provides you with constant monitoring of your round, exercise segment, total time, total calories burned, total power, average resistance, segment timers (work, rest, break), and heart rate.
Pros:
Provides the ability to combine cardio and resistance in the same workout
Built-in workout programs
Onboard video training
Short workouts
Motivational workout rating
Large range of resistance levels
Cons:
Focuses on whole body workouts
Bulky
Unnatural resistance feel, especially with eccentric training
Benefits
Customizable
The Bowflex HVT comes with 3 pulley handles and 6 adjustable handles, allowing you to tailor the unit to your specific needs.
Large Range of Resistance Levels
The centrally located quick turn dial on the mainframe of the HVT provides you with 16 levels of adjustable resistance.  This allows you to progressively increase the intensity of your workout. The tension transitions are smooth and jerk free.
Keeps your Heart Rate Up
The Bowflex HVT will give you an incredible high-intensity interval training workout. HIIT training has been shown to burn more calories while you're working out. Better still, it brings on the EPOC effect, by which you burn more calories post workout. You move from exercise to exercise at a rapid pace, keeping your heart rate up to burn calories while building lean, sculpted muscle.
In fact in just one 18 minute workout on the HVT you can burn as many calories as running 1.5 miles, while experiencing up to five times more muscle activation than traditional strength training, according to a 2022 study which was commissioned by Nautilus, the people behind Bowflex (we could not find any independent verification for this claim).
Power Score Monitoring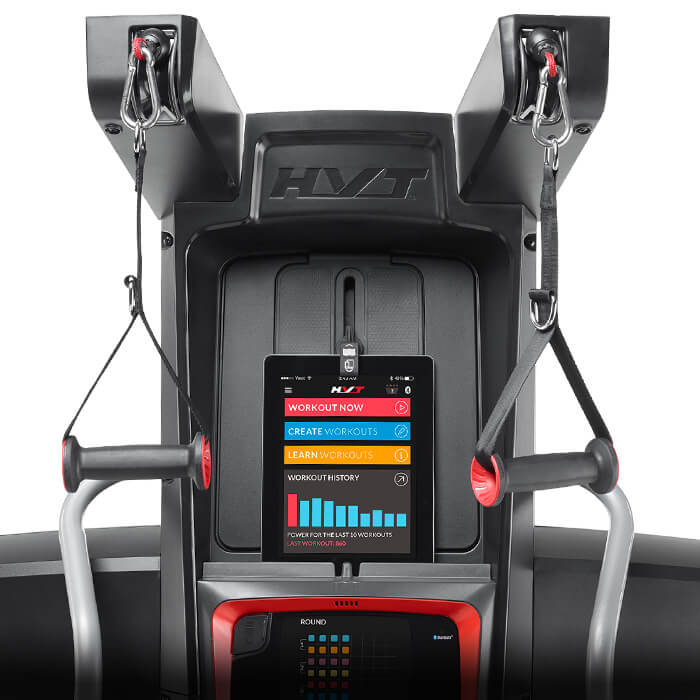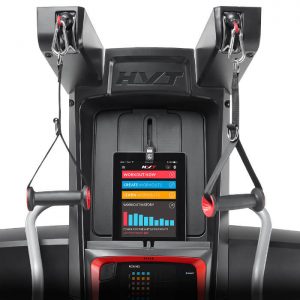 The Bowflex HVT features a unique power score, which allows you to monitor your workout performance from one exercise session to the next. To see your workout score improve you need to improve your speed, resistance and range of motion with each move that you perform.  This is a great feature that keeps you on track and motivated during every workout.
Personalized Coaching
The HVT actually coaches and challenges you to reach new goals. The dynamic and engaging LEDs guide you through each workout. In addition, the Bowflex HVT app features full screen videos that coach you through every single exercise to ensure proper exercise performance and technique for maximum results.
Bluetooth Connectivity
The Bowflex HVT comes with enhanced Bluetooth connectivity so you can seamlessly set goals, sync workouts and track your progress with the HVT app.
Time Saving
The HVT by Bowflex provides you with a way to get a more effective workout in less time. You can get in short but intense workouts that hit every muscle in your body while also shedding body fat. Each of the three built-in workout programs in this machine are over and done with inside of twenty minutes. In that time you get a combined cardio AND resistance workout.
The HVT provides you with three pre-programmed workouts to allow you to train to a specific goal. If you are primarily intent on improving your cardio efficiency, sports performance and recovery ability plug in the SPRINT workout, with its focus on speed, power and recovery.
The SPRINT program provides you with the following exercises . . .
Speed squat
Chest press
Squat jump
Bent over row
Reverse lunge straight arm pulldown
Split leg alternating bicep curl
Tricep pushdown
Squat with overhead press
For the ultimate fat burning program, choose the CIRCUIT program, which focuses on strength, form and range of motion.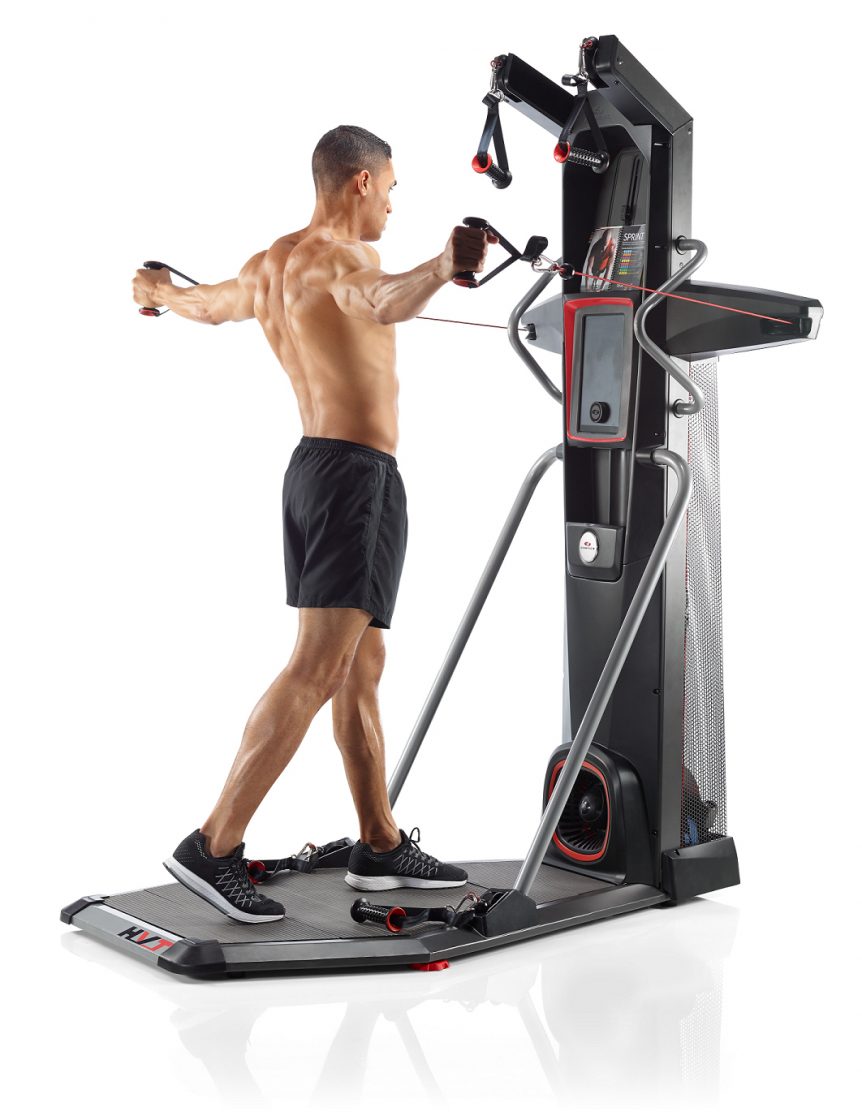 The exercises in the CIRCUIT program are . . .
Tricep pushdown
Forward lunge chest fly
Crossover reverse fly
Split jump
Lunge bicep curl
Lateral lunge high to low chop
Deadlift
Arm shoulder press split stance
Those intent on building strength, muscle and endurance will want to focus on the BUILDER program. Here are the exercises in the BUILDER program . . .
Speed squat
Chest fly
Reverse lunge low row
Bicep curl
Abdominal chop high to low
Crossover reverse fly
Combo tricep extension bicep curl
Forward lunge chest press
After working your way through these three workouts, you also have the ability to create your own customized workout programs. You have in excess of fifty exercises to choose from in creating workouts for muscle building, fat burning or a combination of the two.
Drawbacks
Focus on Full Body Workouts
The Bowflex HVT workouts are all built around the concept of full body workouts, where you work all of the muscles of your body in one session. While this provides you with a more time-efficient workout, it doesn't always translate into a more effective workout, especially if your focus is on gaining muscular body weight. For building muscle, the most proven method is specialized body-part training.
The Bowflex HVT weights in at 180 pounds, so carrying it around will provide you with a serious workout in itself. You will also find it quite difficult to put this machine together. You can pay Nautilus an extra $249 to assemble it for you, but that will bring the price up around two grand.
Unnatural Feel
The resistance that you get when you use the Bowflex HVT comes through the use of handheld cables and a weight stack within the unit. This provides you a full range of motion for each movement. However, you don't get the same feel in your muscles as you do when using free weights (barbells and dumbbells). This is especially noticeable on the eccentric (negative) portion of the rep, which does not provide you with as much resistance when performed on the HVT machine.
The Competition
While there is nothing directly comparable on the market in terms of an exercise machine that combines both cardio and resistance training in the manner that the Bowflex HVT does, there are a large number of alternatives out there when it comes to competing home gym systems.
Here we will consider two of the best on the current market. If you want more total body home gym ideas, be sure to visit our Best Home Gym article for a full comparison of the top choices.
Total Gym XLS
The Total Gym has been around for just as long as Bowflex and has a legion of faithful home gym users. Total Gym provides a simpler, cheaper and less bulky total workout option than that provided by the XLS. It doesn't give you a built-in cardio system or pre-programmed workout protocols, but it does do a very nice job of providing you with a body weight full body workout system.
The Total Gym brings together your own bodyweight resistance, an angled bench and cables to provide an effective alternative to barbells and dumbbells. The Total Gym XLS is the flagship model in the Total Gym range. It is lightweight, compact and easy to put together. In fact, you don't actually have to assemble the XLS, as it comes ready constructed.
The Total Gym gives you a 400-pound maximum weight. With it you can perform about 80 exercises, which is 20 or so fewer exercises than the Bowflex HVT. However, there are still plenty of moves that cover the entire body. The unit folds up for easy storage, with a total footprint of just 19 inches wide by 90 inches long and 43 inches high. When folded it is even more compact, at 19 inches wide, 51 inches long
When you invest in the Total Gym XLS you get a fully upgraded unit, which has a plush, comfortable glide board to lie on, a pulley and cable system, squat stand, flexible nylon handles, wing attachments, leg pulley attachment and an ab curl attachment.
The people at Total Gym also give you a lot of support. The unit comes with a total of 5 training and instructional DVDs, along with wall chart, training deck, nutritional plan a meal planning guide.
The Total Gym XLS comes in at several hundred dollars cheaper than the Bowflex  HVT.
Body Solid Powerline Home Gym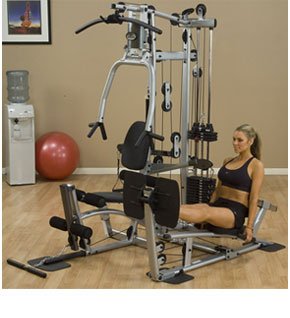 The Body Solid Powerline Home Gym is a conventional weight stack home gym. It provides you with a sturdy 11 gauge steel mainframe, a telescopic chrome plated adjustable seat post for precision positioning and quick adjustment and a lat pull-down unit to fully work the muscles of your upper back.
This is a compact, easy to assemble machine which allows you to perform more than 40 different exercises. Of course, unlike the Bowflex HVT, there is no provision for a cardio component with this machine. This unit has been bio-mechanically designed to closely simulate the feel of free weight resistance training. However, there is limited resistance during the eccentric part of each repetition.
The Body Solid Power Line features 2,200 pound air craft quality cabling to ensure that you have the strongest, most reliable system available. The swivel ends of the cabling are both durable and low impact. Precision made steel ball bearing ensure a smooth natural movement. You get mid, high and low pulleys along with an eight-position adjustable press arm and leg developer station.
The unit also comes with a 48-inch lat bar, low row bar, and an ab harness to work the core. It has a built-in 160 pound weight stack. Body Solid provides a 10 year manufacturer's warranty on the frame and one year on all other parts.
The Body Solid Power Line is about a quarter of the price of the Bowflex HVT. However, you have a more limited range of exercise choice, no cardio training facility and a weight stack limit of 160 pounds. This is a good option for new exercisers, but more seasoned trainers will find it too limiting.
Bottom Line
The Bowflex HVT is an innovative new approach to working out at home. Its big point of difference is that it combines the two distinct forms of exercise, aerobic and anaerobic, into one seamless workout unit. This allows you to get in a great workout in less time. There are three built-in exercise regimens for your specific goals, each of which is under 20 minutes in length.
At a $1700 to $1900 price range (or a little over if you include Nautilus assembly), the Bowflex HVT is not a cheap home exercise unit. Those who are used to working out with free weights may find that, once the novelty wears off, they tend to gravitate back to the barbells and dumbbells. However, the HVT is a good option for the time-pressed person who is looking for a very efficient way to combine cardio and resistance training.