Bowflex is a market leader in producing innovative home gym equipment. What started with a carbon rod based home exercise machine in 1986 has expanded to run the gamut of your home fitness needs. Recently they have brought their innovation and expertise to the home elliptical market. Their latest releases for the 2022 beach season are the BXE116 end the BXE216 Elliptical machines.
In this article we get up close and personal with these two brand new ellipticals from Bowflex.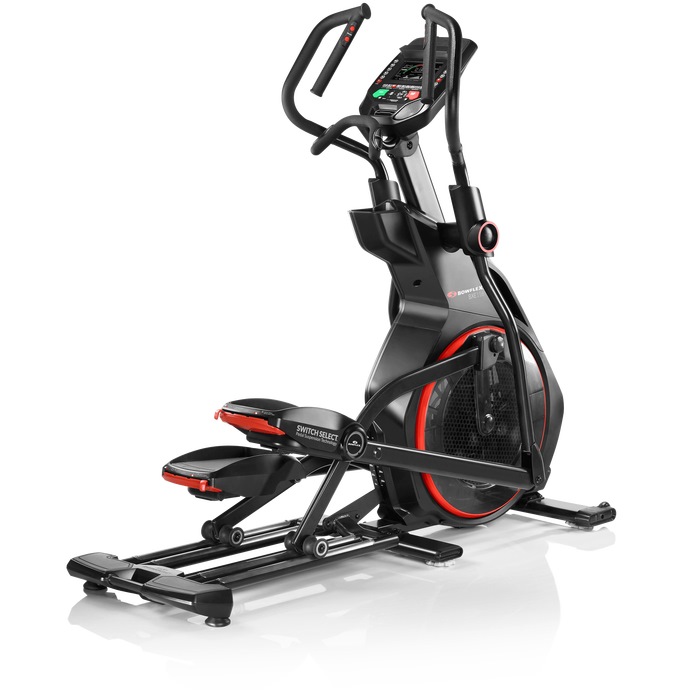 This new addition to the Bowflex fleet of ellipticals, along with the concurrently released BXE 216, provides beefed up programming and more extensive data feedback. It also gives you a sturdier and more robust level of durability than many other competing models on the market. You get a very powerful 30 pound drive system to power you through your workouts. You also get 20 levels of adjustable resistance along with a chest strap for your heart rate and Bluetooth connectivity.
Pros:
30 pound drive system
22 inch stride length
 Power Incline
20 levels of variable resistance
Multi user profiles
Cons:
Stride length may be too long for short people
Benefits
30 Pound Drive System
The drive system is the powerhouse of your elliptical exercise unit. It determines how efficiently and smoothly your motion occurs. At 30 pounds you will be guaranteed a very natural, complete 360 degree range of motion.
Multi Grip Handle Bars
You get a whole lot of gripping options on this unit. That not only allows for total comfort, it also ensures that you are able to get the ideal body positioning when striding.
Large Stride Range
The stride range is often the limiting factor for many home elliptical machines. However, the BXE 116 provides you with a 22 inch stride range which will provide plenty of natural range of movement for even the tallest of users.
Power Incline
This unit comes with an automatic power incline. Unlike manual adjustable incline machines, you don't have to get off the unit to adjust the angle of the stride track. That means that you can adjust your incline without interrupting the pace of your workout.
Lots of Resistance Options
With the BXE116 you get 20 levels of variable resistance. This allows every member of the family to use this machine at their own level. It also means that you will constantly be able to increase the resistance as you get fitter and stronger. The lower levels of resistance provide a very gentle low impact cardio workout, while the higher levels provide more challenging resistances.
Multi-User Profiles
With the all-new updated console on the BXE116 you are able to store user profiles for four people. That allows all four people to store all of their training diagnostics right there on the unit. You can also connect to the Bowflex app via Bluetooth.
Advanced Heart Rate Monitoring
The BXE 116 provides you with hand help heart sensor monitoring. However, each unit also ships with a telemetric chest strap. When you train with this unit around your chest you will get the most accurate heart rate monitoring system on the planet. That means that you will be able to precisely monitor your ideal training heart rate while working out.
Burn Rate Console
The Bowflex BXE 116 features an innovative burn rate monitor which allows you to see exactly how many calories you are burning. It then sets targets for your next workout to help you to burn even more calories. This is a great motivational tool.
Drawbacks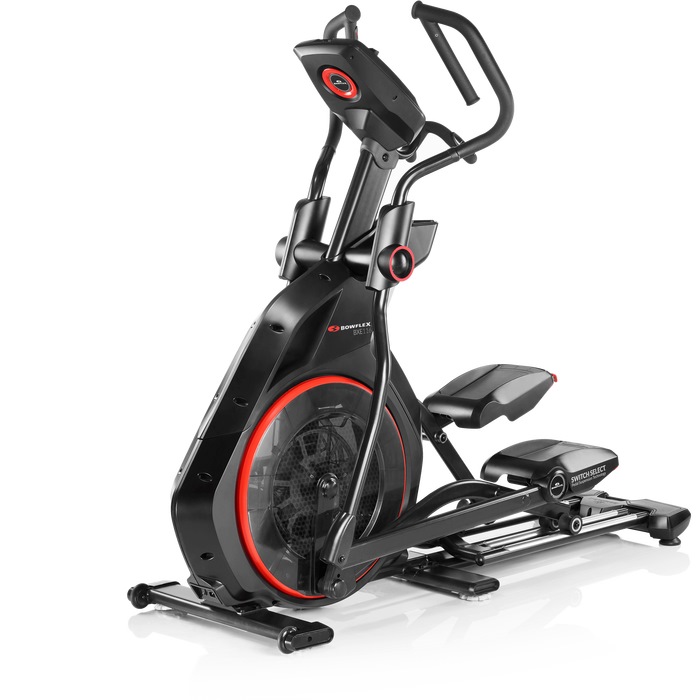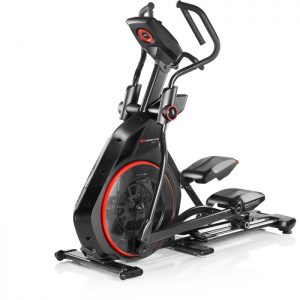 Stride Length
While a 22-inch stride length is a huge positive for most people, those who are a little on the short side may actually find that it is too long for them to get a natural, comfortable stride movement. Because there is no provision here to adjust the stride length this could be a major problem.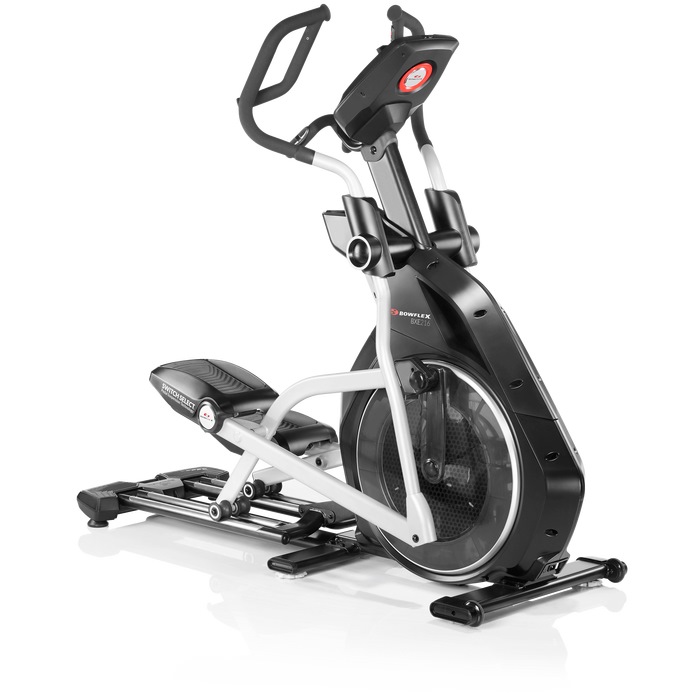 The Bowflex BXE216 is Bowflex's top of the line elliptical machine. It provides you with an even beefier flywheel system than the BXE116, at 35 pounds. It utilizes the latest eddy current resistance technology to deliver the smoothest resistance possible. The full color backlit 9 inch LCD display provides you with 11 workout programs and connectivity for up to four individual users. Overall, this is a top quality home elliptical that provides you with a commercial gym quality cardio training experience in the comfort of your own home.
Pros:
Built in heart rate tracking
Large, comfortable pedals
35 pound drive system
25 Resistance levels
11 built-in workout programs
Cons:
Stride length may be too long for short people
Benefits
Oversized Media Rack with USB Charger
This feature allows you to easily charge your devices while you're working out. The media rack is conveniently located above the main console so that you are still able to view your training feedback data while watching your favorite entertainment.
Built-In Heart Rate Tracking
The console features built-in heart rate tracking which ensures that you are staying within your ideal training heart rate zone to achieve your individual goals. Herat rate monitoring is achieved by way of hand grip sensor as well as a telemetry chest strap to give a more accurate result.
Integrated Speaker Sound System
The top quality integrated speaker sound system allows you to enjoy your favorite music when you're training.
More Comfortable Pedals
The extra large push Switch Select pedal system allows you to get an extra level of support during longer training sessions. Your foot movement is securely locked in but not cramped, allowing for  more comfortable foot placement and relieving any pressure on your ankles. You will not experience the annoying foot strike against the sides of the foot bed that is common with lesser models.
Huge Range of Resistances
With 25 levels of resistance ( 5 more than the BXE116) you get a large range of resistance options. This allows all members of the family to get a workout at their level while also being able to progressively ramp up their training intensity as they get fitter and stronger.
11 Workout Programs
The console of the BXE216 gives you 11 different workout programs. These programs have been designed by fitness professionals to ensure that you get the most out of your training time. Each program automatically adjusts the incline and speed to help you to meet the required training goal. If you want to control your own speed and incline, controls are built into the handlebars for your convenience.
This unit allows four users to save their profiles and workout information on the onboard computer. You can, in this way, keep a record of your minute by minute calorie burn, heart rate and max speed. You also get Bluetooth connectivity, which allows you to connect to the Bowflex app for a higher level of analysis of your training diagnostics.
Advanced Heart Rate Monitoring
The BXE 216 provides you with the same high level of heart rate monitoring as the 116. In addition to the handheld grip sensors, you are also provided with a telemetric chest strap. This provides you with very accurate heart rate monitoring, allowing you ensure that you stay in your optimum training zone.
Front Drive Design
The Bowflex 216 features a front-drive design which places the engine of the machine at the front of the unit. A front drive system is more compact than a rear drive system, meaning that you can conveniently manage your living space around your exercise equipment.
Auto Incline
The 216 provides you with an auto incline feature. This allows you to adjust the angle of your foot motion without having to step off of the machine. The result of this is that you are able to increase the intensity of your workout without interrupting your training flow.
Movable Handlebars
This elliptical provides you with a range of handgrip options. With the main set of handles you are able to move your arms so as to provide an upper body as well as a lower body workout. This allows you to burn more calories in less time. The curved grips of the handlebars allow you to get just the right positioning for ideal body alignment.
Generous Warranty
Nautilus is known for standing behind their products. The BXE 216 is no exception. In terms of warranty, you get two years coverage on the entire unit. For an extra $199 you can get that extended to five years.
Drawbacks
Locked in Stride Length
As with the BXE116, the 216 provides you with an impressive 22 inch stride length. This allows you to get a full 360 degree stride motion even if you are taller than the average person. However, for shorter people this can be a problem. They may find that the stride length is too large. In the absence of an adjustable stride length this could be a deal breaker for some people.
The Competition
Fitness Reality E-5500XL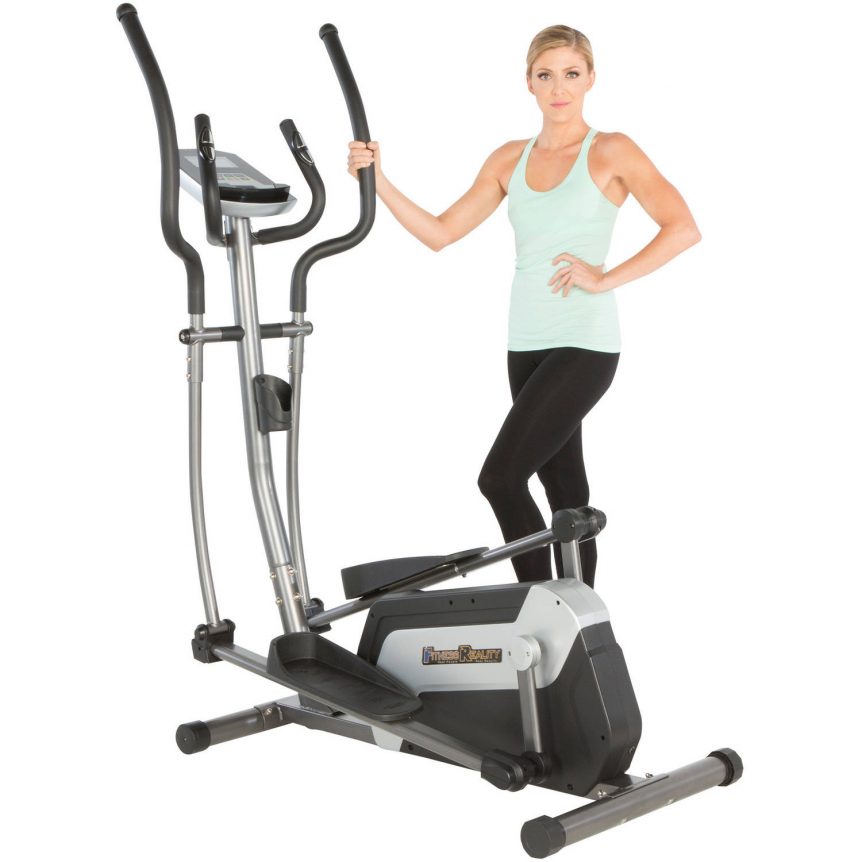 The Fitness Reality E-5500XL is a heavy duty elliptical that operates with a double transmission system. This is quite out of the ordinary for a home elliptical. It means that you have two flywheels and a two-belt design system to power the machine. This is guaranteed to provide you with a smoother, jerk free stride motion.
The Fitness Reality gives you an 18 inch stride length. This is four inches less than either the Bowflex 116 or 216 and will be noticeable to people who are above average height. The unit has a sturdy frame and a slimline design which will complement your home environment.
You get 24 levels of magnetic resistance with this elliptical. There are also 21 pre-set workout programs built into the unit. With both of the Bowflex units you get 25 resistance levels, with just 11 workout programs.
This unit comes with a 12-month warranty.
Pros:
24 magnetic resistance levels
21 pre-set workouts
Double transmission system
Cons:
Universal E40
The Universal E40 heavy duty elliptical provides you with  a fluid, natural stride motion, thanks to the perimeter weighted flywheel drive system. The eddy brake resistance system ensures that you get a smooth stop to your training. It has a robust, sturdy steel frame. Yet, with a stride length of just 17 inches ( 5 less than either of the Bowflex models) you are restricted in your full range of movement, especially if you are a taller person.
With the Universal E40 you only get 7 inbuilt workout programs. However, these offer good range across ability levels. The monitor of this device provides you with clear, easy to read readout of your key training diagnostics. The unit offers you 8 levels of magnetic resistance. The max weight allowance on the machine is 275 pounds.
This unit comes with an impressive 3 year warranty on the frame and mechanical parts, and one year on electronic parts. We love this unit because it's the second best elliptical under $500. Check out our best elliptical article for more details.
Pros:
8 resistance levels
Sturdy steel frame
3 year frame and mechanics warranty
Cons:
Should You Buy the BXE 116 or the 216?
We believe that these two ellipticals will both be valuable additions to any home fitness environment. So, which one should you go for?
The BXE 216 costs three hundred dollars more than the 116. For that extra investment you get a flywheel that is 5 pounds heavier, and an extra 5 resistance settings. Both units provide you with built-in workout programs (9 on the 116 and 11 in the 216).While these are great, we believe that the BXE 116, with a 30 pound flywheel and 20 resistance levels gives enough workout grunt for the vast majority of users. We, therefore, believe that this is the better option.
The Bottom Line
The two new Bowflex ellipticals that have been released by Nautilus are both very solid, user friendly machines that will give you a great workout. The 35 pound flywheel on the 216 provides you with an outstanding level of resistance and movement quality for a unit that comes in at under $2000. At 22 inches the stride length is greater than what you would find in many commercial gyms. The flip side of this, however, is that, because the stride length is not adjustable, it might be too long for some users.
We love such features as the brand new burn rate console which tells you exactly how many calories you are expending and sets goals for your next workout. This is a great motivator, giving you something concrete to focus on for the next session. Both units provide you with telemetry strap to allow for the most accurate recording of your training heart rate.