It doesn't matter if you've never lifted a weight in your life, if you're even remotely into fitness or if you've been within 100 feet of a gym you know that shaker bottles have become all the rage. The concept was so simple: a regular plastic bottle that comes with a little stainless steel wire whisk ball to help mix and blend your protein shake. It's brilliant, I don't know how no one had ever thought of it before.
The idea was actually first invented by the company BlenderBottle back in 2004, but only around 2010 did it really catch fire and become such a hot commodity. Nowadays, there are tons of companies coming out of the woodwork and trying their hand at creating the best protein blender bottle, and you can get them in a countless variety of different colors, sizes, and styles.
At first, shaker bottles were introduced just to help mix your protein shake. You'd grab your tub of protein, take out a scoop or two and dump it in the bottle, then pour your milk in, snap on the lid, and shake. Good enough, right? Apparently not. Now, these amazingly useful blender bottles have become so advanced that they can actually store your protein powder, vitamins, and more inside little storage containers built into the bottom of each bottle. Some are dual-sided so you can put pre-workout in one side and protein in the other, and some even have electric blending systems built into the base of the bottle.
It's kind of crazy to see how far such a simple product has come. They've become a necessity to any fitness enthusiast. However, no matter how advanced these bottles get, one question will always remain: which one is the best protein blender bottle?
Finding the best protein shaker bottle really comes down to your personal preference, actually. I wouldn't consider any of them as the #1 bottle over the others, because quite frankly they all have different purposes and it's not exactly fair to call one the best overall. For example, if you're like me and you only need a bottle for mixing your protein shakes, something like the BlenderBottle Classic is perfect for you. On the other hand, if you're way more in tune with your supplements and you take daily vitamins or use multiple powders, then I'd say something like the BlenderBottle GoStak would be your best choice.
Since this is such a popular category, there a lot of great brands and bottle designs to choose from. To help you find the best protein blender bottle for you, I'm going to go through the details of the Top 10 shaker bottles on the market and you can make your choice from there!
A Quick Heads Up About BlenderBottle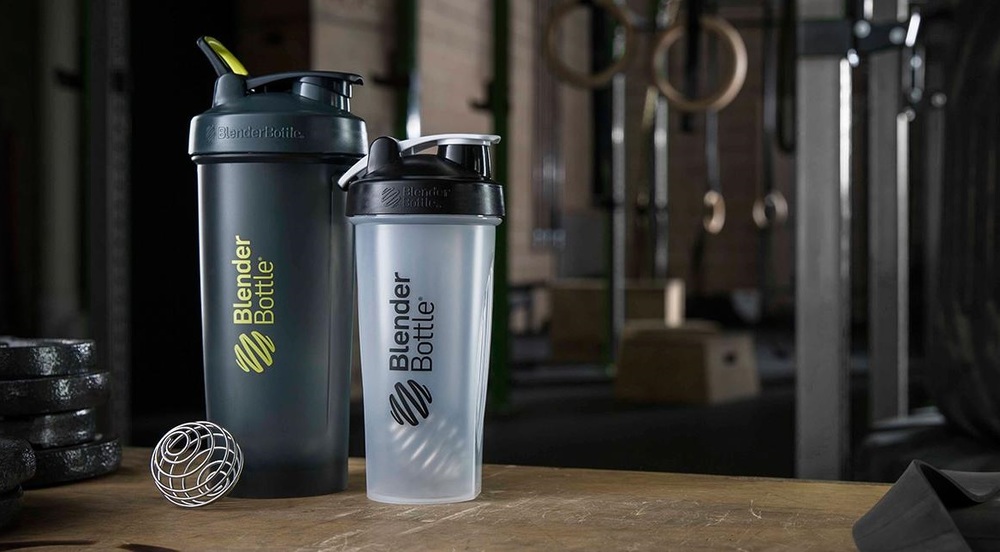 Before we get started, I'm just going to say it now – the company BlenderBottle pretty much owns the shaker bottle market. If you asked 100 people at your local gym who makes the best protein blender bottle, I'm willing to bet money that over 90% of them say BlenderBottle. Seeing as these are the guys that invented it, they've established a pretty dominant reputation in the industry and because of that there's not a lot of brands that can come close to their products. Well, it also doesn't hurt that BlenderBottle carries over 130 international patents to protect their products and designs…that certainly helps too.
Anyhow, I just wanted to mention this now in case you're wondering why half of the shakers on this list are made by BlenderBottle. If you've read any of my other buyer's guides you know I'm a no-BS type of person, so I didn't want anyone to think I was biased towards them in any way. They just offer fantastic products, there's no two ways around it. But alright, now that we've got that out of the way, onto the list of best protein blender bottles!
Top 10 Best Shaker Bottles
1. BlenderBottle Classic
This is the shaker bottle that started it all. Whatever you want to call it – revolutionary, legendary – this innovative mixing cup made chunky protein shakes a thing of the past. The BlenderBottle Classic is the very first model that BlenderBottle released when the company started back in 2004. Since then, it's become the most popular protein blender bottle on the market by far, and is a #1 best-seller on Amazon in 3 different categories with over 13,000 happy reviews calling this, "the best protein shaker bottle on the planet."
The BlenderBottle Classic comes in three sizes, the 20-ounce, 28-ounce, and 32-ounce. It features a unique flip cap for easy drinking on the go, and even has an adjustable carry loop built into the top so you can clip this onto your backpack or gym bag for simple transportation. The cap is also 100% leak-proof, so once you twist the top on snug and snap the flip cap into place, there's no chance of any fluids getting out.
It's available in 17 different color combinations so you can get choose as you please, and the BlenderBottle Classic is completely dishwasher safe for super easy cleaning. The plastic material is super durable and even phthalate-free and BPA-free (common harmful chemicals used to create plastic), which means this bottle is completely safe for drinking. You can use it to mix whatever drink you want, whether it be a protein shake, pre-workout, smoothie, or even pancake batter according to BlenderBottle's website (that made me laugh).
In case you don't believe me about this bottle's superiority, read the 13,000 customer reviews for yourself. There are about 50 new ones every single day.
2. BlenderBottle SportMixer
Think of the BlenderBottle SportMixer as the modernized version of their Classic bottle. They both do exactly the same thing, except the SportMixer has an updated design and a few extra details that make it more ergonomic for athletes on the go, most notably the rubber sport grip on the upper half of the bottle. It's a small feature, but it actually makes a big difference for those who might be holding the bottle while running or exercising.
The other upgrade worth noting is one that isn't actually seen; in addition to being free of harmful plastic chemicals like phthalate and BPA, the SportMixer uses a durable high-quality Eastman Tritan plastic material that is both stain and odor resistant. If you've ever owned a shaker bottle before, you know that lingering smell is a big issue. If I may quote BlenderBottle's website directly: "the SportMixer lets you enjoy today's smoothie without tasting last week's protein shake."
Now that we've shared a laugh about that, the rest of the details are pretty straightforward. The SportMixer bottle is available in two sizes (20-ounce or 28-ounce), and offers 13 different color combinations. It's got a 100% leak proof snap-on lid so don't worry about ever spilling, as well as a built-in loop cap for easy clipping to your gym bag.
This is the #2 best-selling shaker bottle on the market (#1 being the Classic version), and also happens to be my personal favorite protein shaker. If you want to read over 2,500 customer reviews and get a nice little discount, check out the SportMixer here.
3. BlenderBottle ProStak
The BlenderBottle ProStak is where things start to get interesting. The ProStak bears a similar style to BlenderBottle's Classic bottle, except the design has been slightly reworked to include room for a small container that attaches to the bottom of the bottle. This little container is comprised of two compartments; one that holds protein powder, and one that holds vitamins/pills. Using a patented Twist N' Lock system, the container and the bottle securely interlock together for quick and easy transportation of all your necessary supplements.
The ProStak shaker bottle is amazing for athletes who need more than just a cup to mix their protein shake. With one single stackable design, you no longer have to carry around separate containers or ziplock bags for all of your protein powder, pills, or other supplements (which we all know can get annoying and just plain messy inside the gym bag). Simply add your supplements into the bottom container's designated trays before you leave the house, and you're ready to roll. When it's time to take your vitamins or mix your shake, just unscrew the container from the bottom, pop off the lid, and game on. In case you're worried about spillage, all of the containers are 100% leakproof so nothing can escape once you've tightened the lids down.
Like the rest of BlenderBottle's lineup, the ProStak uses completely safe, high-quality materials that are free of any common harmful plastic chemicals like phthalate or BPA. It's a 22-ounce bottle and comes in 16 color combinations. If you're more in tune with your supplement-taking, this is undoubtedly the best shaker bottle for you.
Fun fact: it may not be the #1 best-selling shaker bottle (the Classic version and the SportMixer took the #1 and #2 spots there), but the ProStak is actually the #1 highest-rated shaker bottle when it comes to actual user reviews. It currently has 96% positive customer reviews out of 1,200 people. If you want to read the reviews for yourself and even save a few bucks on the price, check out the ProStak bottle here!
4. BlenderBottle GoStak
The last model from the BlenderBottle family is the BlenderBottle GoStak. This actually isn't even a shaker bottle, it's a storage bottle. I know, I know, this is supposed to be a list of the best shaker bottles. However, I just wanted to throw this in because it's a super popular accessory to the BlenderBottle shaker bottles, so if you decide on one of those, you'll probably want to see this too.
The GoStak is a set of ultra-durable interlocking storage jars that can store anything you can imagine from protein powder and pills to foods and snacks. These are ideal for athletes who are seriously on the go and need easy transportation for several different items.
All of the jars are secure and 100% leak-proof, using the same simple Twist N' Lock system that's on their ProStak shaker bottle. Best of all, this brilliant little system only costs $13 and you can usually buy it on Amazon for a few bucks off. If you want to know more about it or see some example uses, BlenderBottle made an awesome video review of the GoStak.
Okay, now that that's said, back to the regular shaker bottles!
5. SmartShake
The SmartShake bottle is another popular shaker bottle option that a lot of people tend to love. Similar to the BlenderBottle ProStak, the SmartShake features a stackable design with a 20-ounce cup and a detachable container that locks into the bottom.
This container features three compartments compared to the ProStak's two, and comes in a huge variety of color combinations (22 to be exact). The most noticeable difference between this bottle the BB ProStak is that the Smart cup uses a honeycomb plastic strainer as opposed to the stainless steel wire whisk ball, assumingly because BlenderBottle has the stainless steel whisk balls under patent protection.
Anyhow, the SmartShake is an awesome option and offers a lot of great advantages. The material is BPA- and DHEF-free, it's food-grade approved and dishwasher safe, and something I think is super cool is that it's both microwave and freezer safe. These certifications are unique to only the Smart bottle (as far as I know) and are great to have in case you want to heat up a drink or make something icy cool. SmartShake described it's bottles as "designed for real life" and they've certainly proved their product's versatility. If I didn't already have a BlenderBottle, I would definitely give this a shot.
Read more about the SmartShake here including prices and other customer reviews.
6. ProMixx Vortex
The ProMixx Vortex shaker bottle is essentially a portable mini-blender dubbed, "the original vortex mixer." Using a battery-powered electric motor that attaches to the bottom of the bottle, you can mix your protein shake in 5 seconds with just the touch of a button. But you don't have to stop at protein.
The ProMixx is fairly powerful and can actually be used for just about any regular blending purposes, whether it be smoothies, coffee, or even mixing up raw eggs. My girlfriend has one of these and it looks pretty nice in person, with one reviewer calling it, "the perfect middle-ground between a blender and a shaker cup."
The main question people have about the ProMixx is, "Isn't this thing loud?" When you think of blenders, you think can't-even-hear-myself-think kind of noise. But thankfully, that's not the case here. The ProMixx is actually pretty quiet, enough to be discreet and unnoticeable if you turn it on inside the gym. I doubt anyone would be able to hear it unless they were literally right next to you with no headphones and it was a silent Sunday afternoon.
The other thing a lot of people worry about is the cleaning process. We all know blenders can be a nightmare to clean. Getting your hands around that little blade at the bottom is literally making my fingers tingle. The ProMixx has a pretty simple solution for this. If you add a drop or two of detergent into the cup and then fill it with water, you can turn on the motor and it will swirl everything around as a way of essentially self-cleaning itself.
My only concern is that there are a lot of reviews talking about the electric motor dying after a few weeks use. My girlfriend has had hers for a couple weeks now and all seems fine, but there are currently over 250 reviews on Amazon complaining about the product quality. Granted, that is out of 1,500 total reviews (overall the ProMixx still has a 4.2/5 rating which is good), but just food for thought.
If you're interested in buying one, ProMixx's website only accepts British Pounds, so if you're in the US like me I'd recommend picking it up on Amazon where you can find it for real US dollars. Check it out here and make sure to read those reviews.
7. ProMixx iX-R
The ProMixx iX-R is the redesigned and upgraded version of the original ProMixx I just talked about above. It's the same idea, but the iX-R version features a few improvements over the previous version such as a more powerful blending motor, a cleaner looking design, and a rechargeable Lithium-ion battery so you don't have to continue using up double-A batteries left and right.
The iX-R also includes a small container called the NutriPod for easy storage of supplements on the go. In addition, it seems the ProMixx iX-R has solved the minor quality issues of the first version, as the 2.0 gets much better reviews with several customers comparing both versions and talking about how the second iteration is much nicer.
Other than the differences discussed above, everything else about the ProMixx is the same. It still has the same mini-blender motor attached to the bottom, the same self-cleaning system, and the same British pricing on ProMixx's website. If you're interested in the 2.0, I'm going to recommend Amazon again. Read why people like the iX-R better than the original ProMixx.
8. Contigo Shake and Go Fit Shaker Bottle
The Contigo Shake and Go Fit Shaker Bottle is another great, affordable shaker bottle that makes bringing your protein shakes on-the-go a breeze! With its weighted ball, protein shakes clumping up is a thing of the past. Features I like about this blender bottle include the leak proof lid to keep your gym bag clean, measuring markers, and the fact that it is dishwasher safe. You can't go wrong with this blender bottle, in either the 20 oz or 28 oz sizes. Read more details on it here.
9. Cyclone Cup
The Cyclone Cup Shaker has a pretty interesting way of mixing. I'm actually reluctant to call it a 'shaker' at all, considering you don't do any physical shaking of the bottle.
The Cyclone Cup uses a patented infusion system that basically takes your protein powder and slowly disperses them into your liquid. They use a lot of big-worded-sentences to explain why their system is so superior, but I won't bore you with the details. All you need to know is that they're essentially claiming that stainless steel wire whisk balls "aren't efficient" and that infusion mixing is the only way to get a truly smooth shake consistency.
Whatever their reasons, the Cyclone Cup is pretty cool and people are happy with it, so I added it to the list. I personally think they're over-complicating the heck out of making a protein shake, but I suppose if it works, it works. If you're interested in finding out more info about the Cyclone shaker such as prices and other customer reviews, read more about it here.
10. Ice Shaker by Chris Gronkowski
The Ice Shaker was created by NFL fullback Chris Gronkowski and showed up on Shark Tank where two sharks bought into the company.
It makes this list because of the solid performance of the container. It holds 26 ounces and does an excellent job of keeping liquids cold for up to 30 hours. The lengthy chill time is due to two layers of insulation plus a vacuum barrier in the body of the bottle.  Note: it is not designed for hot drinks because the steam and pressure from heated fluids can harm the seal of the lid. A product for hot drinks is in the works.
The Ice Shaker has an agitator built into the lid that also doubles as a place to hold fruit if you like a lite juicy flavor in your water. The non-ball agitator is not original but it is nice not to have to put up with the sound or worry about losing the stainless steel ball.
The shaker has nice fill lines for getting the measurements right on your protein mixes. It also fits nicely into cupholders, unlike many other bottles on the market today.
You can get the Ice Shaker on Amazon or direct from the manufacturer here.
11. Hydra Cup Dual Threat Shaker Bottle
The last entry on our list of the best blender bottle is the Hydra Cup Dual Threat Shaker Bottle. Bringing your protein shake to the gym doesn't get much easier with this substantial blender bottle!
A unique feature that I love about this blender bottle is that it's actually two blender bottles in one! With the Hydra Cup, I'm able to prepare both a post workout protein shake, and my pre workout shake, without having to worry about mixing flavors.
A problem with many shaker bottles is that they're simply too large to fit in most cup holders. With the Hydra Cup Dual Threat Shaker Bottle, I find this to not be an issue at all. Check out these customer reviews.
Conclusion
There are a lot of great shaker bottle options on the market these days. Some are more on the basic side and meant to just help blend a shake, while others even store your protein powder and supplements or use built-in electric motors to help give you a silky smooth consistency. No matter which you choose, all of the above models are excellent products. Like I said in the beginning, finding the best protein blender bottle really just comes down to your personal preference and what functionality you're looking to get out of a bottle. Choose wisely!