Water is crucial to the body, everyone knows that good and well. But what you don't hear very often is how many contaminants are found in water these days. Whether you're gathering water from a stream or merely filling up from the tap at home, waterborne bacteria is at an all-time high and can cause some serious issues if you're not careful. That's where filtered water bottles come in.
Filtered water bottles were only invented in the last couple decades, but technology has advanced so quickly that there are filters these days that can eliminate as much as 99.9999% of unwanted contaminants, turning any source of water into the safest and purest form possible. I recently went on a backpacking trip where I knew I'd have to be drinking from natural water sources, so I wanted to find the best filtered water bottle out there to bring with me. Since I spent countless hours researching and comparing bottles, I figured I'd create a little guide to help anyone else who may be in a similar situation and want the safest water possible. Why let all the research go to waste, right? If you're looking for the best filtered water bottle on the market, below are your top five choices.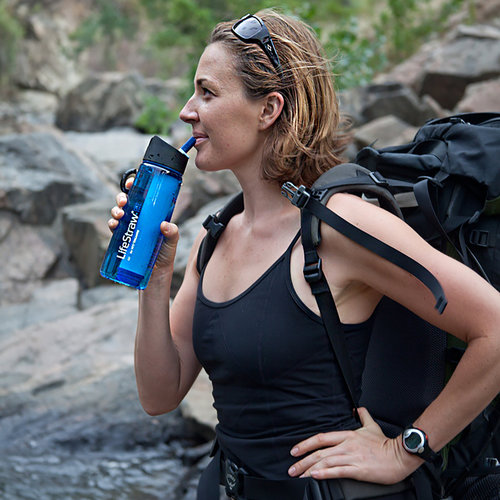 Comparison Guide: Top 5 Best Filtered Water Bottles
 
LifeStraw Go
Frontier Flow
OKO H2O
Brita Sport Bottle
Camelbak Groove
Capacity
23oz
25oz
18, 22, or 34oz
20oz
20oz
BPA-free
Carry Loop
Filter Life
264 gallons
100 gallons
50-100 gallons
40 gallons or 2 months
48 gallons or 3 months
Filter Strength
99.9999%
99.9%
99.94%
Not specified
Not specified
 
Top Pick: LifeStraw Go Water Bottle
The LifeStraw Go Water Bottle contains the most powerful carbon filter on the market, so powerful that it can even filter out protozoa, making this without a doubt the best filtered water bottle out there. The LifeStraw Company introduced their first product in 2005, a small portable carbon filter designed to be used as an emergency tool to filter contaminated water in a natural disaster. Since that original product release in 2005, the company has come a long way and reached new limits by using this same technology inside a convenient personal water bottle.
Protozoa is a single-celled microscopic organism commonly found in water that is capable of carrying many different types of germs, bacteria, and viruses. Ranging in size from 5mm all the way down to 0.005mm, it is one of the hardest organisms to filter out of water because of its incredibly small size.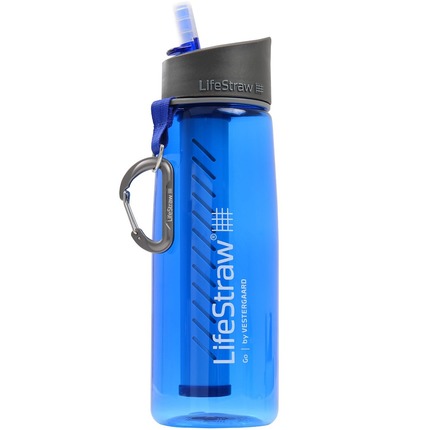 The LifeStraw Go filtered water bottle is made from BPA-free Tritan and is equipped with a leak proof, food-grade flexible mouthpiece that will not crack or break. The bottle itself, including the carbon filter, is super lightweight, only weighing about 7.8 ounces total. It can carry up to 23 ounces of fluid and filter a massive 264 gallons of water before you need to replace the integrated carbon filter, which is incredible compared to most competitors which require you to replace filters every 50-100 gallons. In other words, you can refill this bottle nearly 1,500 times before you need to purchase a new filter. To make this bottle easy to carry, LifeStraw even added a carabineer to clip on to your backpack, gym bag or hiking kit.
Now that we've talked about the bottle's credentials, let talk about the most amazing part of the LifeStraw, the very reason this bottle is at #1…the filter. This unique carbon filter is so powerful, it can filter water down to 0.2 Microns, removing 99.9999% of waterborne bacteria plus 99.9% of waterborne protozoan parasites! Not only that, but this regular-looking bottle even surpasses the EPA's strict standards for removing Cryptosporidium, Giardia, E. Coli and a whole bunch of other waterborne contaminants that we hardly ever think about. With that in mind, it's no wonder the LifeStraw filter was used in natural disasters. You could literally go to just about any water source, fill up the bottle and the LifeStraw filter would clean it down to the very last microorganism.
Because of the filter's award-winning strength, this bottle is perfect for literally any purpose whether it's hiking trips, travel, nature walks/runs, long jogs, going to the gym, or just carrying around on a daily basis. We have all been to a place or two with pretty skeptical looking water; even if the water is safe to drink, it sure doesn't taste like it. Thankfully this bottle takes care of that, and even improves the taste of regular household water with zero aftertaste – no chemicals or iodine.
If I really had to be critical and try to find something wrong with the LifeStraw bottle, I'd say the only minor drawback is the price – but even with that, there's a catch that makes it worth it. This bottle costs about $30, and while that may seem kind of pricey for a water bottle, consider the following two points: 1.) the incredible filtering that this bottle offers over competitors is well worth the extra $5-10 spent, and 2.) since this bottle is good for 264 gallons of filtering, the Lifestraw Go is actually cheaper in the long run because you don't have to replace the carbon filter as often. Plus, if it's worth anything to you, LifeStraw's mission is to provide clean water around the globe, so every product purchase goes to delivering safe water to unsafe environments.
All-in-all, the versatility, convenience, filter life and water purity offered by the LifeStraw Go can't be beat. If you want the best filtered water bottle on the planet, this is it. To read more details on their filtering or see what other customers have to say about it, check out their listing on Amazon.
Runner Up: Frontier Flow Bottle
Only missing the #1 spot by a few hairs, the Frontier Flow Filtered Water Bottle is our very close runner-up at #2. Frontier Flow bottles are designed and manufactured by the Aquamira Company. Aquamira's mission, like LifeStraw, is to provide clean and safe water to the world. This started in 1999 with Aquamira water treatment drops. Since the 90's, Aquamira has designed a filtration water bottle that is quite similar to the LifeStraw Go, but just didn't quite live up to the same standards which is why this landed as the second best filtered water bottle.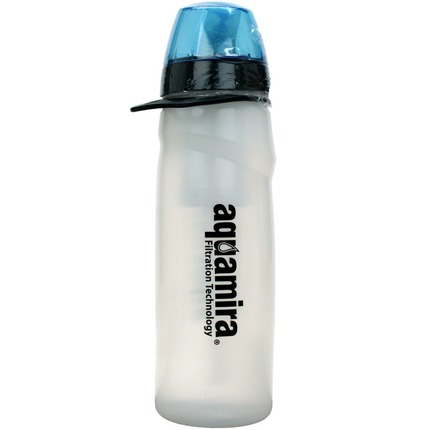 The Frontier Flow Water Bottle is also made from BPA-free Tritan, but does not claim to be leak-free or anything about the mouth piece itself. It is equipped with a strong Tritan cap that helps keep the mouth piece clean, but it would be nice to know if the material is made to last. Although a protection cap like this one would have been nice to see on the LifeStraw Go, we really care more about the water bottle itself. An ultra-strong protection cap isn't going to do us any good if the mouth piece breaks off.
The Frontier Flow is just a smidge lighter than the LifeStraw, weighing in at 7.2 ounces, and it also holds a little more fluid at 25 ounces. However, with that said, the filter life is nowhere near as good as the LifeStraw's. As I noted in the review above, the LifeStraw filter can handle up to 264 gallons of water before a filter change is needed, but the Frontier's filter can only handle 100 gallons. Don't get me wrong, that's still a ton of water, but it's always important to compare apples-to-apples, so let's talk about that for a second. While the LifeStraw Go might be slightly more expensive than the Frontier Flow up front, you'll have to replace the Frontier's filter 2.5 times to get the same life as the LifeStraw. At a price of $10 per carbon filter, it's actually going to cost you about $45 to get the same amount of filtering as the LifeStraw which only costs $30. So while the LifeStraw Go might appear more expensive at first glance, it actually proves to be much cheaper in the long run.
Now, don't take this as me shooting down the Frontier bottle, because this is still a great option. Although the filter life might not be over the top, the filter strength is right on-par with LifeStraw, which is what really earned this bottle the runner-up spot on the list. The Frontier Flow also removed 99.9% of Cryptosporidium and Giardia, bacteria, chlorine and sediment from just about any given water source. In addition, this water bottle is equipped with Amiraguard Antimicrobial technology that will prevent your filter from growing a lot of greenish mildew, mold, fungus or algae all over it. Again, this is another nice touch that keeps the Frontier Flow a close competitor with our top pick, LifeStraw.
All-in-all, the Frontier Flow water bottle is a great choice for outdoor recreations such as hiking, camping, long walks/runs and of course everyday use. Just be aware that the slightly cheaper price tag up front will turn into more money spent on carbon filters in the long run.
#3: OKO H2O Original Filtration Bottle
Receiving the bronze at #3 is OKO H2O Original Filtration Water Bottle. OKO is an international Swiss German company where these unique filtration bottles are designed. The OKO Company is pretty amazing, putting the same advanced nano-technology used by the International Space Station into a water bottle! You might think technology like that would push this bottle up to #1, but we're keeping it at #3 and here's why.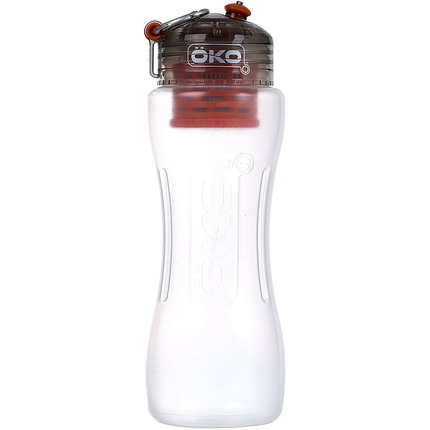 As previously seen holding our #1 and #2 spots, the OKO H2O Original filtration water bottle is made from non-toxic, BPA and Phthalate-free plastic products. The protection cap is made of an ultra-strong Tritan, just like the Frontier Flow, but the bottle's body is constructed of light polypropylene material that keeps this bottle just under 5 ounces in weight. The OKO filter capacity matches the Frontier as this filter tops out at 100-gallons of water, but again it falls way short of the LifeStraw. A nice little feature that separates this filter water bottle from the previous slot holders, is that it is dishwasher safe. Although, many people do not find cleaning a WATER bottle too difficult of a task, it could get pretty dirty on an outdoor event.
The coolest part of the OKO filter water bottle is that it uses space grade technology to filter your water and they have three levels of filtration to choose from. Level 1 OKO filters are for everyday use where you would be using monitored pipe water, Level 2 OKO filters are for travelers who might be cautious in the new area and Level 3 OKO filters are for poor water conditions. It is helpful for the OKO Company to provide different levels of filtration, but only Level 2 and 3 remove 99.4% of E-coli, cryptosporidium and giardia.
Unfortunately, even with space grade technology the percentage of filtration is still slightly lower than that of LifeStraw and Frontier. Oh, and in case you're wondering, that space grade technology does come at a higher cost. So you're essentially getting less filtration for a higher price. There's no arguing that the OKO H2O is a high end filtration bottle, but there are better ones with lower prices which is why this is ranked as the third best filtered water bottle.
#4: Brita Sport Water Filter Bottle
Coming in at 4th place is the Brita Sport Water Filter Bottle. The Brita brand name is well known as they were one of the pioneers in water filtrations systems. For 50 years the Brita Company has advertised itself as a family business, providing quality filtration products around the globe. Although Brita products are tested and certified by the Water Quality Association as well as NSF, their personal Sport bottle fell a little short of the standards set by the competitor bottles.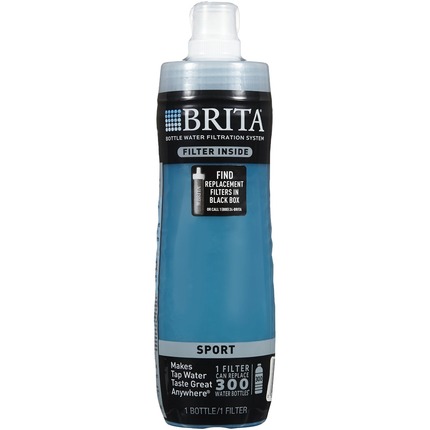 The Brita Sport Filtered Bottle is made of soft, flexible BPA-free material that is dishwasher safe, just like the OKO. In case the name doesn't clearly give it away, this bottle was made with sporting events and athletic uses in mind. With a built-in loop, the Brita bottle can easily be toted along to any event, gym or around the office. The bottle itself only holds 20 ounces of fluid and the carbon filter can only handle about 40 gallons of water before it needs switched out with a new one, so it's not quite the most cost-effective option.
This ultra light filter bottle is really just for use in water regulated areas and is advertised to simply give users a better tasting water. Brita filters use an interesting filter material that is coconut based with an activated carbon filtration system to activate an ion exchange. This specialized filter is designed to remove things like cadmium, copper, mercury, chlorine, and bacteria from your rural water.
For a common example, this is perfect to remove that funky tasting water out of the fountain at the gym or at home, but if you fill this water bottle up with "questionable" water, you won't be questioning that water for long! The Brita Sport bottle won't filter out any type of bacteria, viruses, algae, mold or fungus from your water, but that doesn't mean that it's a bad choice. If you are just looking for an affordable, portable ultra light filtered water bottle to have with you on the go, the Brita would not be a bad choice given its relatively low price tag.
#5: CamelBak Groove
Last but certainly not least is #5 on our list, the CamelBak Groove Filtered Water Bottle. The CamelBak Company has become a world leader in personal hydration systems, offering convenient, on-the-go water containment options. They were the ones who started the whole "bag of water in a backpack" concept, which is their number one selling product. But since the 90's, they began developing filtration products like the Groove bottle.
The CamelBak Groove is again, like the others, made of a BPA-free Tritan copolyester material. Equipped with a spill-proof bite valve and carabineer compatible handle, the Groove is perfect for hiking, jogging and trips to the gym. It holds 0.6 L (or 20 ounces) of water, weighs about 7.2 ounces and is conveniently dishwasher safe. The filter in this water bottle is actually built into the straw and has been tested by the NSE.
The CamelBak filter is rather unique, made of plant-based materials that can filter about 48 gallons of water, so about 8 gallons more than the Brita filter. The CamelBak is very similar to the Brita in the sense that it is only meant to improve the taste of quality of your regularly maintained water source. The reason the CamelBak is coming in last place is because the CamelBak Company does not specify exactly what the filter takes out of the water or to what extent. However, even with that being said, the CamelBak Groove is pretty highly rated by the general public, receiving a 4.5 star rating on Amazon.
Honourable Mention: GRAYL Ultralight Water Purifier
We thought we should at least bring up the GRAYL UltraLight Water PuriferGRAYL UltraLight Water Purifer. This is a truly feature-packed filtered water bottle, but lands on the pricer end of the spectrum, which is why it didn't quite make the top 5.
This filtered water bottle is built well enough to handle nearly any activity you can think of, whether it be hiking the most treacherous of trails, rock climbing, or even kayaking! Not only is it built incredibly well, but it is also light and compact enough that even the most die-hard of ultra-light packers won't have any excuse not to carry this bottle with them.
What really matters though when looking for a great filtered water bottle is how well it does at actually filtering water. The GRAYL UltraLight Water Purifier is rated to filter out 99.99% of the following:
Viruses including Hepatitis A, SARS, and Rotavirus

Disease-causing bacteria such as E. coli, Salmonella and Choleraand 

Protozoan cysts including Giardia and Cryptosporidium
Not only does it filter out nearly all the nasties, but it also does a great job of filtering out lots of the other stuff you'd not likely want to be included in your water bottle. Some of these include:
Particulates including sediment and silt

Chemicals including chlorine and benzene

Heavy metals including lead and arsenic
While the GRAYL UltraLight Water Purifier didn't quite make it into our list, it's worth a solid mention and is worth your consideration.
Benefits of Having A Filtered Water Bottle
The benefits of owning a filtered water bottle are pretty clear and the best part of owning one is that there are really no downsides. Whether you are simply looking for a convenient hydration solution, safe water solution for your travels or if you are trying to join the GoGreen movement to save the environment, these unique filtration bottles only has positives. Let's talk about these benefits in more detail.
Keep Hydrated
Experts say we need to be drinking at least 8 glasses of water a day to maintain our daily level of hydration, so having a water bottle on hand can be a great solution. Fill it up at home in the morning before you leave for work, refill it at the office, fill up again at the gym or at school, you can reuse a filtered water bottle endlessly. The biggest benefit is that you can refill you bottle just about anywhere and know that water will taste good. Have you ever filled up a bottle of water, just to empty it out again because it tasted so bad? Well, when your water bottle has a filter your days of tasting bad water are over. Filtration bottles are also a great addition to any emergency kit. You never know when you might get stranded on the side of the road, endure a natural disaster or have a power shortage, so having a couple water bottles with filters around the home are always a great idea.
Water Purity & Safety
Have you ever traveled to a different country, took a camping trip or simply spent a night in a hotel, and found yourself occupying the bathroom for the majority of the next day? Sometimes it can be the change in our diets that cause a rather unhappy GI system, but you'd be surprised if just the water you drank is to blame. Even in rural areas close to home, our water can be contaminated with fecal matter containing E-coli and giardia, as well as, pesticides from crop treatments farmers use every year. The worst part is, is that these water contaminants can only be seen under a microscope, so we often find out we have drank contaminated water after we are already sick. The solution? A strong filtration water bottle to remove harmful bacteria, protozoa, viruses, chemicals and other waterborne elements to keep you healthy.
Save The Environment…And Your Wallet
Did you know drinking the required 8 glasses of water a day will cost you approximately $1,400 a year in disposable bottled water! Insane right? As we talked about previously, it is cheaper to buy gas, a natural resource that is pulled from the ground, than it is to buy a gallon of water. So why pay more for something that is already readily available to you? Even if money isn't an issue for you, consider what happens to all those plastic water bottles you throw away each day.
Experts say we need to drink an average of eight 8-ounce glasses of fluid each day. The average store bought water contains approximately 16 fluid ounces, so that means you will be throwing away about 4 plastic water bottles each day. Four bottles of water doesn't seem like that much, but do that over a year and just one person has used 1,460 disposable plastic bottles! With the recent GoGreen project, many water providers have begun to use recyclable materials in their filtration products, but not many can/bottle collectors will take water bottles. So what happens? Well turn on the discovery channel and you'll see the damage just a few plastic water bottles can do to our environment.
Choosing The Best Filtered Water Bottle For You
It may seem unusual for me to be saying there are a few things you should consider before buying a water bottle, but when you buy a filtered water bottle, you want and should expect more than the run of the mill water bottle. Finding the best filtered water bottle for your needs, your budget and your expectations is going to take a bit of initial research. Here are a list of things you should consider before making your purchase.
Purpose
As we made our way through the top five choices, we discovered that not all filtration water bottles are made for the same purpose. If you are going out on a week-long hiking trip and plan to get water right from the stream, you are going to need a pretty powerful filtration system like the 0.2 Micron filter offered in the LifeStraw. However, if you are simply looking to improve the water quality you are putting into your body, you would likely be wasting your money on such a high level of filtration power. Considering what you're going to be using this for will help you choose the best filtered water bottle for your specific needs.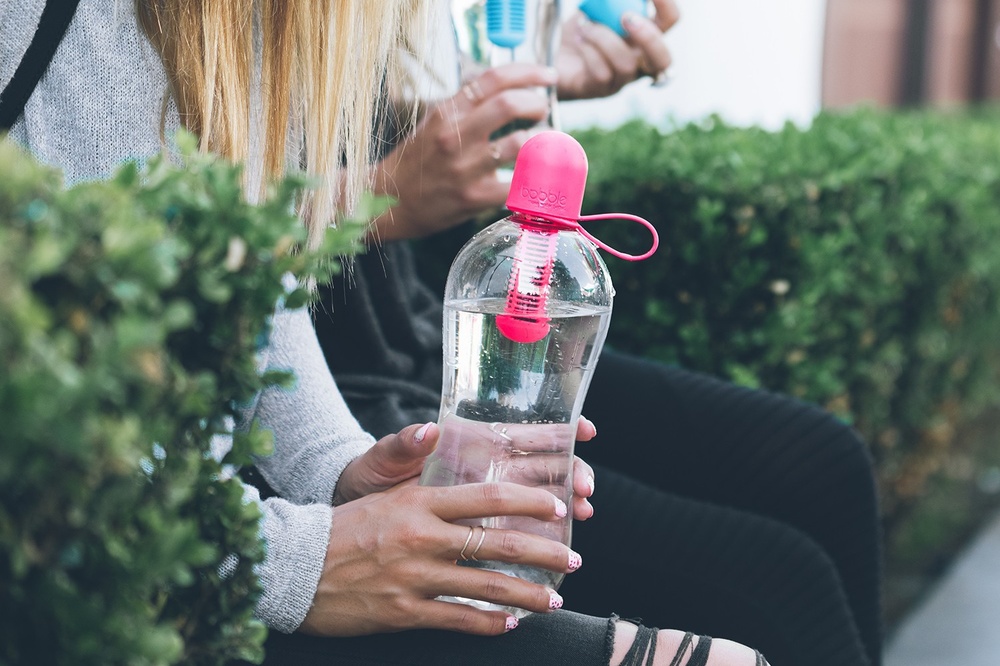 Price
The average filtered bottle can cost you anywhere from $10 to $30 to almost $50 depending on where you are looking online, and not everyone is prepared to pay that much for a water bottle. The best way to find an affordable filtered water bottle is to find a brand that you like and search the web. Many manufacturers are co-owned by other companies that may offer the product at a cheaper price, or seller sites like Amazon or Walmart can also provide quite a deal from time to time.
Quality & Warranty
Always check the product warranty and quality of a product before you purchase, that should be obvious when buying anything in life. We expect the products we buy to last and you want a company that sets high standards for their product materials, so don't settle. Many manufacturers offer up to a year warranty on their filtration products and even offer a guarantee to replace broken, or missing parts. You can also check out the customer reviews to see what they had to say about the product.
Final Thoughts
Selecting the right filtered water bottle will make a huge impact on your health. Whether you are looking for a filtration system that will get down to 0.2 microns, eliminate ill causing bacteria from questionable water or just want your water to taste better, having one of these bottles is key.
LifeStraw was my personal choice due to its incredible filtering power and long filter life, but that doesn't mean it will be yours. Do your research and make sure to find the best filtered water bottle for you. Take your needs, budget and expectations into account before putting your money down.
Choosing to use a water bottle with a filter is a smart choice and noble contribution to help save the environment. Once you start using one of these, I doubt you will ever go back to disposable bottles every again. At the gym, at the office or just around home, a filtered water bottle will soon be your number one necessity.