by
The Tripact Protein Powder product is one of the best shakes if you are looking for quality, affordability and a healthier option for your overall workout routine or simply for some added protein for your diet.
Tripact Protein is a healthy choice as a protein shake that tastes good, has limited and natural ingredients, has a high protein count and can be used at any time of the day.
It also works well for post workout recovery and it is very cool that recovery protein powder also doubles as a meal replacement. Whatever type of weight loss, nutritional or overall health regimen you're on, Tripact Protein can be used to replace a meal at any time of the day, making this a protein powder that holds a lot more value than some others.
So what are some of the benefits and what makes it different than other protein shakes?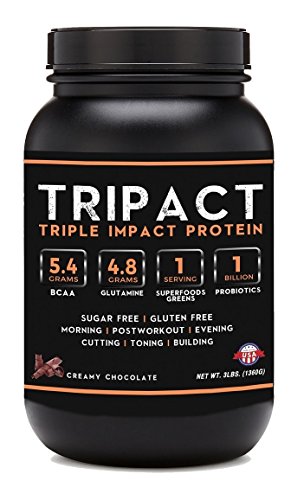 High in Protein
Tripact
packs a whopping 25g of protein per 34g servings (1 scoop), which is a lot higher than some other protein shakes. This makes it a great option for pre or post workout. You could even use this as a meal replacement, which is one of the great benefits of Tripact Protein. This protein powder seems to have a big focus on high protein count and less focus on additives, which is a huge bonus, especially if you're looking to use this as a meal replacement.
I've tried protein shakes with less protein and they definitely didn't fill me up as much as this one did. The higher protein really makes a difference. I know that I'm getting the sufficient amount of protein after my workout or for my meal replacement.
Non-GMO
You want to feel confident that the protein powder that you're drinking is going to be good for your overall health. With so many protein powders having strange additives in them, it can be difficult to find one that just has the basics of what you need. Tripact Protein isn't just some ordinary protein, it's non-GMO, sugar-free, gluten free and best of all it's certified grass-fed whey! Most other protein powders are blended with a variety of other plant and animal products to make them sound "healthy".
They have additives that sound healthy, but it really should focus more on the protein itself, which is what this powder does. If calories are a concern, this only contains 130 calories per serving, which is pretty great. You're getting the protein you need without a lot of extra calories or additives. This also has 1 serving of energizing greens and superfoods, which is a huge plus to the overall health benefit of this protein powder.
Mixes well
It really ruins your workout when you have to eat your protein shake. You want a protein shake that you can actually drink without getting that gritty feeling in your teeth because it didn't mix up very well. It's really a toss-up of whether a protein drink is going to mix up well, you never know if it's going to be clumpy or gritty. This protein powder, however, mixes up quite well. You don't want to dread drinking your protein shake, it needs to enhance the overall experience of your workouts and health.
This mixes well and tastes greats! As I said previously, this doesn't just have to be for your workouts, this can be a great meal replacement as well. Because of how well it mixes up and how good it tastes, it can be a great meal replacement for breakfast, or maybe a pick-me-up in the afternoon.
It's effective
If you're using your protein powder for your workouts, you need it to be effective at recovery. It can be hard to know if a protein powder is actually working, though one of the most effective ways to know is by not feeling achy the next day. This protein powder made me feel great the next day. Not just the next day, though, there were no adverse stomach effects, either.
Sometimes protein powders might upset your stomach or cause other issues because of the additives, but this didn't seem to have any of those effects. It's probably due to the digestive enzymes that they add in. It actually has an added 1 billion probiotics to it! It's nice knowing that this can help support a healthy gut, too. I also felt satisfied after drinking it, I didn't feel like I needed to eat more right away like you can feel after some protein shakes. So as I have said previously, it does a great job at being a meal replacement.
Great flavor
Tripact comes in three flavors; vanilla latte, chocolate and superberry. The vanilla latte is probably the best of the three flavors. It had a great full vanilla flavor, if you're a vanilla fan this will definitely satisfy your taste buds. The added cinnamon to the vanilla latte is a huge benefit because of how good cinnamon is for you, but it's not an overpowering cinnamon flavor, it's the perfect amount of cinnamon. The chocolate is the next best, it is a very nice chocolate flavor.
The superberry is definitely a different kind of flavor, something a bit out of the ordinary, but it's not necessarily bad. It's a fruity flavor which a lot of people like, including myself. All in all, none of them taste chalky or gritty, they have really nice, fully flavors. Most popular flavors will tends to always be chocolate or vanilla, but if you're in the mood to expand your tastes, give the superberry a try, too. If you want to mix this protein powder with fruits, the superberry can be a great addition to shakes that mix bananas or strawberries.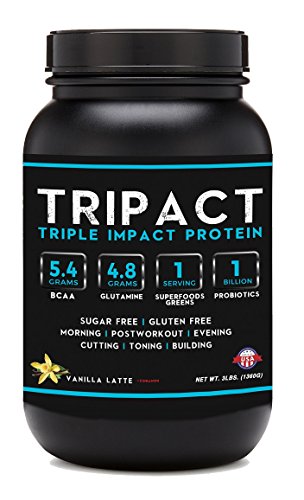 Healthy Protein Powder
This truly is a versatile protein powder that you can use to help with cutting, toning, building and overall health. If you're concerned with what's in your protein powders, as many of us are these days, Tripact Protein seems to have really thought about their customers and was more interested in adding value, than additives.
The price point is close to many other protein powders, but I feel you're getting a better value because of the healthy aspect to it. If you're already using a protein powder that is less expensive, you'll need to ask yourself what is more important to you; a product that offers higher protein and better ingredients, or something that is cheaper that won't offer the same value.
The additive ingredients are minimal, as well. Non-GMO grass fed protein, pea protein, rice protein, barley flour, green tea extract, grapeseed extract, flax seed powder plus a few other ingredients which you can find in most other protein powders to make them stable and effective.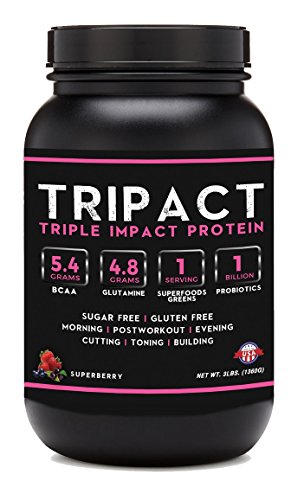 There are 40 servings per container, 1 serving is a scoop which is 34g.
Are you on the Keto diet? This only has 3g of net carbs per serving. This would be a great option for getting that added protein into your diet before bed, at breakfast or really, any time of the day. And remember, Tripact has zero sugars!
This protein powder is ideal for any time of the day, offers increased energy, mixes well, tastes great, supports overall better health and has a pretty high protein count.
One major concern about any protein shake is whether it'll make you sick or not. Some protein shakes can make you feel bloated or generally irritate your stomach. Tripact Protein understood that this was a problem, which is why they added in probiotics for gut support and made sure that their ingredients were as natural as possible. It's clear that they are thinking about the consumer and what was missing from other protein powders.
Tastes vary from person to person depending on their preferences. The vanilla is the smoothest of them all, the chocolate is the next best and then the superberry has a very interesting flavor that would be great for mixed drinks. You don't need a blender to mix up this protein powder, either, it can be easily mixed in a blender bottle shaker and isn't clumpy. Having any clump or residue left behind can be a real concern because then you're not getting all of your protein, as it's left at the bottom of the shaker! This mixes up well, tastes good and leaves you feeling satisfied and healthy. You can go on about your day without worrying if you'll be having any gut problems any time soon.
The only con that some might consider, would be that it does cost more than some other brands. But you have to understand the value that you're getting. If non-GMO, sugar free, grass fed whey protein, gut support and gluten free aren't on your list of benefits, then this might not be an option for you.
For the value that Tripact Protein is offering, it's hard to compare it to other brands. Try it out for yourself!